High Capacity Scales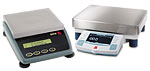 SKS Science Products' High Capacity Scales are built to meet the most rugged demands in both industrial and laboratory environments. Many are available with AutoCal™, temperature sensitive motor driven internal calibration, which automatically self-calibrates when needed. Check out the Explorer Pro series which feature high-resolution graphic display with pop-up windows and menus to guide you through balance functions, making it a convenient choice!
No products in this index.