Product Spotlight - Pipettes & Pipette Tips
Glass and plastic pipettes assist in the measurement and controlled transfer of liquids within many laboratory applications.
Disposable Pipettes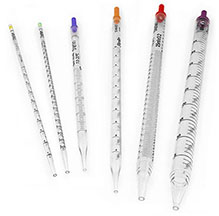 SKS Science has two styles of plastic disposable pipettes for single-use laboratory applications. Our
LDPE pasteur pipettes
are offered in a range of 1.2 ml to 8 ml capacities. These pipettes dispense a precise 25 drops per ml. The LDPE pasteur pipettes can be gas sterilized through the EtO method or autoclaved before use. Please note: these are not sterilized before shipment. LDPE pasteur pipettes can be refrigerated, used with liquid nitrogen, or frozen without loss of integrity.
Polystyrene disposable pipettes
are available in six sizes and are sterilized via gamma radiation following the DHSS Guide to Good Manufacturing Practice for Sterile Medical Devices and Surgical Products. The polystyrene pipettes are color coded by size and include ascending and descending graduations for clear and accurate readings from any perspective.
Reusable Pipettes
SKS Science has reusable pipettes composed of durable polypropylene plastic for all of your laboratory needs when glass products are not preferred. The
polypropylene reusable pipettes
feature graduation and ring markings printed clearly in blue. The streak-resistant application used allows long term use without loss of accuracy or readability. Glass reusable pipettes are also available for general and specialized laboratories.
Class B volumetric glass pipettes
are composed of 51 expansion borosilicate glass, which conforms to USP Type I and ASTM E438, Type I and Class B requirements. Available in nine sizes, these pipettes are color coded and designed from ASTM Specification E969.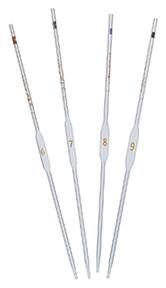 Class A volumetric glass pipettes
are designed to meet Class B requirements, and also offer the added "To Contain" and "To Deliver" features. The "To Contain" and "To Deliver" volumetric pipettes include color coded bands at their top edges, as well as printed capacities and sizes to aid in organization and selection. The
Class A volumetric pipettes
are also offered with an exclusive "To Deliver" feature which has an all around high level of construction. Glass volumetric pipettes in the "To Deliver" style are composed of 33 expansion, low extractable borosilicate glass conforming to USP Type I and ASTM E438, Type I and Class A requirements. The "To Deliver" volumetric pipettes feature permanent individual serial numbers, color coded strips at their tops, and come with certificates of graduation accuracy. The "To Deliver" volumetric pipettes are not delivered sterile, but are autoclavable, if required.
Disposable Pipette Tips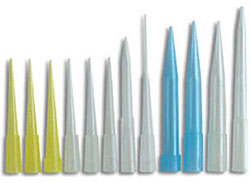 Depending on the tips chosen, disposable pipette tips are beneficial for contamination control, sample protection, and increased accuracy. Choose your tips carefully as incorrectly sized pipette tips can lead to leakage at pipette connection points and inaccurate measurements. For your convenience, SKS Science lists disposable or reusable pipettes that are compatible with each pipette tip on our product pages.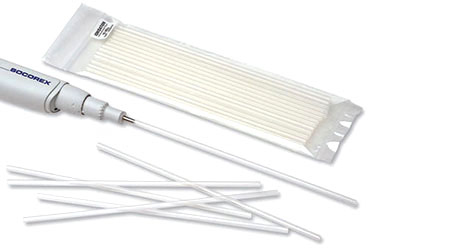 Disposable polypropylene macrotips
in capacities of 2 ml, 5 ml, and 10 ml are non-filtered and non-sterile before shipment, and can be autoclaved before use, if necessary. When smaller disposable pipette tips are needed, opt for the
disposable polypropylene microtips
. Sold in 10 ul to 1,000 ul capacities, the polypropylene microtips cater to a variety of laboratory needs. Chose from sterile or non-sterile, filtered or non-filtered, autoclavable or regular, and ultra-micro tip sizes for air tight fits on corresponding pipettes. The 10 ul capacity
disposable gel loaded microtips,
composed of polypropylene plastic, are compatible with a range of Acura and Calibra pipettes for straightforward and precise gel sequencing. SKS Science also has disposable glass pasteur pipette tips in 150 mm and 230 mm sizes. The glass pasteur pipette tips are composed of borosilicate glass, with a low thermal expansion rate, and strong chemical resistances. Finally, the
sterile polypropylene 1:10 dilution straw pipette tips
are compatible with Acura manual 810 1:10 dilution micropipettes and are constructed for use with Stomacher® bags and narrow mouth vials.
Pipettes and disposable pipette tips are measurement and transport tools that are essential to the precision and accuracy of chemistry, biology, and medical laboratory applications. Be sure to browse our full selection of pipettes and pipetting accessories for all of your laboratory needs.
Purchase Pipettes & Pipette Tips