Induction Sealer How-to
Induction sealing is the non-contact heating process that accomplishes the hermetic sealing of a container with a closure that includes a heat sealable foil laminate inside of the closure. A common type of innerseal is a 2 pieces innerseal which leaves a secondary seal inside the caps once the induction seal has been removed. This is commonly used where issues of leakage are a concern. Another option is the single piece innerseal, where once the induction seal is removed there is no liner left in the closure. You can also choose from seals that have a pulltab or ones that have a peelable seal leaving no residue on the bottle. You must be certain that the liner is compatible with the bottle material, for assistance with this you can contact our customer service department who can help with sampling the correct type of closure and liner for your application.
With a few simple steps you can help achieve a tamperevident product, ensure leakage protection, promote freshness and add value to your product line through the use of induction lined closures. Below are some simple steps to show you how easy this is achieved.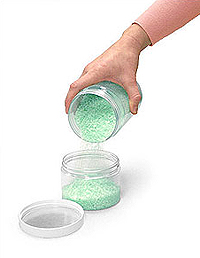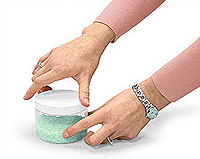 Determine what type of closure and induction liner is appropriate and compatible with your container.
Fill your container with product.
Either manually or automatically cap your container with the appropriate torque.
Select the appropriate sealing time which is usually determined by closure size.
Place the cap beneath the induction heating unit, press the trigger which will activate the heating process. The timer will automatically shut off.
You can remove the closure to visually inspect the container to see if the liner is adhered.
The process is quite simple to operate. Aside from the manual hand held unit we show pictured here, we also offer automated units. In order to determine which automated induction sealer is right for your application you should review these factors: 1) size of the cap 2) speed of the production line measure in feet or meters/minute as well as the application such as food application, and what type of product; whether it is wet or dry.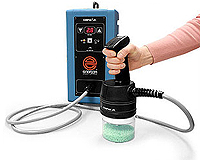 As always we recommend you test the containers, closures and sealing process with the product for compatibility prior to use.