Polypropylene Plastic Info
Polypropylene Plastic Containers
Characteristics of Polypropylene
Clarity
Moisture Barrier
Oxygen Barrier
Acid Resistance
Grease & Oil Resistance
Stiffness
Impact Resistance
Heat Resistance
Cold Resistance
Sunlight Resistance
Aldehyde Resistance
Base Resistance
Ester Resistance
Ether Resistance
Hydrocarbon Resistance
Ketone Resistance
Fair to Good
Good to Excellent
Poor
Fair to Good
Good
Good to Excellent
Poor to Fair
Good
Poor to Fair
Fair
Good
Good
Good
Poor
Fair to Good
Good
Other Characteristics of Polypropylene
PP is a polymer prepared catalytically from propylene with an isostatic replacement of a hydrogen atom by a methyl group on alternate carbon atoms in the main chain. The material surface of PP (Polypropylene) is soft, almost wax-like and tends to scratch easily. PP Shares many of the same characteristics as HDPE though PP is a stiffer material with a higher melting point. PP is manufactured in the same ways as all other thermal plastics. The presence of the methyl group makes PP slightly more susceptible to attacks by oxidizing agents than HDPE.


Max Utilization Temperature: 275°F
Min Utilization Temperature: 32°F
Specific Density: 0.90
Polypropylene for Packaging
PP is a good choice for product packaging because it is a highly durable material in both container and closure forms, and is a good barrier against moisture, oil, and alcohol. PP is resistant to many chemicals. PP can be sterilized by autoclaving, gas and chemical disinfectant.
Other Uses of Polypropylene
PP is often used to produce many products including ketchup bottles, yogurt containers, medicine bottles, and syrup bottles.
Purchase Polypropylene Plastic Containers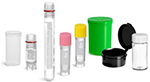 Plastic Laboratory Vials
Other Plastic Container Materials