Moisture Analysis Scales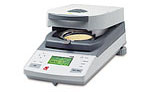 Our Moisture Analyzers are designed to quickly, effectively and affordably measure moisture content. The OHAUS MB Series Moisture Analyzers incorporate state-of-the-art halogen heating with precision weighing technology to give a fast and accurate method for moisture content determination. They could be perfect for applications in the pharmaceutical, chemical and research industries and are versatile and rugged enough for continuous operation in food and beverage, quality control, environmental and many other applications.
No products in this index.