INSIDE THE LAB

SKS Science Newsletter
---
Disposable Gloves
April 2019
SKS Science carries a range of disposable nitrile gloves, latex gloves, and vinyl gloves in various sizes for a multitude of laboratory applications. Our disposable gloves are intended for single use, and each style can be purchased in individual boxes of 100 or in cases with 10 boxes.
---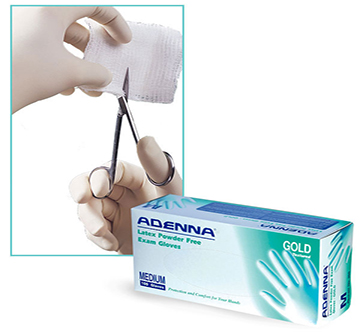 Latex Gloves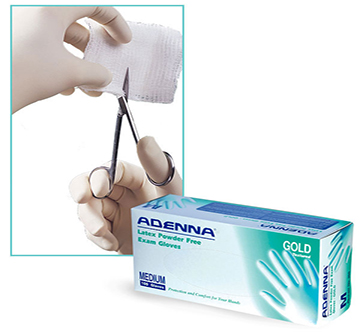 These disposable latex gloves are biodegradable and feature a textured surface that provides a strong grip for both wet and dry applications. Each style of powder-free latex glove helps to eliminate powder-related contamination in critical exam or in clean room environments.
Black latex gloves feature the lowest allowable protein claim by the FDA (equal or less than 50µg/dm2 of glove surface). These exam gloves feature a smooth interior finish for comfortable wear.
Gold latex gloves are specially manufactured with a light chlorination rinse and are ideal for medical and dental lab use due to their quality and protection, with minimum risk of potential glove-related chemical or protein allergies.

Top Benefits of Latex Exam Gloves:

Secure fit for long-term tasks
High level of touch sensitivity
Cost-effective
Biodegradable
---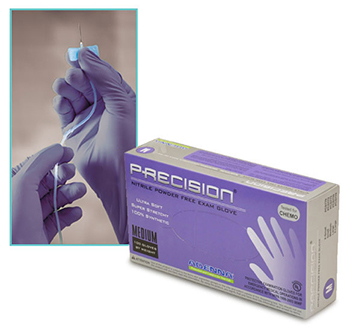 Disposable Nitrile Gloves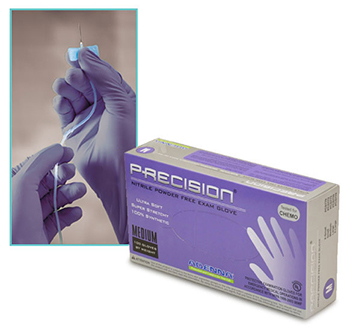 Powder-free nitrile gloves are made out of synthetic rubber, and are an ideal alternative for latex allergies. These lab safety gloves are often referred to as "medical grade" and considered superior when it comes to puncture resistance. Like latex gloves, disposable nitrile gloves feature a textured surface that provides a strong grip for both wet and dry applications.
White nitrile exam gloves are soft and elastic, and formulated from a non-PVC nitrile polymer. These hospital gloves are also odor-free and ambidextrous, with a 3.0 mm finger thickness.
Black nitrile gloves are commonly used with dye applications as their dark color helps mask stains, as well as in forensics to help identify light-colored substances. These forensic lab gloves feature 0.15 mm finger thickness and excellent dexterity.
Violet nitrile medical gloves are composed from a low modulus formulation to reduce hand fatigue for maximum comfort. These medical grade gloves are thinner for maximum dexterity, but strong to provide superior barrier protection.
Blue nitrile gloves feature a unique thermal sensitive polymer compound that absorbs body heat and easily conforms to the user's hands. These medical laboratory gloves are much softer and more elastic than other lab safety nitrile gloves without any latex additives.
Top Benefits of Nitrile Exam Gloves:

Latex-free
High level of touch sensitivity
Puncture resistant
Resistant to many chemicals
---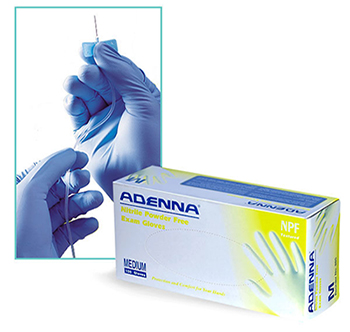 Vinyl Gloves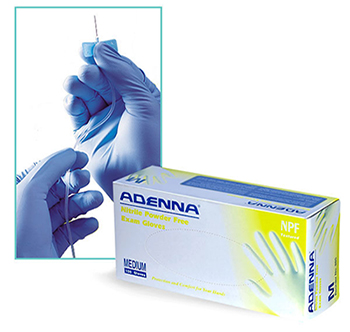 Like nitrile gloves, disposable vinyl gloves also offer a latex-free alternative. These powder-free gloves are often used in the food industry where high levels of protection and durability are much less of a concern.
Translucent vinyl gloves are formulated from a special synthetic component and soft PVC material. The food lab gloves feature 0.10 mm finger thickness and are designed to be more elastic to fit snugly and comfortably on hands.
Beige vinyl gloves are composed of a special cream-colored PVC blend designed to look and feel like latex. A snug fit and flexibility make these latex-free gloves less baggy than regular vinyl gloves and provide superior tactile-sensitivity.

Top Benefits of Vinyl Exam Gloves:
Latex-free
Looser fit for short-term tasks
Most economical option
Have anti-static properties
---
Other Lab Safety Supplies
In addition to the disposable gloves SKS offers, be sure to fulfill all of your lab equipment and lab safety needs with products like our white metal wire glove box holder, 3-ply blue earloop face masks, and biohazard bins.