INSIDE THE LAB

SKS Science Newsletter
---
Lab Supply: Plastic Beakers
August 2018
SKS Science carries a variety of plastic beakers for holding, mixing, and heating liquids. While glass beakers are also effective, the ergonomic benefits of plastic, such as durability, versatility, and lighter weight, make it a practical and economical choice. There are many options as far as type of plastic, characteristics, sizes, and colors to meet your lab supply needs.
---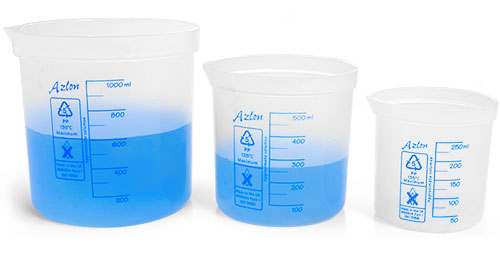 Polypropylene Plastic Beakers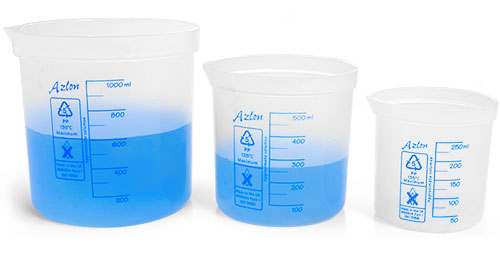 Polypropylene is a durable plastic that offers chemical resistance, and provides good barriers against moisture, oils, and alcohols. It is commonly used in laboratory supplies due to its high temperature resistance. It has a maximum temperature of 135° C, and is autoclave compatible, making polypropylene plastic very suitable for items that require frequent sterilization such as lab beakers.
SKS offers numerous polypropylene plastic beakers, all of which feature pour spouts to help prevent dripping while pouring. Tricorn™ disposable beakers are unbreakable and are appropriate for use with common acids, alkalies, and solvents. Griffin style beakers feature graduations molded into the side and can be purchased individually in small case packs, or as a combo kit with 5 different sizes. Azlon® square ratio beakers are clear and marked with blue printed graduations. The graduated beakers are a common alternative to Griffin beakers and are available in sets of 3, sets of 5, or sets of 10, in sizes ranging from 10 ml to 2,000 ml. Each size can also be purchased individually in smaller case packs.
---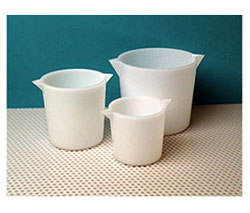 HDPE Plastic Beakers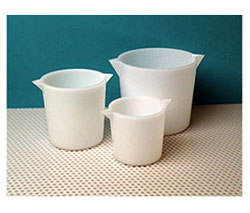 High density polyethylene shares many of the same characteristics as polypropylene plastic, but is a more flexible material and has a lower melting point of about 120° C. Unlike polypropylene, HDPE plastic cannot be autoclaved. Common lab supplies made from HDPE include media bottles, as well as storage containers.
SKS also offers heavy wall beakers made of HDPE. These lab beakers feature thick uniform walls and a tapered design to allow nesting and to prevent distortion under pressure. These plastic beakers are available in 5 sizes ranging from 50 ml to 1000 ml and include molded graduations.
---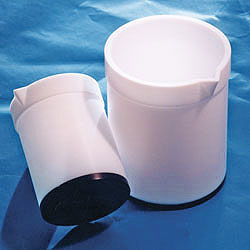 PTFE Plastic Beakers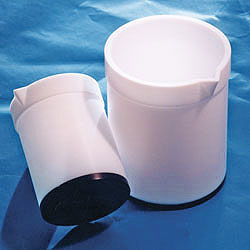 Polytetrafluoroethylene, commonly known as Teflon, is an extremely versatile, opaque plastic that features excellent barriers against gas, oil, and moisture. PTFE plastic is completely inert to highly corrosive agents, has very high heat resistance, with a maximum temperature of about 327° C, and provides electrical resistance. Its non-stick properties and ability to hold many acids, bases, and solvents that other resins cannot withstand makes it commonly used for beakers, bottles, dippers, laboratory flasks, stirring bars, and other lab supplies.
Similar to the polypropylene plastic beakers, SKS carries PTFE beakers with pour spouts. The 100 mL white PTFE Fluoropolymer heatable beakers feature a PTFE body, and a PTFE Carbon filled base, as well as improved heat transfer for use with abrasive chemicals, like hydrochloric acid. The tapered beakers made of PTFE are available in 13 sizes and feature a smooth surface for easy cleaning and to eliminate contamination.
---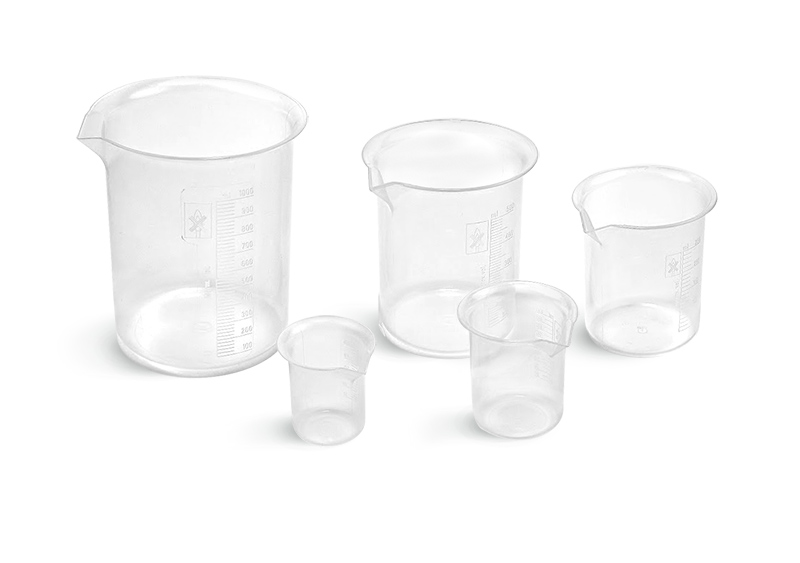 PMP Plastic Beakers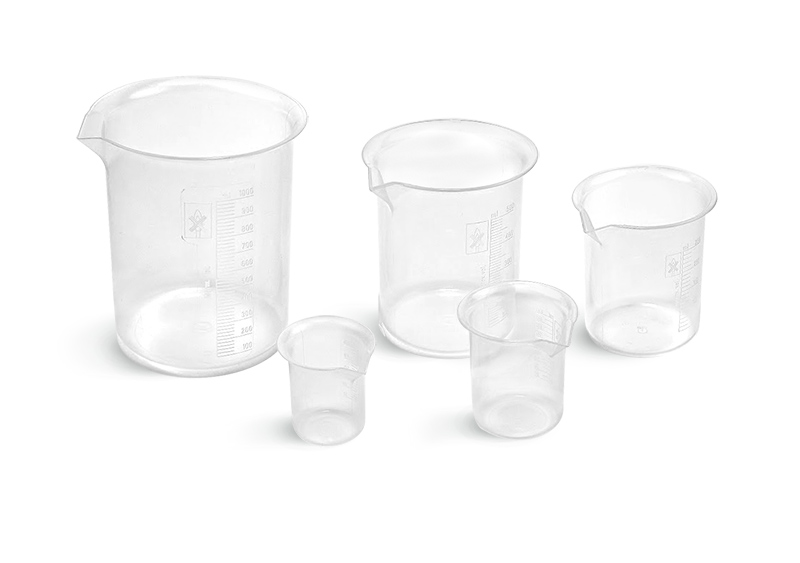 Similar to polypropylene plastic, polymethylpentene is highly transparent, resistant to impact, and extremely rigid. It has a maximum temperature of 120° C, and can be autoclaved. It is commonly used to manufacture glass substitutes for volumetric apparatus such as lab flasks, beakers, and graduated cylinders. PMP plastic has excellent resistance to acids, bases, alcohols, oils, and good resistance to aldehydes and esters.
SKS carries a variety of PMP beakers with pour spouts. The Azlon® square ratio beakers are similar to the polypropylene beakers but feature red printed graduations instead of blue. The graduated beakers come in a range of 9 different sizes, which are stackable when not in use. PMP Griffin style beakers are also very similar to the polypropylene beakers but are transparent like glass. These lab beakers can be purchased individually in small case packs, or as a kit with one each of the 50, 100, 250, 500, and 1000ml beakers.
---
In addition to the variety of plastic beakers SKS offers, be sure to fulfill all of your plastic lab supply needs with products like our clear acrylic graduated burettes, PTFE watch glass covers, and disposable polystyrene cuvette stirring spatulas.