INSIDE THE LAB

SKS Science Newsletter
---
Wash Bottles
February 2016
Wash bottles are chemically resistant containers used for holding and dispensing fluids. SKS Science has a variety of colors, sizes and styles of wash bottles. They are a crucial piece of lab equipment that can be used for chemical storage, labware cleaning, and other laboratory applications. Choose the convenience of pre-printed laboratory bottles, safety of color coded wash bottles or clarity of natural LDPE plastic wash bottles.

Although storing and dispensing distilled water is the most common use of plastic wash bottles, they are ideal containers for holding a variety of chemicals because they are made of Low Density Polyethylene (LDPE), a chemically resistant material. Being wrongfully exposed to hazardous chemicals can be extremely dangerous, so it is important to have the right laboratory equipment labeled and handled correctly. In 1983, OSHA created the Hazard Communication Standard to help ensure chemical handling safety, and has since incorporated the Globally Harmonized System of Classification and Labeling Chemicals (GHS). 1 SKS has several wash bottles with GHS compliant or COSHH (Control of Substances Hazardous to Health) pre-printed hazard warnings, or self adhesive labels included. When dealing with harmful chemicals, these warnings play a big role in protecting students and workers, by avoiding confusion, increasing efficiency and rapid chemical identification, as well as ensuring fewer accidents.

All SKS wash bottles are made of LDPE, which is much softer and more flexible than HDPE. This material allows for only a gentle pressure to be applied to gradually dispense fluids from these wash bottles. These easy to squeeze bottles are lightweight, and have excellent impact and stress crack resistance. LDPE wash bottles can withstand contents at a maximum temperature of 80°C (176°F). SKS wash bottles can dispense liquids as a controlled stream, quick spurt, or drop-by-drop. The wide neck allows for spill-free pouring, and colored bottles make for faster identification. SPI recycling codes and volume information can be found on the base of the wash bottles and come complete with closures, most of which are leak-proof.
---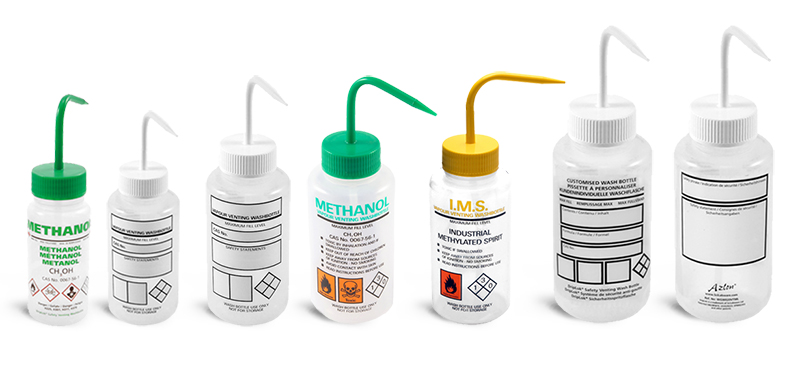 Solvent Venting Wash Bottles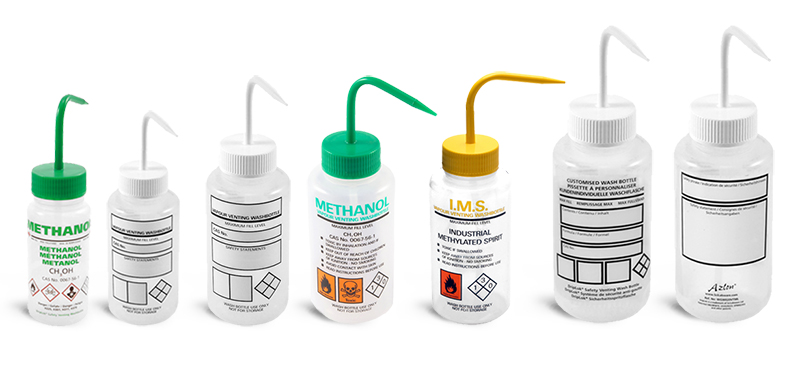 DripLok technology is a unique venting system that prevents hazardous solvent drips, and is a feature on several wash bottles SKS offers. This system incorporates a valve designed to allow volatile vapors to escape, but seals completely while in use. The DripLok dispensing system creates a powerful, spatter-free jet of solvent, and features a jet-tip aperture for fine control. They are made of LDPE for easy dispensing, have a wide mouth for easy filling, and are color coded for rapid identification. To supply additional information about the contents, solvent venting wash bottles come pre-labeled as Isopropanol, Ethanol, Methanol, and Acetone. There is also one blank, customizable bottle that can be labeled with a solvent based marker pen, then wiped off for continuous use. LDPE plastic lab bottles are a great choice for storing these fluids, as they are a chemically resistant material. The solvent venting wash bottles come in 250 ml and 500 ml sizes. Browse the options for these solvent venting wash bottles offered by clicking the button below.
---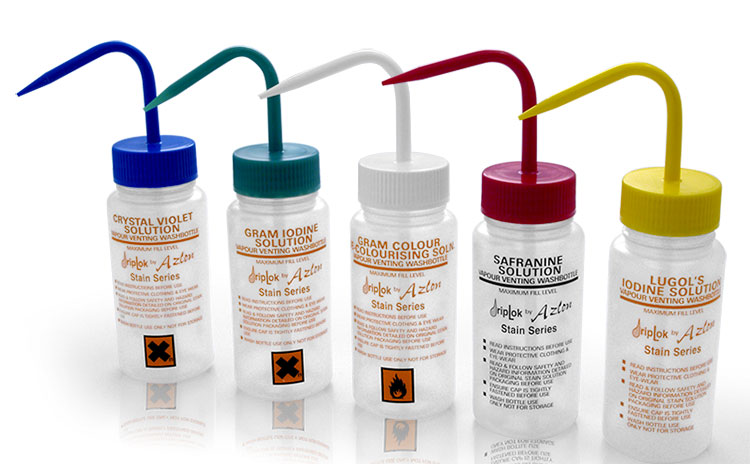 Biological Stain Bottle Kit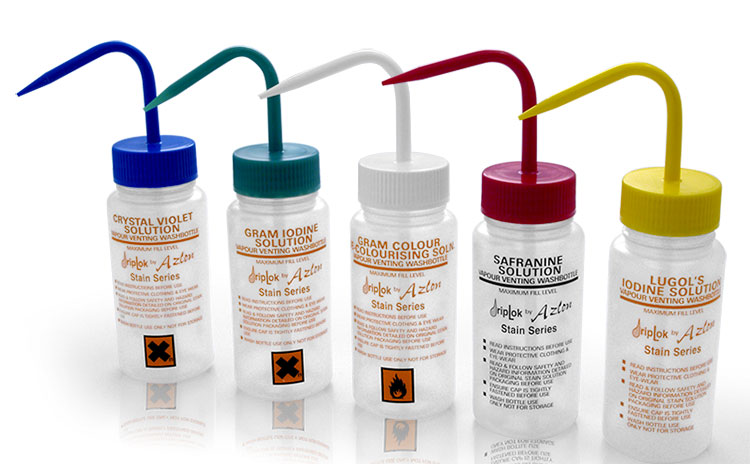 SKS offers a biological stain bottle kit that also uses the DripLok dispensing system. Like the solvent venting wash bottles, these are colored bottles to help in identification. They feature a wide mouth for easy filling, and jet-tip aperture for fine control. The lab bottles in this kit are pre-printed with labels for five biological stains; Lugois, Gram Iodine Solution, Crystal Violet, Gram Color De-Coloring Solution and Safranin. Hazard warning symbols and instructions for use are also pre-printed. The biological stain bottles intended for dark colors are printed in light colors for easier recognition. Again, these bottles are made of LDPE, a flexible, squeezable material which makes for an easy release of contents. The biological stain bottle kit can be found by clicking the button below.
---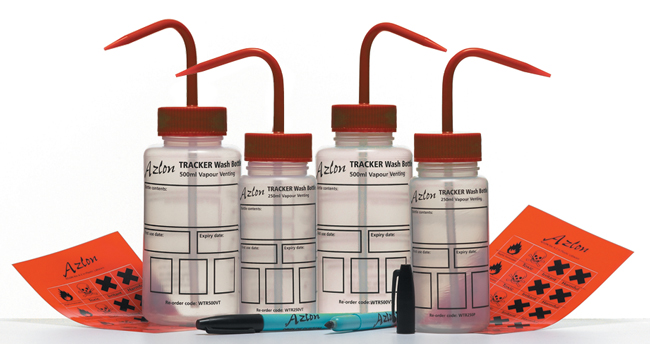 Tracker Wash Bottles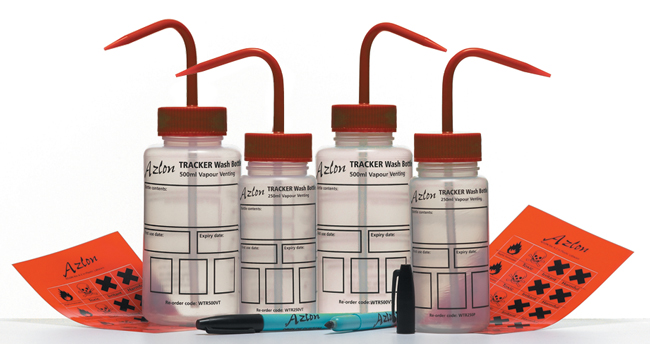 Tracker wash bottles are another option featuring the DripLok dispensing system. They are designed to meet the stringent labeling requirements of science equipment, and for full traceability. There are wipe on - wipe off areas on the surface of these bottles. Solvent based marker pens can be used on them, and are easily removed by wiping with acetone. The labeling areas on this bottle include: Originator, Date of Receipt, Lot Number, Bottle Contents, First Use Date, Expiration Date, and a space for COSHH self adhesive hazard symbols that are supplied for all of these bottles. The tracker wash bottles are designed to ensure information is clearly visible to users at all times and to be used repeatedly. They are also made of LDPE, meaning they only require a gentle pressure to dispense the contents. Tracker wash bottles are available in 250 ml and 500 ml sizes, in either green or red. Browse the options for these tracker wash bottles by clicking the button below.
---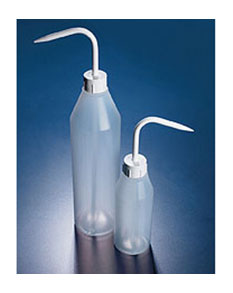 Wash Bottles with Sloped Shoulders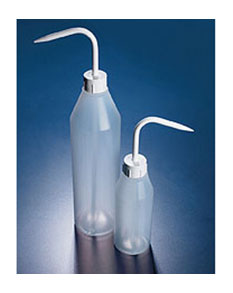 SKS offers a few different options for wash bottles with sloped shoulders. To more easily identify the contents within, some sloped shoulder wash bottles have printed labels for Isopropanol, Distilled, Water, Acetone, Methanol and Ethanol. To ensure lab safety, these bottles have hazard warning symbols on them and are color coded to easily identify the contents. In addition to the pre-printed selection, there are also LDPE natural body sloped shoulder bottles featuring red and white caps. Whether choosing the pre-printed or plain option, they are all fitted with PP swivel/leak-proof closures and an acute angled "swan-neck" dispensing spout. Sloped shoulder wash bottles are available in 250 ml, 500 ml and 1,000 ml sizes. Wash bottles with sloped shoulders can be found here, here, and here.
---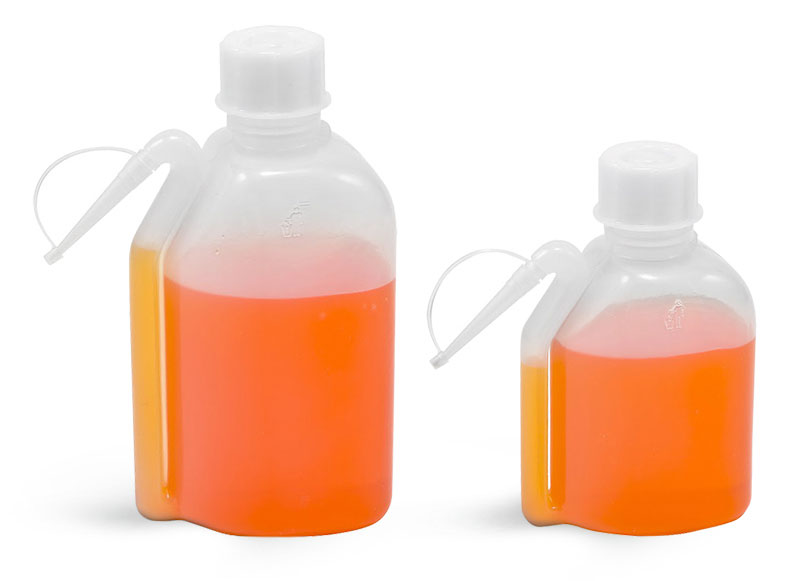 Integral Plastic Wash Bottles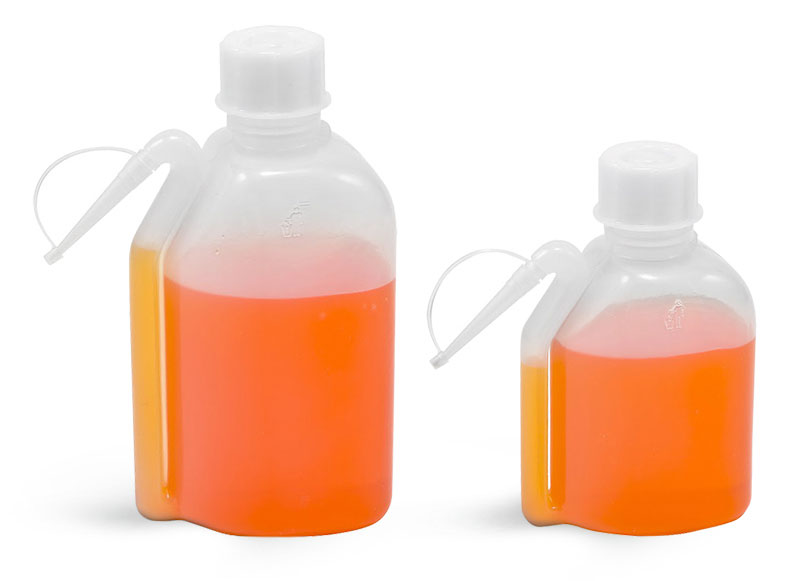 Integral plastic wash bottles are a crucial piece of labware, ideal for filling vials and tubes because of the angle and indentation under the dispensing tip. They are made of LDPE, this soft, flexible material only requires gentle pressure to release and accurately direct liquids. The tube that releases the liquids is integrally molded into the bottle, simply trimming the dispensing tip will increase the flow rate of the contents. This style bottle includes a removable jet tip and a PP cap for the top of the bottle. Both standard and squared oval styles come in 250 ml and 500 ml sizes. Browse the integral plastic wash bottles here and here.
---
Plastic wash bottles are a staple in chemistry, biology and general science laboratories. There are many options to ensure lab safety, avoid confusion, increase efficiency, and provide clarity for content identification. Visit the SKS Science site to browse the wide variety of LDPE plastic wash bottles, and a range of other lab supplies or click here to see them all!