INSIDE THE LAB

SKS Science Newsletter
---
Glass Beakers & Flasks
February 2020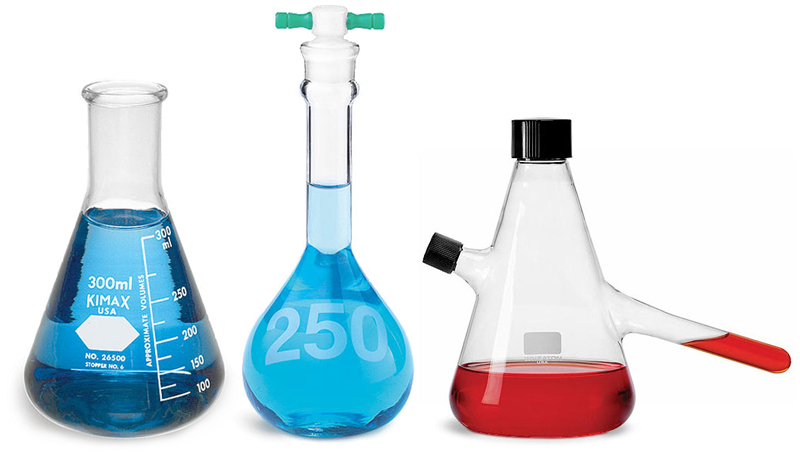 Glass beakers are widely used in laboratories for measuring the volume of liquid substances. SKS Science carries a variety of glass beakers and flasks in a wide range of sizes and styles, including nephelo culture flasks, volumetric flasks, and erlenmeyer flasks. Check out our extensive inventory to find the perfect solution to meet your lab needs.
---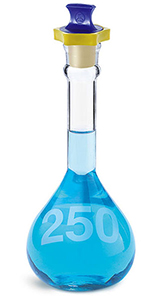 Glass Flasks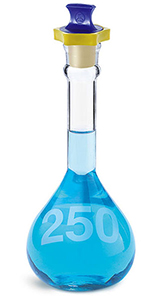 SKS Science offers a wide selection of laboratory glass flasks, many of which are available with compatible stoppers or closures. Narrow mouth glass Erlenmeyer flasks feature thick walls. The tops contain more glass and have a rounded finish to maximize strength and minimize chipping. The glass flasks are available in various sizes, ranging from as 20ml to 2000ml, and each size offers two case pack options. Erlenmeyer flask starter packs are a great option for a startup lab, or those needing a variety of sizes with limited space or lab glassware needs. The laboratory flasks included in this pack feature narrow mouths and come in five popular sizes, ranging from 50 ml to 1,000 ml capacities. All sizes of these Kimble Chase erlenmeyer flasks are made of 33 expansion borosilicate glass, which meets ASTM Specification, E1404, Type I, Class 1 requirements.
Glass volumetric flasks with glass stoppers are available in 11 sizes ranging from 5 ml to 2000 ml (2 L). The glass volumetric flasks provide easy access for pipettes and feature heavy duty uniform glass walls for durability. The glass flasks feature clearly printed capacities for easy identification and have flat interior bottoms, ideal for stirring with standard stir bars. Glass volumetric flasks are graduated to Class A volumetric tolerances are available with Polytetrafluoroethylene (PTFE) and polyethylene (PE). Ray-Sorb treated glass flasks are also available and provide protection from harmful UV rays for light sensitive contents.
Clear glass Nephelo culture flasks with ports are another option provided by SKS. These autoclavable clear glass nephelo culture flasks are made of low extractable clear borosilicate glass and can be used in conjunction with common optical measurement instruments, like colorimeters and spectrophotometers. The glass flasks are designed for use on platform shakers and hold approximately 350 mL to the base of the sidearm. Nephelo culture flasks conform to USP Type I and ASTM E-438 Type I, Class A requirements and have shatter resistant lips, which can accommodate cotton plugs or glass stoppers. A 500ml version without ports is also available.
---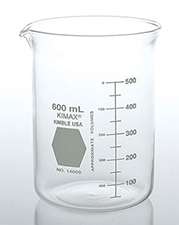 Glass Beakers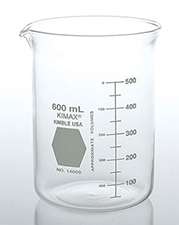 SKS Science offers several varieties of glass laboratory beakers in many sizes and styles. The Kimble Chase low form Griffin glass beakers are offered in 14 different sizes, ranging from 10 ml to 4,000 ml capacities, with both small and larger case packs available. Griffin glass beakers are also offered in a starter pack featuring 5 glass beaker sizes from 50ml to 1000ml. This starter pack could be great for a startup lab or a lab with minimal space.
Heavy duty beakers are designed with thick bottoms and sidewalls, with consistent thickness to improve mechanical and thermal properties. These beakers also feature beaded tops with a slight flare and a spout, which offers great pouring qualities and helps prevent dripping. The glass lab beakers are made of 33 expansion, low extractable borosilicate glass so they can be used with hotplates, and are compliant with USP Type I and ASTM E438, Type I, Class A requirements.
Kimble Chase tall glass beakers are available in 6 sizes ranging from 100ml to 1000ml. The glass beakers have a slightly flared top, reinforcing bead, and pouring spout. All sizes have a durable matte finish area for marking with an ordinary pencil and easy to read white scales to indicate approximate volumes. These tall glass beakers are designed from ASTM Specification E960, Type III requirements.
---

Other Lab Supplies

In addition to the various glass flasks and beakers SKS offers, be sure to procure all your glass lab equipment needs with products like our 3 and 4 baffle glass shake flasks, Magna Flex Spinner Flasks, and Trypsinizing Flasks.