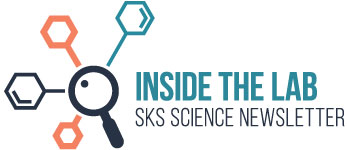 ---
Plastic Laboratory Bottles
January 2017
SKS Science offers a variety of plastic laboratory bottles, suitable for many general lab applications including dispensing samples or storing various liquids. There are plastic laboratory bottles available in polypropylene, PET, HDPE, LDPE, and PVC to meet many different needs. From carboys to wash bottles, choose from the many plastic laboratory bottles SKS provides to equip your lab.
---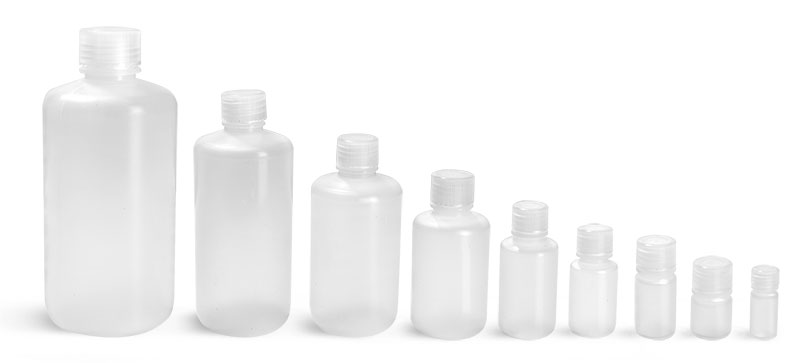 Polypropylene Laboratory Bottles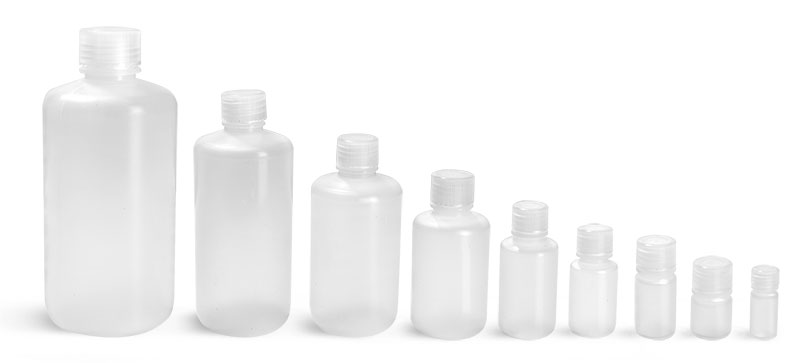 Offered in various sizes from 4 ml to 1,000 ml, SKS offers polypropylene leak-proof water bottles that can be used for field sampling or for general lab use. These bottles feature no drip pour lips to prevent dripping and double seal caps to make them leak resistant. Manufactured from polypropylene means these bottles are very durable and offer good barriers to moisture, oil, alcohol, and chemicals.
Offered in 5 L, 10 L, and 20 L sizes, SKS provides polypropylene carboys with stopcocks. They feature molded graduations and a rounded octagonal shape. The design of these bottles increases rigidity when full and features integral, comfortable blow molded handles for easy carrying. To make filling and pouring an easier process, these carboys have an offset neck. The heavy duty stopcocks paired with these carboys are leak proof, with boss fitting for extra strength, and removable tube fitting for added convenience.
---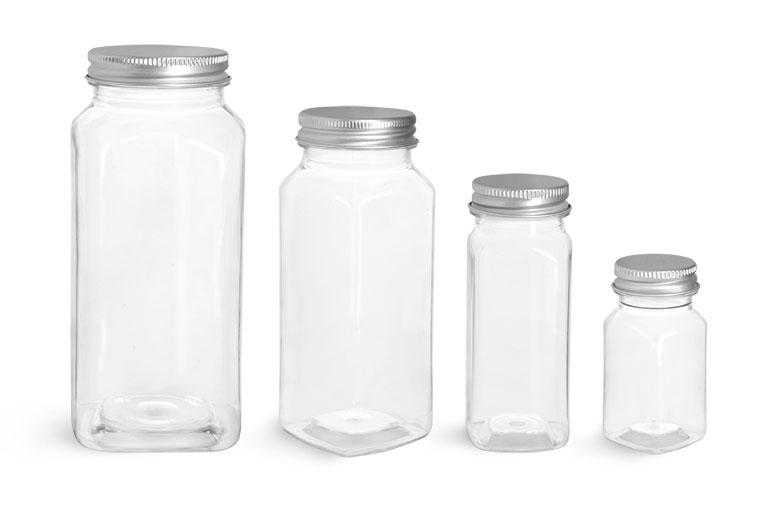 PET Laboratory Bottles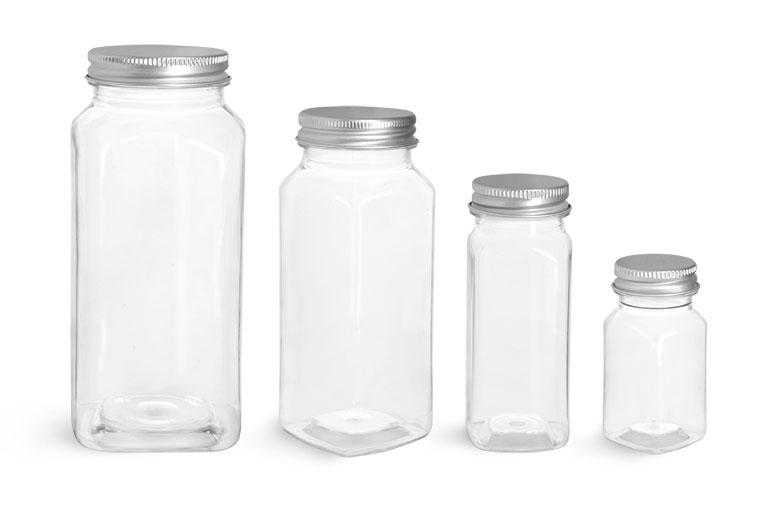 SKS offers PET laboratory bottles for storing and dispensing laboratory liquids. PET offers a good resistance to heat and is a good barrier to gas and moisture. It is also highly resistant to dilute acids, oils, and alcohols. Choose one of the many sizes of clear cylinder rounds with ribbed white PE lined screw caps to store or dispense various liquids. For a great alternative to glass, opt for the clear PET wide mouth square bottles with black, white, aluminum, or child resistant caps, in sizes ranging from 2 oz to 16 oz. Clear PET wide mouth rounds are another great option available in 30 cc or 60 cc, with white, black, or aluminum PE lined caps.
---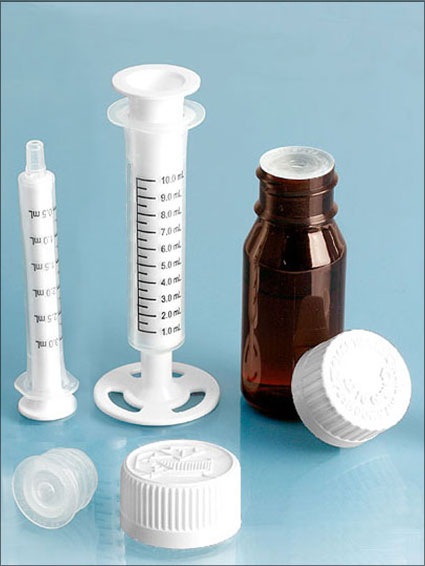 Amber PET Laboratory Bottles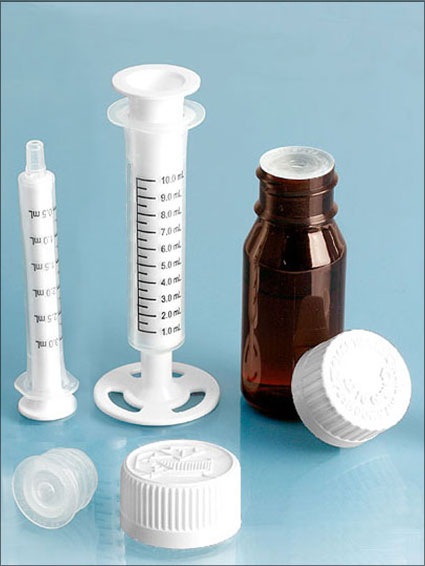 If looking to store liquid medicine, opt for the 60 cc amber PET bottle starter kit that comes complete with 20 bottles, 20 child resistant caps, and 20 self-healing orifice reducers. The bottles in this starter kit could be used to store and transfer liquids to a compatible oral syringe. The orifice reducers included in this kit feature flexible, self-healing seals to prevent spilling and are designed to aid in transferring liquid medication to oral syringes.
---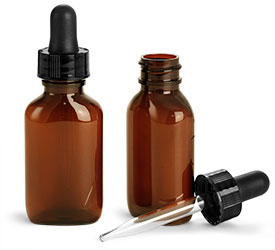 PET Bottles with Sprayers or Droppers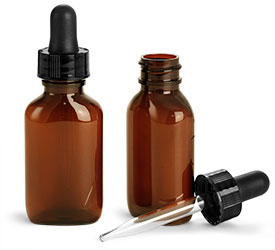 For liquids that should be applied by misting or dropping, PET bottles with sprayers or droppers could be a great option. Available in 2 oz and 4 oz sizes, clear PET cylinder rounds with black fine mist sprayers could be a great tool in any laboratory. The 2 oz clear PET cylinder rounds are also available with white fine mist sprayers. For protection against ultraviolet degradation, opt for the 1 oz amber PET ovals paired with black bulb glass droppers, that could be used to dispense liquids drop-by-drop.
---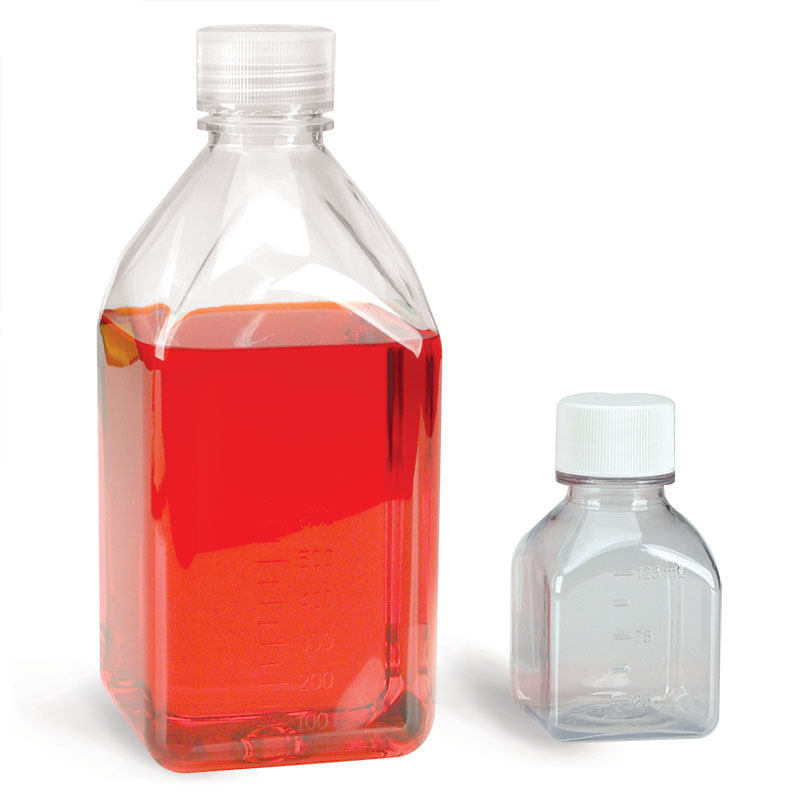 PET media bottles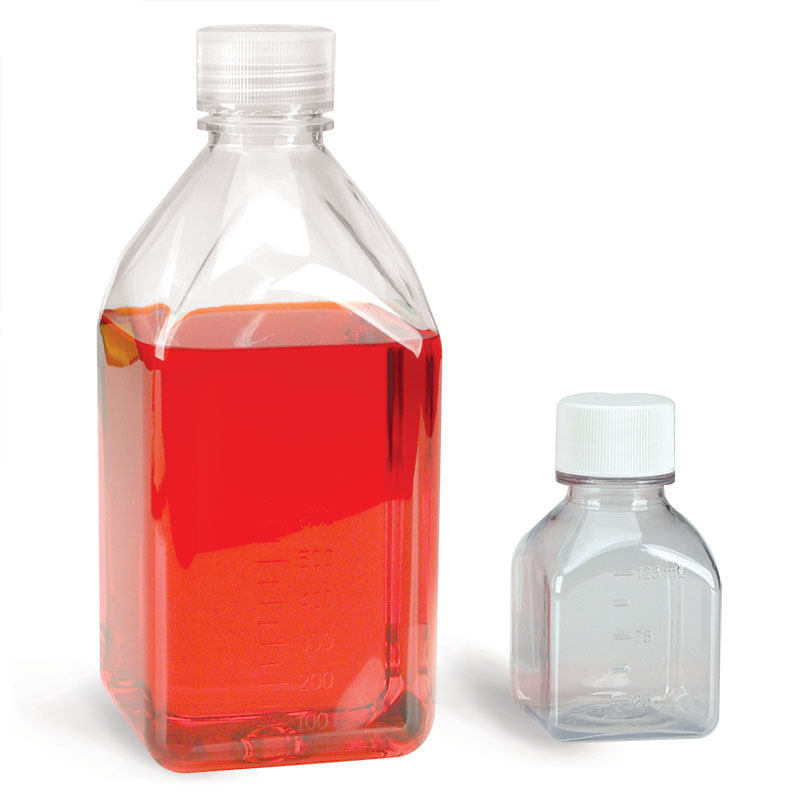 Choose from the range of PET media bottles offered by SKS for storing, mixing, and sampling applications. There are clear octagonal media bottles that are paired with tamper evident caps, available in 250 ml, 500 ml, and 1,000 ml sizes, and feature molded graduations. Additionally, there are sterile square PET media bottles which are available in 125 ml and 1,000 ml sizes; also feature molded graduations, as well as no-drip pour lips.
---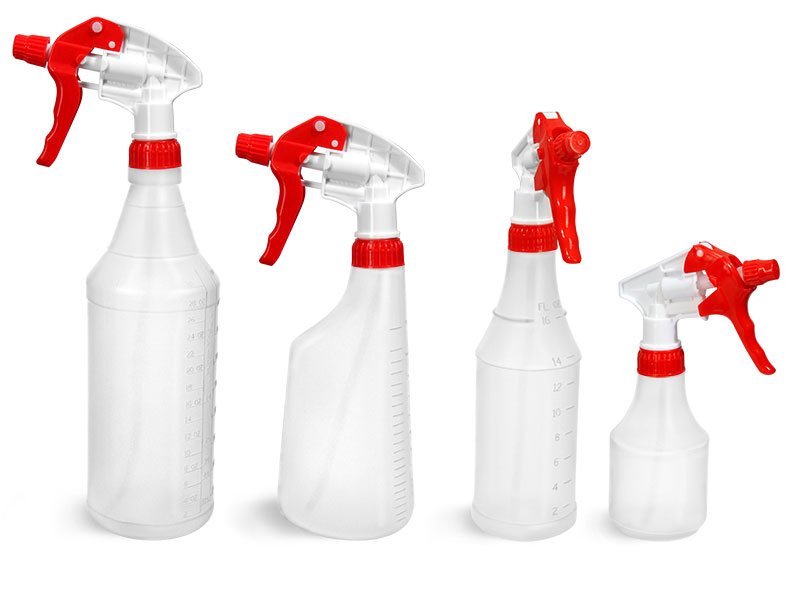 HDPE Laboratory Bottles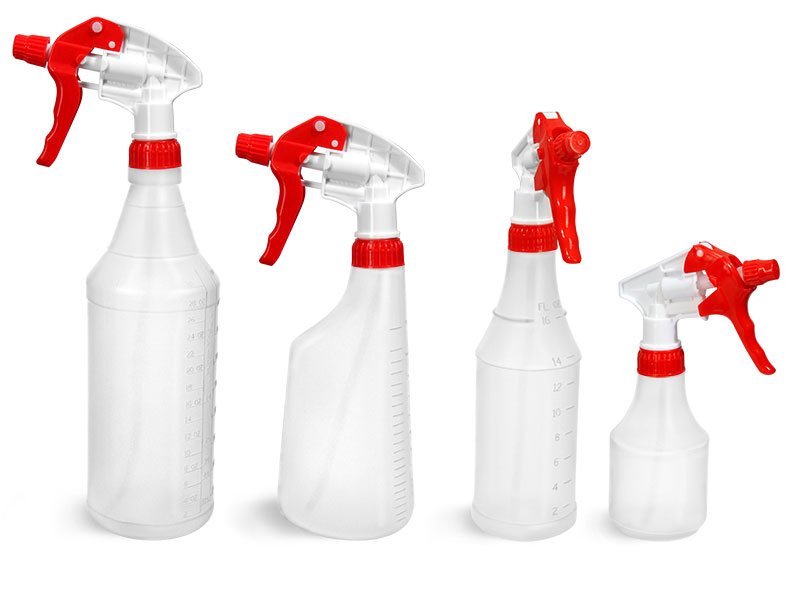 HDPE is an ideal material for a laboratory bottle, as it is an excellent moisture barrier and has good resistance to chemicals. For laboratory liquids that should be dispensed by misting, opt for natural HDPE cylinders with white fine mist sprayers in 1 oz to 16 oz sizes, or for natural bottles paired with white and red trigger sprayers. SKS offers many HDPE bottles with a variety of screw caps, such as natural cylinder rounds from 1 oz to 32 oz with white lined screw caps, as well as boston rounds and pharmaceutical rounds with screw caps, in sizes ranging from 2 oz to 32 oz. For storing larger quantities of liquids, choose a 64 oz or 1 gallon white or natural HDPE jugs, paired with white screw caps or child resistant caps.
Another option for a larger lab bottle is a carboy. Carboys with black handles and stopcocks come in 5 L, 10 L and 25 L sizes. The 5 L and 10 L have hexagonal aspirators, while the 25 L is round. A 5-gallon carboy is also available with a square design that allows for space saving storage and comes with a tube and clamp to make dispensing liquids an easy process.
---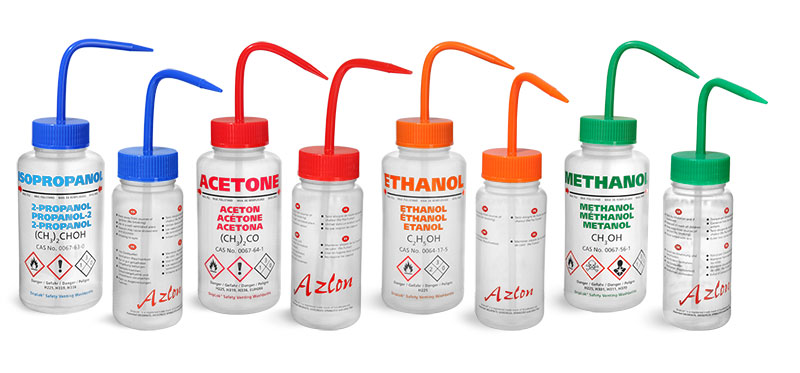 Wash Bottles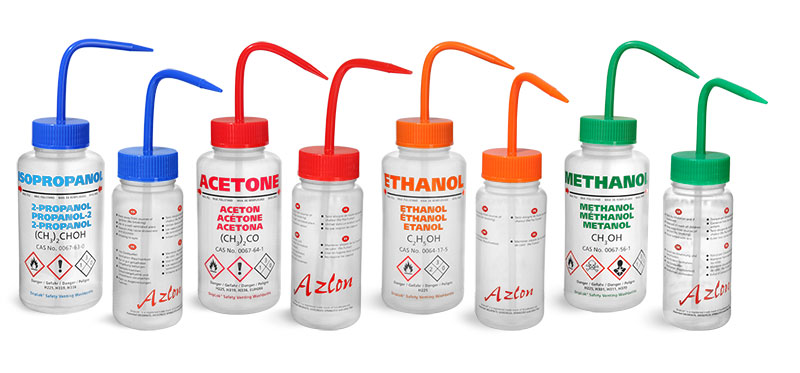 Wash bottles are a staple in any laboratory, used to wash glassware, lab equipment, and work surfaces. These bottles store and dispense common liquids such as distilled water, ethanol, acetone, methanol, and isopropanol. SKS offers natural, unlabeled wash bottles in various sizes ranging from 1 oz to 32 oz. There are also color coded and labeled wash bottles in 250 ml, 500 ml, and 1,000 ml sizes, to distinguish between the different solvents stored in each bottle. Opt for a wash bottle in 250 ml or 500 ml sizes with integral tubes which require only gentle pressure to eject the liquid. The square shape of these wash bottles allows for an easy grip and improved stability.
---
Whether looking for a PET or LDPE container, with dispensing or non-dispensing capabilities, SKS Science is sure to have something to suit your needs. Click here to browse the bottles mentioned above and others!