INSIDE THE LAB

SKS Science Newsletter
---
Microscope Slides & Staining Systems
July 2018
SKS Science carries numerous microscope slides and staining systems for a range of histology lab applications, including the study of the cell, organ, and tissue structures.
---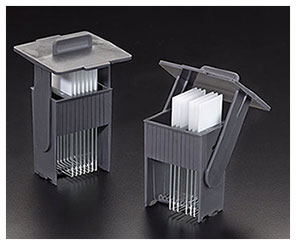 Microscope Slide Staining Racks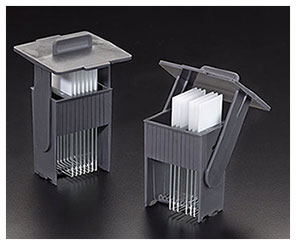 SKS offers multiple histochemical staining systems, which are used to provide contrast to generally transparent and colorless tissue structures, making them more visible and easier to evaluate. The EasyDip™ slide staining rack will hold up to twelve 25 x 75 mm or 26 x 76 mm microscope slides at a time. Each histology slide fits vertically into an individual slot in the slide staining rack for free passage and rapid drainage, and to prevent the frosted writing area from being affected by staining fluids. Spillage and evaporation are reduced due to the lid which completely covers the EasyDip™ slide staining rack. A handle is attached for easy insertion and removal of the plain or frosted microscope slides using forceps, so there is no need to touch the solution.
---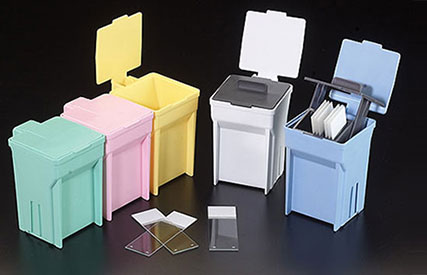 Microscope Slide Staining Systems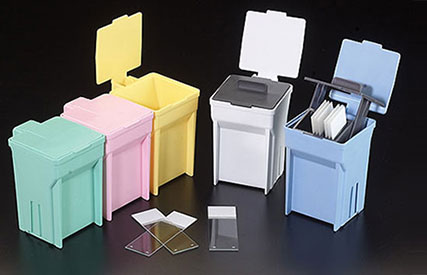 The EasyDip™ slide staining jars and the EasyDip™ slide staining system are ideal for special stains, frozen sections, and special processes. The jars are comprised of two components: a square staining jar, and a 12-position vertical slide rack. The slide staining system includes 5 square staining jars, and one 12-position vertical slide rack. The wide base of the staining jars offers greater stability and the inside is recessed, requiring a smaller reagent volume. The staining jars can be loosely attached to keep cell samples in order and come in 5 colors to help with content or application identification.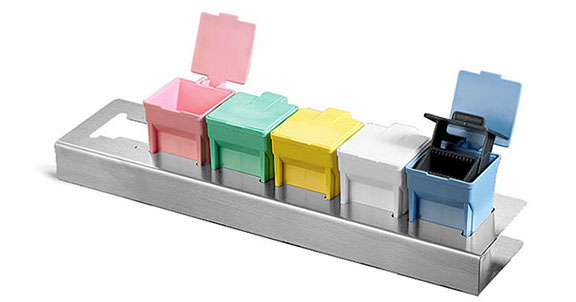 A stainless steel jar holder is also available, sold separately. The staining jars are made of acetal plastic, which is more durable than glass, will resist most histochemical staining agents, and is easy to clean. All EasyDip™ slide staining racks, staining jars, and slide staining systems can be autoclaved and can resist temperatures between -170°C and +121°C.
---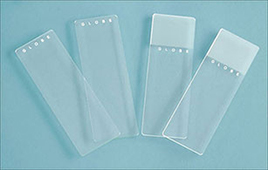 Microscope Slides & Accessories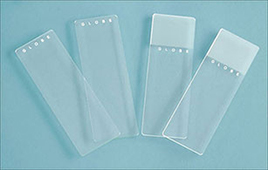 SKS has a variety of histology microscope slides and accessories for storing, viewing, and analyzing tissue samples after histochemical stains have been applied. The glass microscope slides are available in plain clear or clear with a frosted writing area for sample identification. All are standard microscope slide sizes and measure 25 mm x 75 mm x 1 mm. These histology slides are precleaned and feature ground edges and safety corners. The slightly clipped safety corners allow for more comfortable handling and prevent the risk of cuts to the fingers or hands.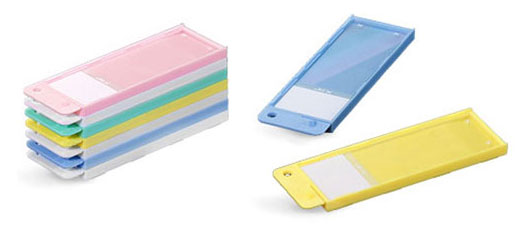 Styrene slide mailers are used to safely handle and ship glass microscope slides . Each plastic slide mailer fits one 25 x 75 mm histology slide, with or without microscope cover slips applied. Slide mailers are reusable, but can also be economically disposed of. These microscope slide mailers are designed to be stackable for easy storage, include a locking feature for added security, and can be used in a temperature range of -80°C to +80°C. The slide mailers are available in 5 colors for easy identification and each has a hole for attaching tamper evident ties or ID labels.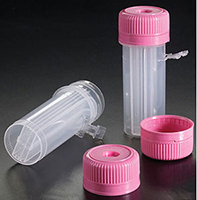 Tamper evident microscope slide mailing jars are used for secure shipping or storage of glass microscope slides and could also be used with slide conveyors. The 12 ml slide mailing jars are made of polypropylene plastic and can hold up to four 25 x 75 mm microscope slides at a time. The inside of the jar is slotted to prevent microscope slides from touching and each slide mailer jar comes with leak proof and tamper evident pink HDPE screw caps. The tamper evident locking feature on the HDPE caps ensures samples have not been tampered with during transport or storage.
---
In addition to the range of histology laboratory equipment SKS offers, be sure to fulfill all of your lab supply needs with products like our styrene slide storage trays, SlideFile storage system boxes, and glass boerner micro chambered test slides.