INSIDE THE LAB

SKS Science Newsletter
---
Glass Vials
July 2020

SKS Science carries a wide selection of glass lab vials that are appropriate for various scientific applications, including maintaining and storing specimens, measuring samples, and dispensing solutions. Choose from our variety of styles, sizes, and cap options needed for diverse laboratory environments.
---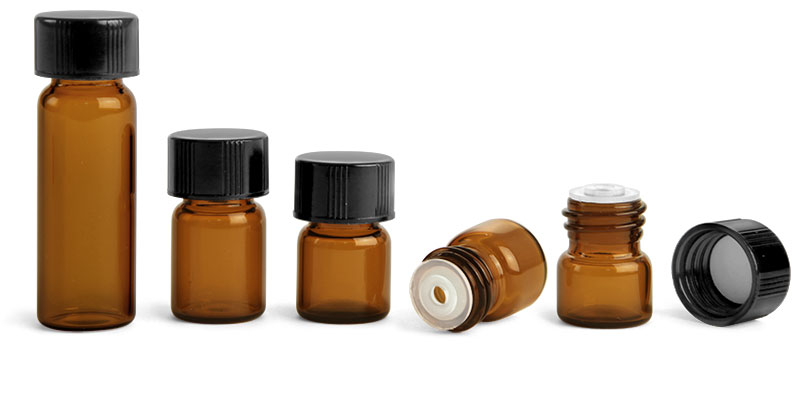 Amber Glass Vials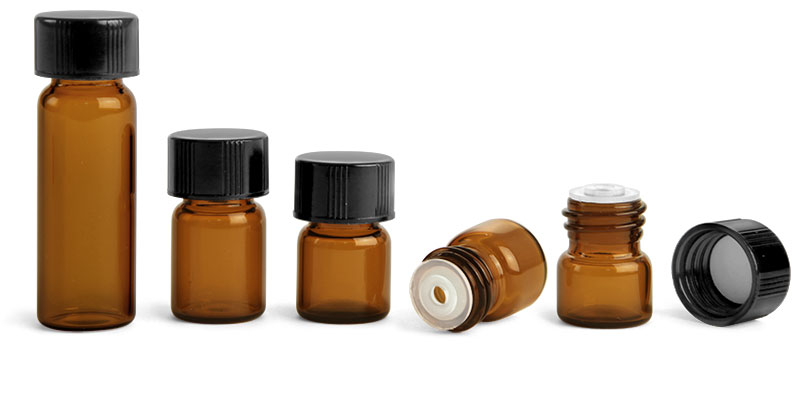 SKS Science carries amber glass vials in various styles that absorb light in the ultraviolet region of the electromagnetic spectrum. These glass vials are perfect when dealing with highly sensitive compounds due to their ability to prolong shelf life by deterring UV degradation.
Amber lab vials are available paired with black polypropylene foil lined caps. This glass lab vial is available in a 2 dram size. Polypropylene plastic is a tough, lightweight, rigid material nicknamed the "steel of plastic", making it a popular option for caps. The foil liners included in the polypropylene caps are composed of a polyester film that is laminated to aluminum foil and bonded to pulp board. These foil liners enhance barrier properties and offer resistance against aqueous solutions, like oils and alcohols.
Amber vials with orifice reducers and black phenolic PV Lined caps are available in four convenient sizes ranging from 1/3 dram to 1 dram. The amber glass vials come with orifice reducers, which offer a controlled drop-by-drop dispensing option for highly concentrated liquids. The included black caps are made out of a thermoset plastic known as phenolic. Phenolic plastic is incredibly lightweight and has a non-chemically reactive nature, so when exposed to corrosive or harmful chemicals over time the caps will not give out the way other polymers might. The PV liners in the black caps are composed of a polyvinyl film adhered to a white pulp paper backing. This polyvinyl liner provides chemical resistance against mild acids, alkalies, solvents, alcohols, oils, and aqueous products. There is also a 5/8 dram and 1 dram version of these glass vials available in green and blue.
---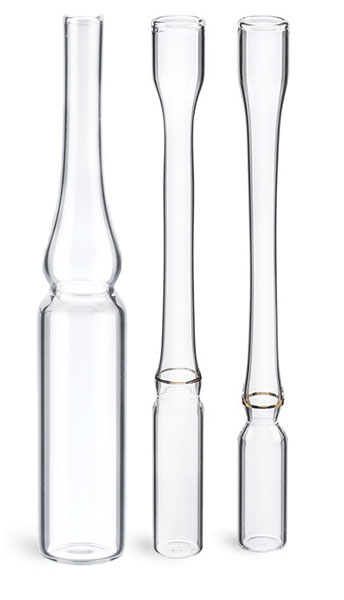 Glass Ampule Lab Vials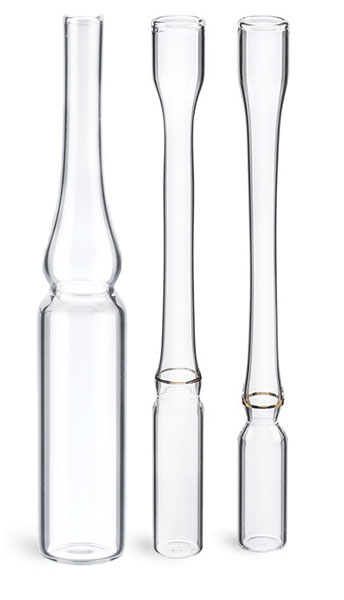 Ampules are composed of low extractable clear borosilicate glass that can be hermetically sealed to preserve sample purity and extend shelf life. Ampules meet ISO standards, environmental standards, diagnostic standards, and are ideal for cryogenic storage.
Clear glass ampule lab vials are available in both a 1 ml and 2 ml size. The stem of the ampule vials can be pull-sealed or tip-sealed to close the container, which offers a tamper evident seal and helps reduce sample contamination.
Gold band pre-scored clear glass ampules are available in sizes ranging from 1 ml to 50 ml capacities. The gold band around the neck of the pre-scored ampule indicates if the neck has already been weakened to facilitate opening. Ampules are always broken open at the neck to transfer and use contents after they have been sealed and this feature eliminates the user's need to weaken or score the ampule neck with a fine file.
Gold band pre-scored amber glass ampule lab vials come in a 1 ml, 2 ml, and 5 ml version. These lab vials are manufactured from low extractable amber borosilicate glass which meets USP Type 1 and ASTM Type 1, Class A standards. The amber glass offers critical protection from ultraviolet radiation for controlled samples and specimens.
---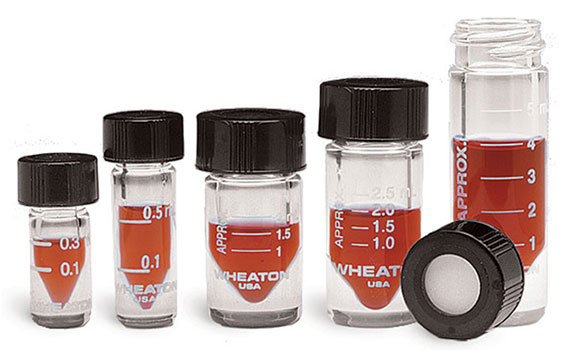 High Recovery Glass Vials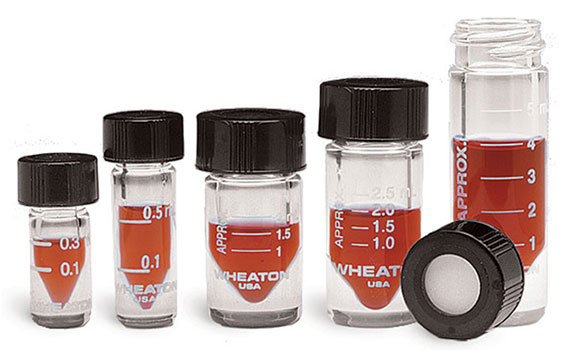 High recovery vials feature a fire glazed bottom, which protects against glass particulates, while low particulate packaging protects against contamination during transportation and storage. The conical interior bottom provides downward drainage and allows for maximum retrieval of content by syringe or micropipette. Choose high recovery glass vials for small-scale reactions, centrifugation storage, and shipping.
Clear glass graduated high recovery vials with black phenolic, teflon faced, open top caps are available in a 0.3 ml, 1 ml, 2 ml, 3 ml, and 5ml size. Teflon faced, open top, black phenolic screw caps are included with these clear glass lab vials. The open top caps with Teflon liners allow for multiple injections into the lab vial while maintaining a seal. These clear vials are composed of Wheaton 33 low extractable borosilicate glass and conform to ASTM Type I, Class A and USP Type I requirements to safeguard against a change in product pH caused by alkali, which can be extracted by ordinary glass.
Amber glass high recovery vials with black phenolic, teflon faced, rubber lined caps are useful in biochemical, pharmaceutical, and radiochemical industries. NextGen V amber glass high recovery lab vials are composed of Wheaton 320 low extractable borosilicate glass and conform to USP Type I requirements. Attached to the amber glass vials are Teflon-faced, solid top, 14B rubber lined black phenolic screw caps. The 14B liner material consists of homogeneous sulfur cured styrene-butadiene rubber. Teflon is a synthetic fiber that has a very high melting point and is also stable at very low temperatures. It can be dissolved by nothing but hot fluorine gas or certain molten metals. It is extremely resistant to corrosion, making it an excellent choice for use in a laboratory.
---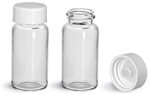 Other Lab Supplies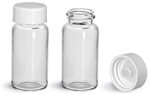 In addition to the various clear and amber glass vials SKS offers, be sure to procure all your lab supply needs with products like our glass vials with corks, glass vials with glass droppers, and glass scintillation vials.