INSIDE THE LAB

SKS Science Newsletter
---
Syringes
June 2016
SKS Science offers syringes for many uses, from animal injections to administering liquid medication. Whether looking for a plastic disposable syringe, or an all-glass reusable syringe, there is a wide variety of sizes and styles to suit nearly all needs.
---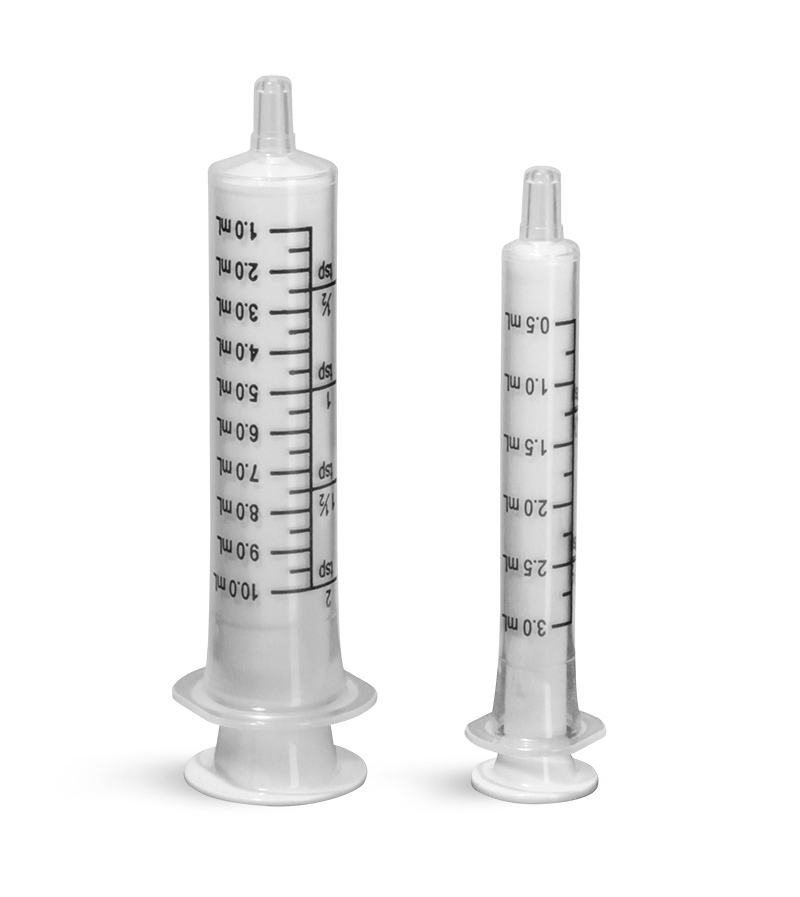 Short Tip Oral Syringes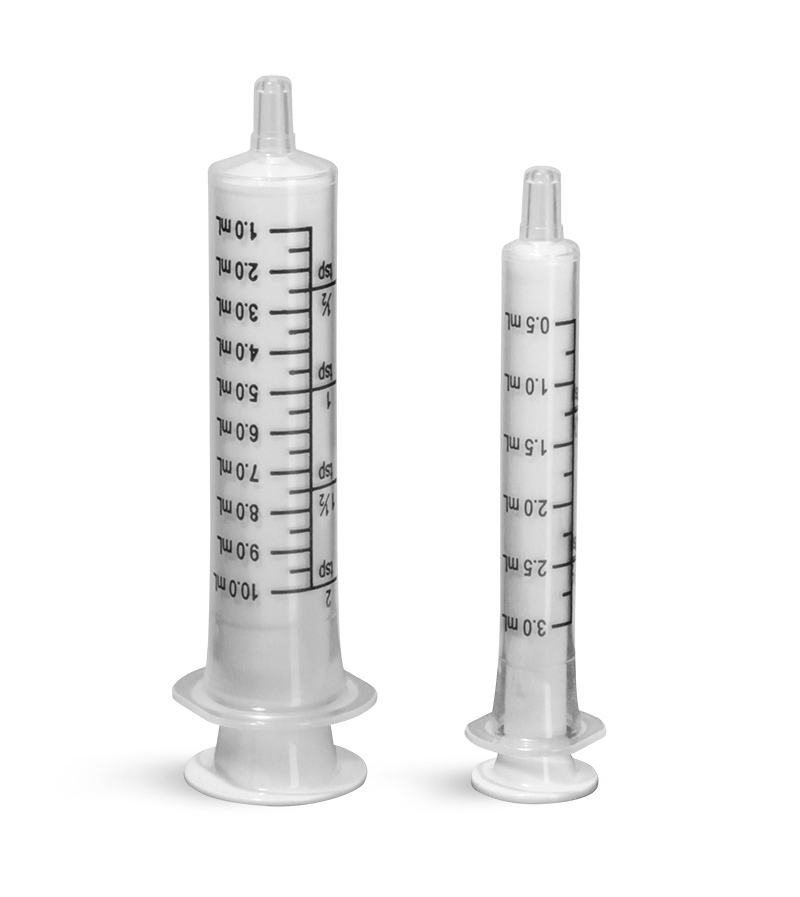 SKS carries 3 ml and 10 ml sizes of oral syringes, both have been tested, approved, and are regularly used by top pharmaceutical firms. To ensure there is a tight seal between the components of these syringes, each one has been pressure tested by the manufacturer during assembly. These dishwasher safe oral syringes feature a unique wiper design and consist of a one-piece white plunger made of HDPE, inside a clear polypropylene barrel. The design lessens the likelihood of choking by removing the need for small parts, such as rubber grommets. These reusable syringes feature long-lasting 360 ° printed calibration lines, which have been vision inspected to further increase measuring accuracy.
Use an oral syringe to dispense liquid medicine from a 60 cc amber PET bottle paired with SealSafe ® orifice reducers. These orifice reducers will fit most bottles with a 24 mm neck finish and feature flexible, clean seals that open when an oral syringe is inserted and reclose after each use. The self-sealing design helps to avoid spills, provides child safety, and protects from evaporation and contamination. For an additional layer of child safety, be sure to pair these bottles with child resistant caps. To dispense liquid medicine from a bottle with a SealSafe ® orifice reducer, simply insert the tip of the oral syringe into the opening, turn the bottle upside down, pull back the plunger to the desired dosage, turn the bottle right side up, and then remove the syringe. These items can be bought in starter kits with 20 child resistant caps, 20 60 cc Amber PET Bottles, and 20 SealSafe ® orifice reducers.
---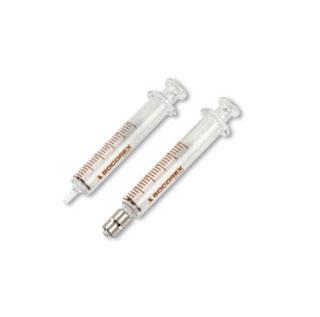 Glass Syringes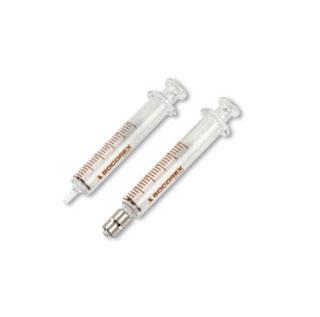 A glass syringe can be a better choice than a plastic syringe for some applications, such as locating the epidural space during regional anesthesia. Glass is a material commonly used for medical syringes and biocompatibility because they are less likely to interfere with liquids than plastic syringes are. SKS carries several sizes of Socorex Dosys ™ 155 all glass syringes with volumes ranging from 0.05 to 50 ml. These syringes are made of borosilicate glass which makes them reusable, chemically and heat-shock resistant, and can be sterilized up to 121 ° C (250 ° F). The extraordinary tightness and fitting of the plunger inside of the barrel provides a very smooth action when administering an injection and reduces the chances of leakage. The printed calibration lines on the Dosys ™ 155 glass syringes are permanent and easily visible to ensure accurate dosing. In many applications, these syringes can complement the Dosys ™ self-refilling models.
---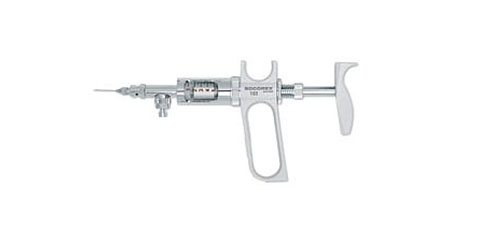 Self-Refilling Syringes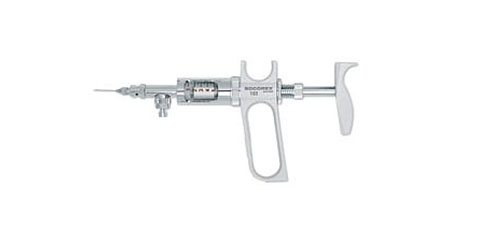 SKS offers Dosys ™ 172 basic self-refilling syringes with pistol grip handles designed for comfortable and fatigue-free handling. These syringes are available in a range of sizes from 0.1 ml to 10 ml, are chemically resistant, and can be used for many applications like animal injections or sterile filtration. They are very user-friendly thanks to the easy-to-read volume measurements on the interchangeable glass barrels. The stainless steel, spring loaded plungers help to increase accuracy, and adjusting the safety-locking nut onto the micrometric screw allows you to adjust the volume setting in seconds. Once selecting this, the desired dosage will be repeated each use and activating the syringe will not affect the selected dosage. The Dosys ™ 172 basic self-refilling syringe is comprised of only 6 main parts, making it quick and easy to take apart and clean, a great feature considering it should be cleaned after each use. These syringes are shipped fully assembled, with PVC protection sleeves and operating instructions. SKS also offers stainless steel Luer Lock needles for these Dosys ™ syringes. These reusable Luer Lock needles come in various sizes and have a needle point with a sharp bevel intended for safe, precise animal injections. Both the Dosys ™ 172 basic self-refilling syringe and Luer Lock needles come with a one year manufacturer warranty.
---
Ecostep ™ Disposable Syringes
Ecostep ™ disposable syringes range in volumes from 0.75 ml to 37.5 ml, covering a full range from 10 µL to 5,000 µL. These syringes are color coded according to the size to aid in preventing errors. The smallest size has a 0.75 ml volume capacity and is yellow, with sterile or nonsterile options available. The sterile syringes have been tested and are free of human DNA, DNase, RNase, and pyrogens. The blue syringes have a capacity of 3.75 ml, while the red syringes have the largest volume capacity of 37.5 ml, both the red and blue are non-sterile. These disposable Ecostep ™ syringes are intended for one use only, and are commonly used for routine microbiology and molecular biology applications. Easily insert these disposable syringes into the Step-Pette Repeater Pipette for easy, quick, and fatigue-free filling. This pipette requires 4-finger activation, has a setting knob to select from 53 different volumes, and provides reliable repeat dispensing from 10 µL to 5,000 µL. If using the Ecostep ™ disposable syringes without the Step-Pette Repeater Pipette, first put the nozzle into the liquid to be dispensed, pull the plunger upwards until reaching the desired graduation mark, and dispense according to your specific application. Keep in mind the polyethylene plunger and polypropylene barrel will be in direct contact with liquids, so be sure to check chemical compatibility with polyethylene and polypropylene.
---
SKS Science offers a wide range of syringes that could be used in various industries. To place an order for syringes, click on the links to be directed to each products page, or click here to see them all!