INSIDE THE LAB

SKS Science Newsletter
---
Lab Supply - Glass Flasks
March 2015
SKS Science offers a wide range of glass flasks from Erlenmeyer to volumetric in sizes ranging from 5 ml to 6,000 ml. Laboratory glassware is often times a better choice when compared to plastic, due to its strong resistance to heat and chemical attack. All SKS Science glass flasks are made of KIMAX® borosilicate glass. The chemical compound of borosilicate glass makes it stronger than most other forms. It has a high resistance to temperature change, is very durable and has a maximum working temperature of 515 degrees Fahrenheit.
---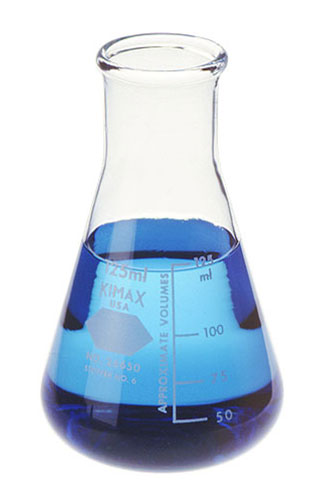 Glass Erlenmeyer Flasks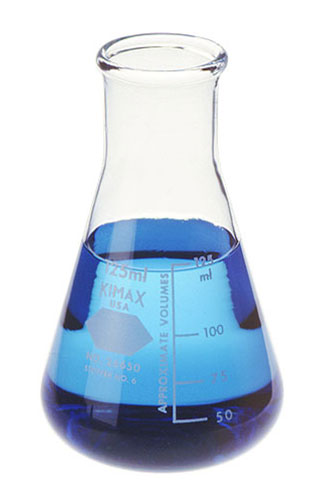 The KIMAX® glass Erlenmeyer flasks come in two different styles, narrow mouth and wide mouth. The difference between the two being that the narrow mouth flask has a smaller neck and opening than the wide mouth flask. The narrow mouth Erlenmeyer flask comes in sizes ranging from 25ml to 6,000ml while the wide mouth Erlenmeyer flasks are offered in sizes ranging from 125ml to 2,000ml. Both conform to USP Type I and ASTM E438, Type I, Class A requirements. Each size has a capacity scale as well as a marking spot for labeling, and both flasks have a beaded lip to offer more mechanical strength. The shape of an Erlenmeyer flask is meant to avoid spilling when mixing the contents by swirling, making them a great option for titrations. Click here to purchase any of these glass Erlenmeyer flasks. Click here to purchase the flasks.
---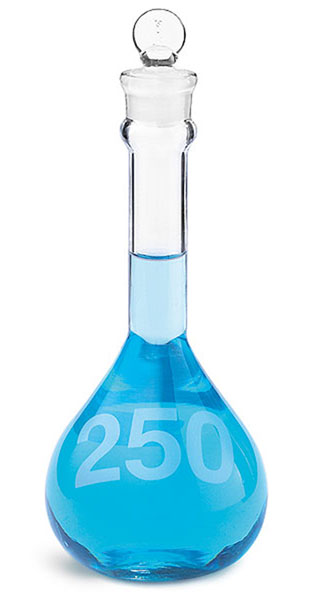 Glass Volumetric Flasks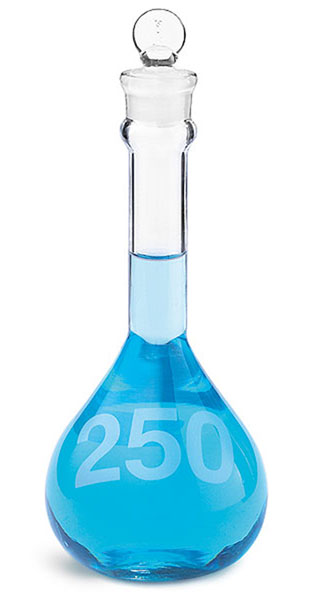 SKS Science also offers a range of volumetric flasks . Volumetric flasks are used to accurately measure the volume of a solution. SKS Science carries glass volumetric flasks in both clear and red or RAY-SORB®, as it's identified among KIMAX® brand products. RAY-SORB® volumetric flasks protect the contents from the light. Both flasks come with or without stoppers. The stoppers they are offered with are glass, PTFE or PE. Both ranging in size from 5ml to 2,000ml and both made from borosilicate glass conforming to USP Type I and ASTM E438, Type I, Class A requirements. Click here to purchase these volumetric flasks.
---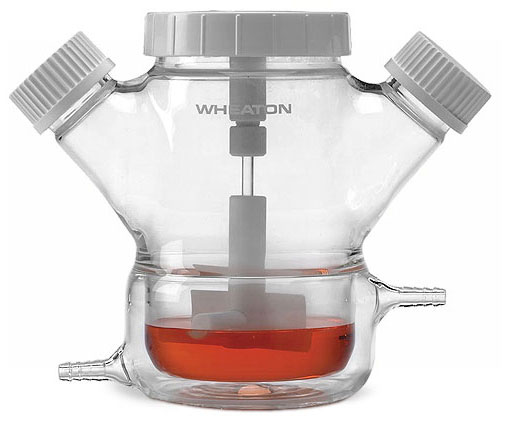 Glass Spinner Flasks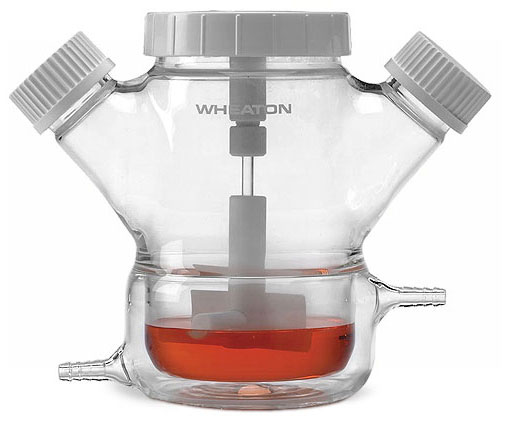 Consider adding spinner flasks to your laboratory! Offered in three variations these flasks are used to gently and evenly circulate the contents via an impeller that rotates from a fixed position. This flask is made for use with microcarrier cultures. All three types are made from 33 low extractable borosilicate glass that conforms to ASTM Type I, Class A and USP Type I requirements. The Magna-Flex Spinner Flask comes in sizes ranging from 125ml to 6,000ml and features a round shaped glass impeller. The Celstir Glass Spinner Flask has a wider blade impeller to offer better mixing. The entire unit could be autoclaved at 121°C for 20 minutes. The third spinner flask is the Celstir Jacketed Glass Spinner . This flask allows for accurate temperature control when used with a recirculating water bath, and features hose connectors for 0.25" ID tubing. Click here to purchase any one of these glass spinner flasks.
---
SKS Science glass flasks are an ideal option for use across a range of industries. Click on the links to be directed to each products page to place an order for your glass beakers today or click here to see them all!

Make SKS Science your laboratory glassware supplier!