INSIDE THE LAB

SKS Science Newsletter
---
Dry Baths Newsletter
March 2016
SKS Science offers a variety of digital dry baths to accommodate many incubation needs and a range of test tube, microcentrifuge tube, and PCR plate sizes. A dry bath is a crucial piece of lab equipment to create the perfect environment for samples. They can be used in many settings such as molecular biology, histology, clinical, environmental and industrial laboratories. Dry baths serve many purposes such as incubating DNA specimens, cross-matching and blood screenings, incubating melted agar, enzyme assays, digestions, and residue tests for milk. Heat blocks are interchangeable components of dry baths that hold the sample tubes. There are multiple heat blocks for each dry bath, making it easy to find a fit for test tubes of all sizes. With easy to use options like digital temperature controls and timers, incubation of samples has never been easier.
All dry baths offered by SKS are Benchmark Scientific products. They all feature a built-in user recalibration function, which ensures long term temperature accuracy. In addition, all dry baths sold by SKS are ten pounds or lighter, which makes for easier mobility from one work bench to another, or from one laboratory to another. The MyBlock Mini Dry Baths are compatible with an optional 12V vehicle power adapter, making this item ideal for field use, as well as laboratory use. Each dry bath sold by SKS comes with a two year warranty through Benchmark Scientific.
---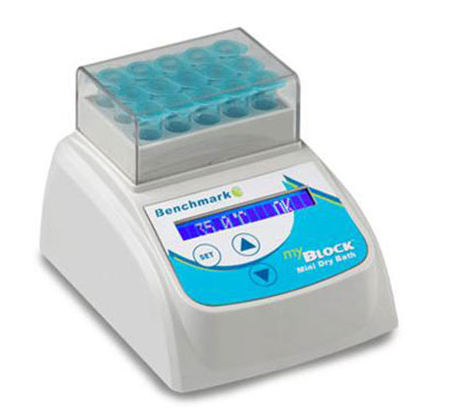 MyBlock Digital Dry Baths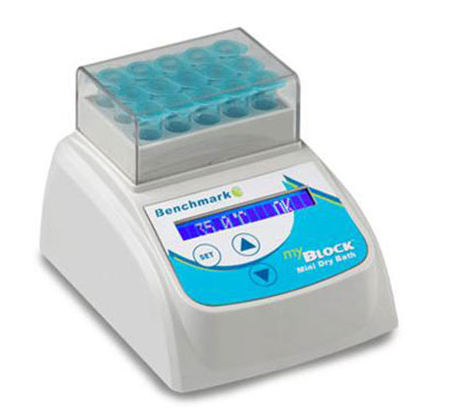 MyBlock digital dry baths by Benchmark are a great option, as they have many advantages over traditional dry baths. They are the first digital dry bath to feature advanced microprocessor controls, timed or continuous operation, and a removable hinged lid. The ability to remove the lid is useful in order to allow taller tubes to fit. When the lid is attached, it improves uniformity among samples, and helps to conserve energy by reducing heat loss. The digital temperature controls on this dry bath help to improve lab efficiency. The user is able to set the controls, and leave the dry bath unmonitored as it maintains a programmed temperature. For additional feedback, choose an optional external temperature probe to position directly inside of a sample tube to give actual sample temperature. This dry bath will fit nearly all common test tube, PCR strip or even PCR plate sizes. There are heat blocks available to accommodate tube sizes from 1/7 ml up to 50 ml, and PCR plates. The unique Quick-Flip block is also available for this dry bath. One side of this block will accept 0.5 ml to 2 ml tubes, and with just a flip, the opposite side can house 0.2 ml tubes or PCR strips.
---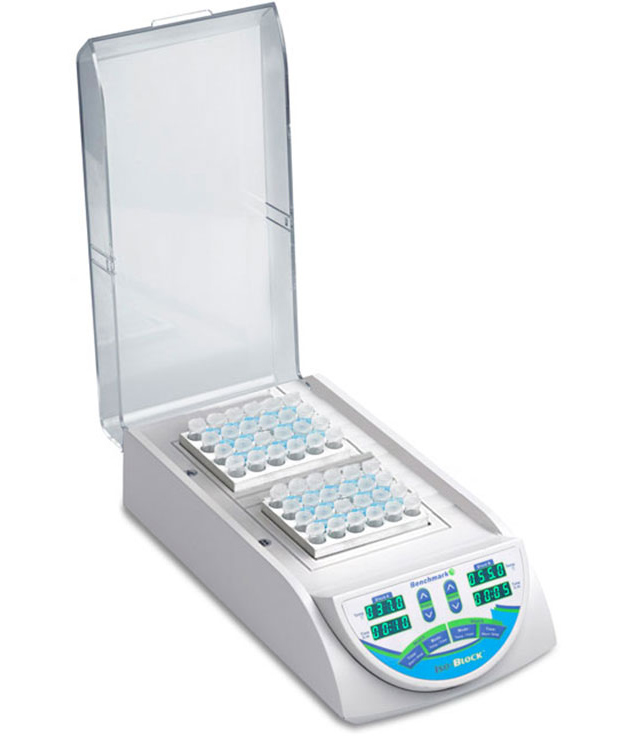 IsoBlock Digital Dry Baths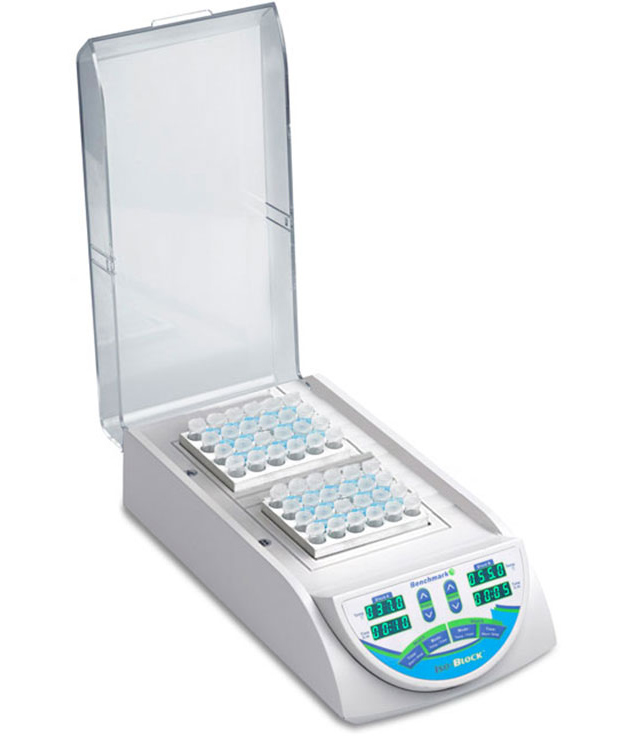 The IsoBlock digital dry bath is perfect if incubating multiple samples. This dry bath features two separate chambers, making it possible to incubate samples at two different temperatures simultaneously. In order to serve as two dry baths in one, the two chambers are separated by an insulated wall and controlled independently. The hinged lid also has a dividing wall to prevent air transfer from one chamber to the other. The lid helps to conserve energy and maintain accurate temperature. The Benchmark IsoBlock is user friendly, thanks to the large digital displays, as well as the ability to set the time and temperature. This allows the user the option to leave the unit unmonitored. This dry bath accepts many different heat blocks that will hold 0.5 ml up to 50 ml tubes, and PCR strips. The Quick-Flip blocks can also be used in this dry bath, one side fits 0.5 ml to 2 ml tubes and the other side accommodates 0.2 ml tubes or PCR strips.
---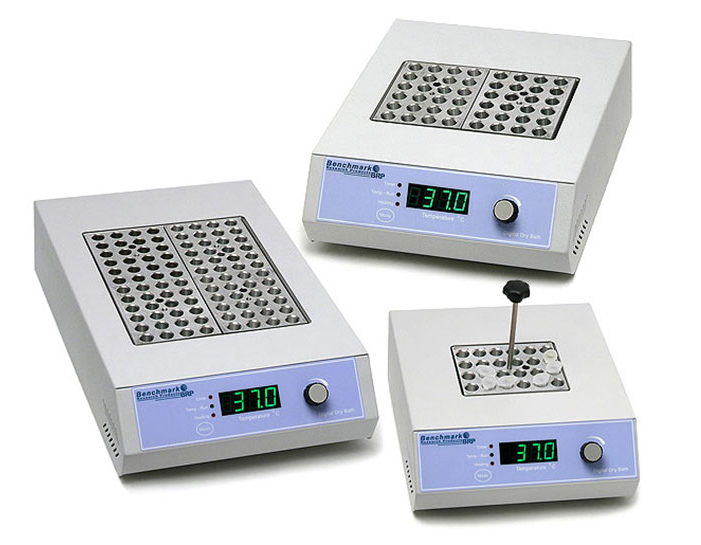 Digital Dry Baths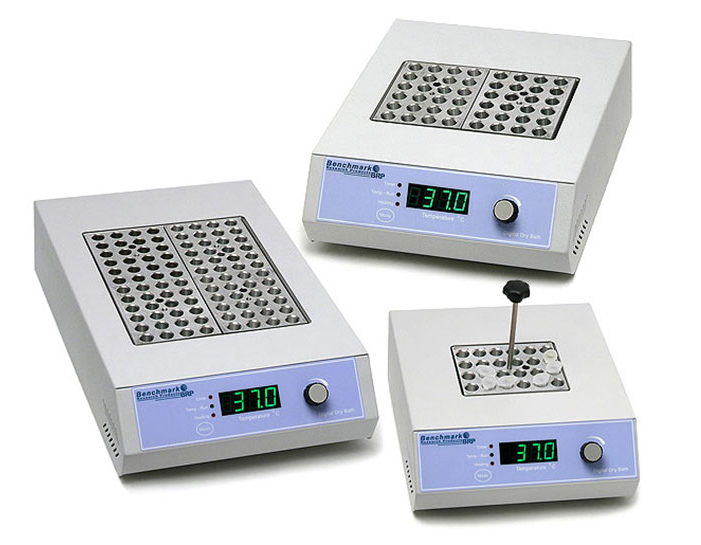 The traditional digital dry baths SKS offers come in single, double, and four block capacities. The digital temperature selection eliminates the need to fiddle with a control knob to get the temperature just right, or to use an external thermometer to test samples. After selecting the desired temperature with the easy-to-use digital touchpad, these digital dry baths will maintain that temperature within 0.2. This user friendly device allows the operator to set a timer with the digital touchpad. When the set time runs out, the alarm goes off. Several heat blocks are available for this unit to accommodate tubes from 0.5 ml to 50 ml. In order to remove and transfer heat blocks, a tool with a temperature insulated handle known as a block lifter is provided with this Benchmark dry bath to safely transfer heat blocks while they're still hot.
---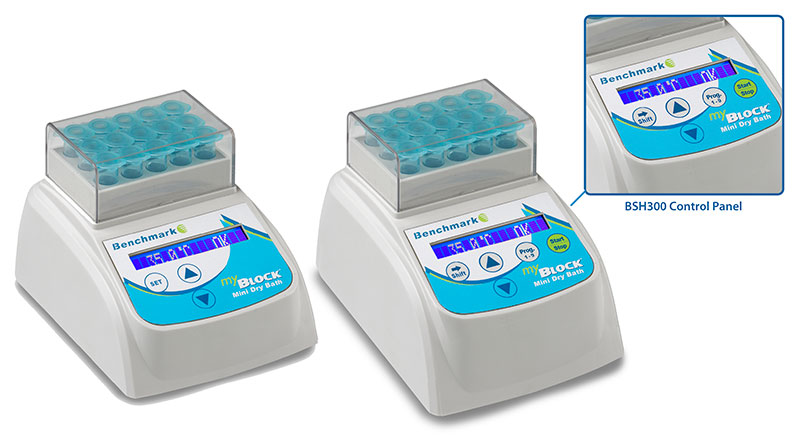 MyBlock Mini Dry Bath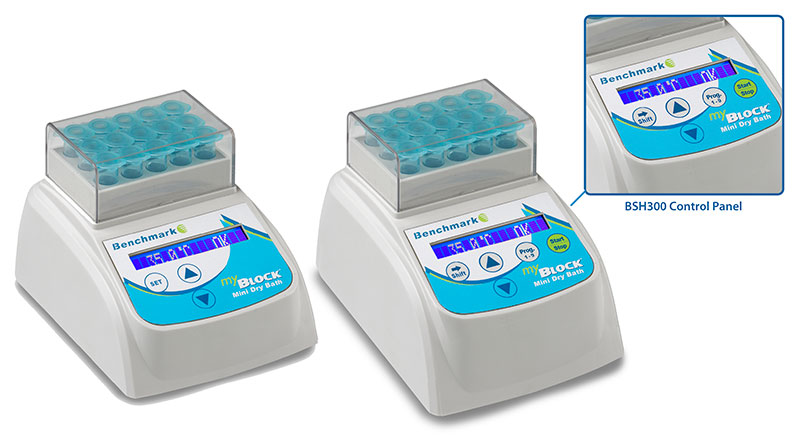 The MyBlock mini dry bath is perfect for field use. This unit is extremely portable thanks to its low weight, and compact 4.3 inch width. The personal sized piece of science equipment can fit in the palm of your hand or on any crowded workbench. The MyBlock mini can accommodate up to six heat block configurations for various tube sizes, ranging from 0.2 ml to 50 ml. Use the simple touchpad to set the digital controls and chose from a broad temperature range. The BSH200 model, which is heating only, has a temperature range from 5? to 100? while the BSH300 model, which has heating and cooling capabilities, has a temperature range from -25? to 100?. These Benchmark dry baths come with a block lifter to make transferring hot blocks safe and easy.
---
SKS offers digital dry baths to suit nearly every sample incubation need. These units accommodate a large variety of test tubes, PCR strips and PCR plates and provide a wide range of temperatures for incubating. Select an IsoBlock to serve as a "two-in-one" dry bath or a MyBlock mini dry bath to take on-the-go. Choose any one of the easy to use dry bath options today!