INSIDE THE LAB

SKS Science Newsletter
---
Earth Science Supplies
March 2019
SKS Science carries a variety of digital scales and laboratory balances, sample containers, beakers, dropper bottles, and more for earth science and geology labs and field work.
---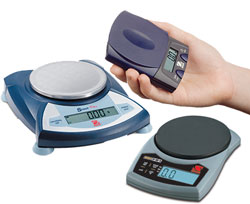 Earth Science & Geology Equipment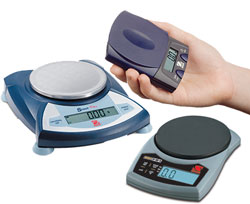 SKS offers a wide range of digital scales that could be useful in a geology or earth science lab. The Ohaus triple beam balance is equipped to weigh solids, liquids, and powders up to 610 grams. This mechanical balance features a corrosion resistant, stainless steel weighing platform with a 6" dial and a tare beam to offset container weight up to 225 grams. The balance includes a spring loaded zero adjust compensator and a heavy zinc base for increased stability.
Several portable digital scales are also available, which may be ideal for field work. Ohaus digital pocket scales feature a unique sliding pan that acts as a protective cover when out in the field or during storage. These portable scales are available in 120 gram or 250 gram capacities and feature piano style buttons, which provide tactile feedback while offering durability to bumps and drops.
---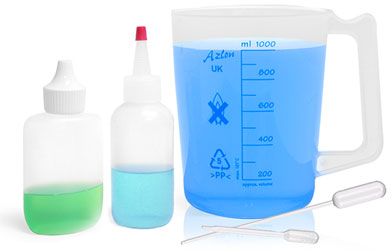 Geology & Earth Science Lab Supplies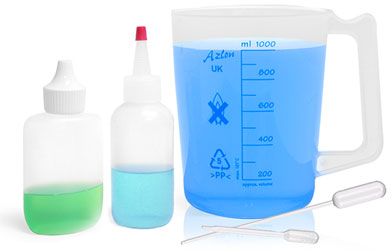 SKS carries a variety of plastic and glass droppers, plastic squeeze bottles, lab beakers, funnels, and more for sample collection and testing. Black and white bulb glass droppers are available in a range of cap sizes and pipette lengths for accurately dispensing solutions and chemicals. Black bulb glass droppers are also available with a tamper evident seal for added protection.
Natural LDPE plastic boston round bottles and natural LDPE plastic cylinder bottles are each available in 6 sizes and include spout caps. LDPE plastic features good moisture barriers, as well as excellent resistance to acids, alcohols, and bases. The spout caps include a .03 mm orifice and offer a streamed dispensing option that is useful for adding cell culture media onto petri dishes, microscope slides, and more. Red tops cover the spout caps to help prevent spillage when the lab bottles are not in use.
Glass powder funnels are available in 5 sizes and feature short, wide stems and heavy, uniform walls, which are fire polished to ensure a longer product life. The glass funnels are impermeable and offer high chemical resistance, as well as resistance to mechanical and thermal shock. Polypropylene powder funnels are also available in 5 sizes and feature a wide stem to allow for the passage of larger particles. These plastic funnels are translucent like glass, but are autoclavable and shatterproof. Polypropylene plastic offers excellent moisture barriers, as well as good acid, base, oil, and grease resistance.
---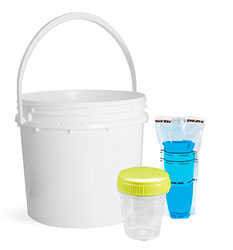 Geology & Earth Science Sample Containers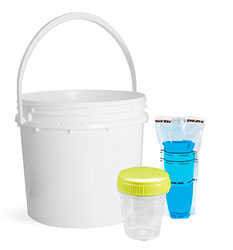 Choose from a large assortment of glass and plastic specimen containers, pails, buckets, and vials for collecting rocks, soil, and sediment samples. Plastic hinge top containers feature attached snap tops and are available in a variety of sizes and colors. Polypropylene plastic pop top vials are certified child resistant and come in 5 color options: opaque red, green, black, white, and translucent natural.
Polypropylene plastic weighing bottles come in 7 size options and include airtight lids. These laboratory bottles are lightweight to reduce the tare weight correction needed in weighing procedures. The straight sides and wide mouths of the plastic containers allow use with spatulas and the airtight lids can be squeezed to assist in pouring. These weighing bottles are reusable and autoclavable.
---
Other Earth Science & Geology Lab Equipment
In addition to the earth science supplies SKS offers, be sure to fulfill all of your geology lab equipment needs with products like our disposable pasteur pipettes, PMP plastic square ratio beakers, and disposable polystyrene culture tubes.