INSIDE THE LAB

SKS Science Newsletter
---
Wash Bottles
March 2020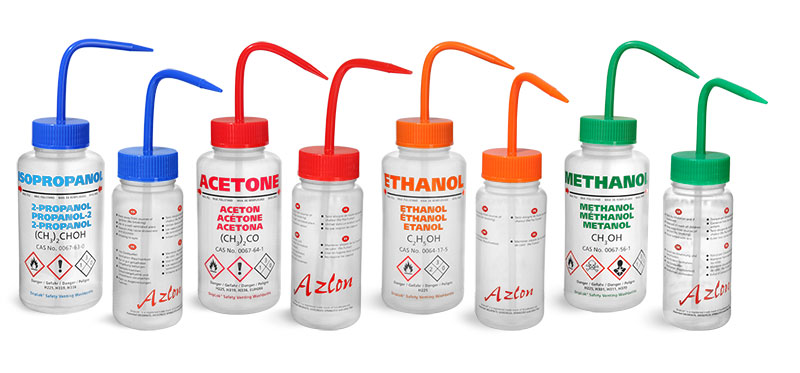 SKS Science carries a variety of plastic wash bottles for easily marking and identifying various types of chemicals and solvents in the lab. Choose from a range of sizes that come pre-labeled, color coded, or without labels.
---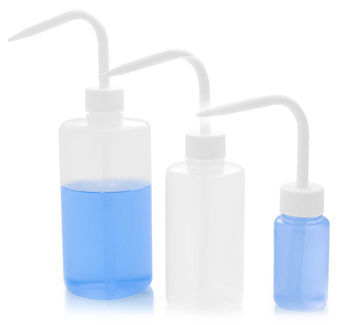 Plain Wash Bottles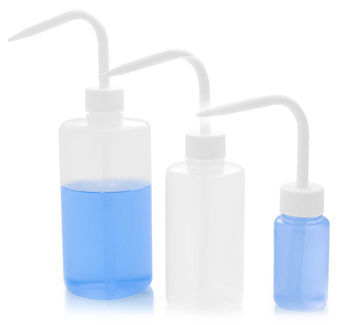 LDPE is highly flexible, lightweight, and offers good moisture barriers, as well as resistance to grease, oil, and acid. Natural LDPE plastic narrow mouth wash bottles are available with white polypropylene plastic caps in two styles. One style is available in 60 ml, 250 ml, and 500 ml sizes, or in a variety pack with one of each size. The plastic closures are swivel/leak proof, and the biology lab bottles feature squared shoulders.
Low cost LDPE wash bottles are available in 4 oz, 8 oz, and 16 oz sizes with various case pack options. These leak proof bottles feature sloped shoulders and the large bore dispenser tubing attached to the plastic caps can be cut as needed to increase flow in a controlled stream or drop-by-drop. Both wash bottle styles come plain, to be labeled as needed, and can be used at a maximum temperature of 80°C
---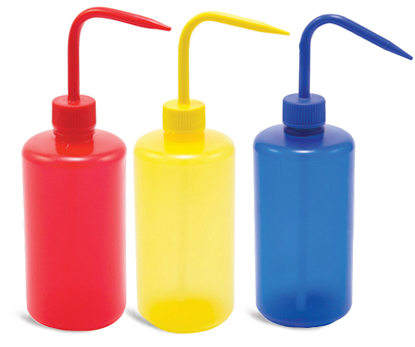 Color Coded Wash Bottles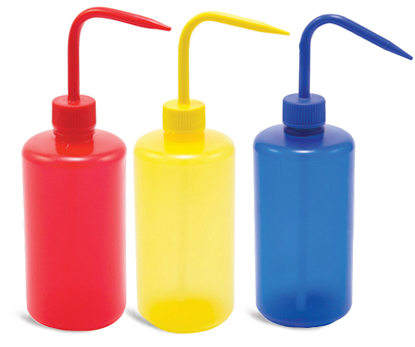 Natural LDPE wide mouth bottles are available in 250 ml, 500 ml, and 1,000 ml sizes, with various color cap options for each. Choose from red, blue, yellow, green, and white plastic caps to distinguish between different chemicals or bottle uses. The wide neck of the chemistry lab bottles offers spill-free filling and the acute angle of the precision molded dispensing spout ensures a consistent, downward pointing jet.
500 ml wash bottles are available in red, yellow, and blue with matching colored closures. These fully-colored plastic bottles are eye-catching and easily identifiable. Each color option comes shrink wrapped in packs of five with the caps attached.
---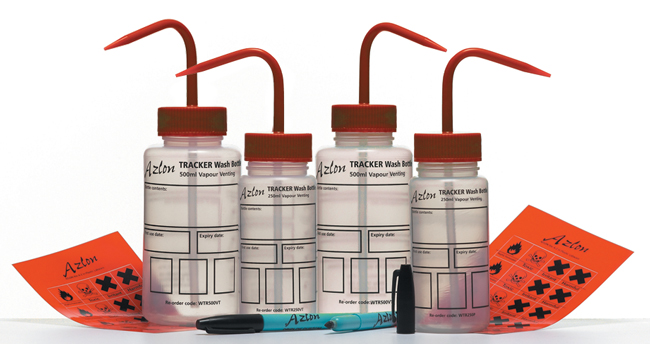 Labeled Wash Bottles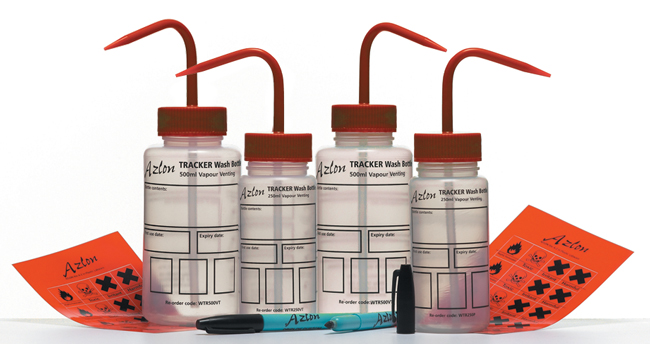 Azlon LDPE wash bottles with white leak proof caps are available in 250 ml and 500 ml sizes and come pre-labeled. These plastic wash bottles are designed for use with water, distilled water, or deionized water. Each size and label option can be purchased in packs of five.
Natural color-coded LDPE wash bottles are also available in 250 ml and 500 ml sizes and come pre-labeled. Red caps are paired with lab bottles for acetone, blue for isopropanol, orange for ethanol, and green for methanol. The patented DripLok® vapor venting valve prevents dripping and build-up by allowing volatile solvent vapors to escape when not in use. Each label includes Globally Harmonized Symbols (GHS), NFPA diamond, risk phrases and safety information, and is printed in four languages: English, German, French, and Spanish. Each GHS label wash bottle option can be purchased separately in bags of five, or in 250 ml or 500 ml combo packs with one of each color.
250 ml and 500 ml tracker wash bottles are also available and feature a unique write-on, wipe-off labeling area for easy identification. These chemistry bottles are specially designed for full traceability and to meet stringent labeling requirements. Each wash bottle comes with red polypropylene plastic DripLok® caps for secure dispensing and includes self-adhesive COSHH labels. Solvent marker pens can be purchased separately in packs of two.
---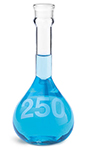 Additional Laboratory Supplies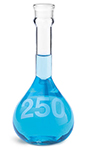 In addition to the various plastic wash bottles SKS offers, be sure to procure all your lab supply needs with products like our glass test tubes, volumetric flasks, and glass graduated cylinders.