INSIDE THE LAB

SKS Science Newsletter
---
Cell Culture Plates & Accessories
May 2019
SKS Science carries a variety of polypropylene plastic microplates, as well as silicone sealing mats, for a wide range of clinical research and diagnostic testing applications, including bacteria culturing, compound storage, enzyme assays, and more.
---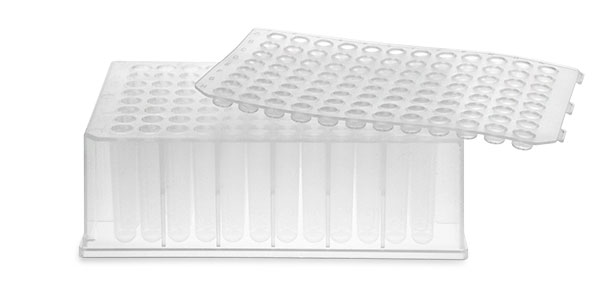 Cell Culture Plates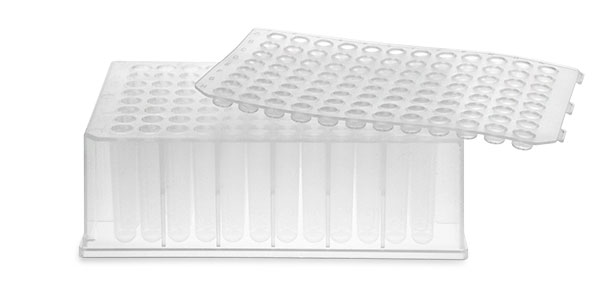 BioBlock™ color-coded microtitration plates and microplate covers are available in natural polypropylene plastic. Polypropylene is used for the construction of microwell plates subject to wide changes in temperature, such as storage at -80° C and thermal cycling. The lab culture plates feature a 2.2 ml 96 well plate capacity, or 2.1 ml capacity when capped. These 96 microwell plates are used mainly for compound storage and enzyme assays. They are compatible with Qiagen lab equipment and are dimethyl sulfoxide (DMSO) resistant.
96 well round bottom plates in 1.2 ml capacity, or 1 ml capacity when capped, are also available. This size plate empties completely and is ideal for culturing bacteria cells. These microplates can withstand centrifugation up to 6000g by using microtiter plate rotors.
BioBlock™ microtitration plates with 96 well round bottom plates and tube strips feature 600 µL wells for smaller volume applications. These diagnostic lab culture plates are DMSO resistant and each plate comes with 12 tube strips. Choose between removable tube strips, fixed tube strips, a strip of eight tubes, or a flat cap strip.
---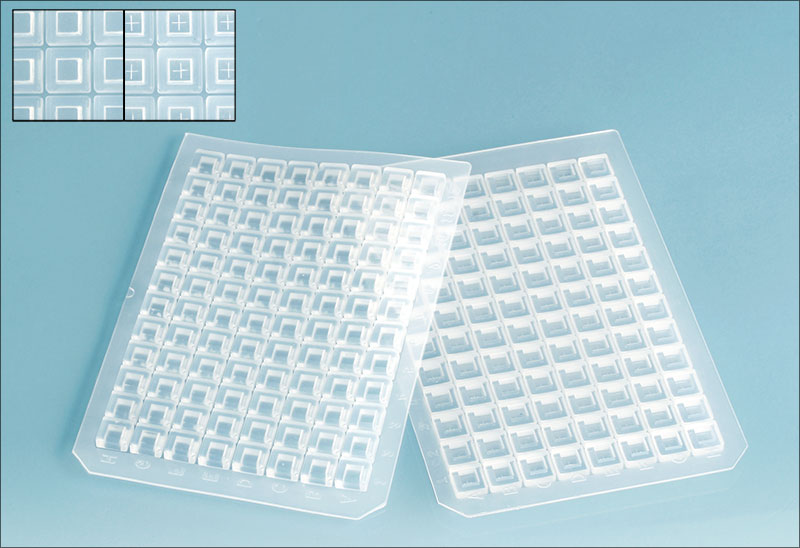 Silicone Sealing Mats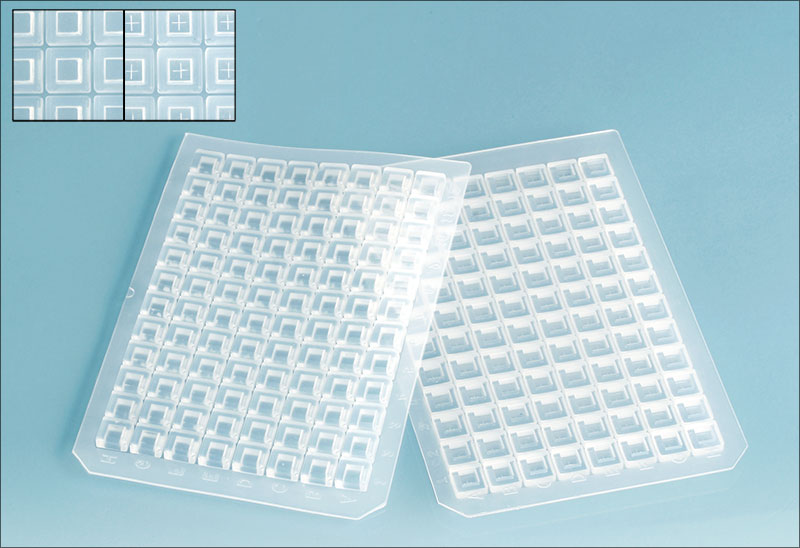 SKS carries a range of silicone sealing mats, designed to fit most 96 well plates or 384 microtiter plates. The soft, but strong silicone structure offers easy needle penetration and resealability. All mats feature PTFE coating for improved chemical resistance and can also be slit for increased ventilation.
82 mm and 83 mm 96 well sealing mats are available in a variety of styles; choose between regular, ultra-low bleed, pre-slit, or a combination. The 82 mm 96 well silicone rubber sealing mats feature 7 mm diameter plugs and the 83 mm sealing mats feature 8 mm diameter plugs.
83 mm silicone sealing mats for 96 square well microtitration plates feature a grid design and are ideal for compound storage applications. Similar to the round 96 well plate sealing mats, they are available in multiple styles, including ultra-low bleed, pre-slit, or a combination.
81 mm sealing mats for 384 square well microwell plates are packaged in cases of five and are available in two styles: regular or pre-slit.
---
Other cell culture equipment and accessories
In addition to the microwell plates and microplate sealing mats SKS offers, be sure to fulfill all of your cell culture lab equipment needs with products like our Acura set of 3 manual pipettes, Calibra digital micropipettes, and blue disposable nitrile gloves.