INSIDE THE LAB

SKS Science Newsletter
---
Plastic and Glass Media Bottles
October 2017
Plastic and glass media bottles are essential laboratory containers that facilitate mixing, storing, and sampling of various liquids. They are available in many sizes with a range of caps and liners at SKS Science.
---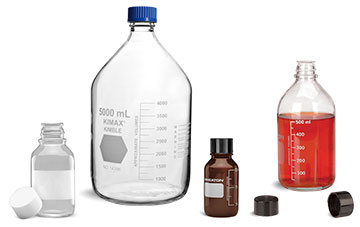 Glass Media Bottles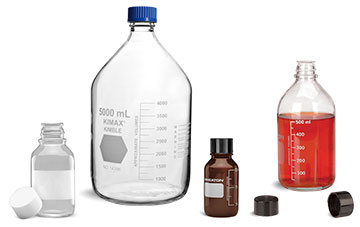 SKS offers GL 45 clear glass media bottles available with or without blue polypropylene caps and replaceable natural drip free polypropylene pour rings. These media bottles feature enhanced chemically resistant white enamel markings and graduations. These durable chemistry glassware bottles are available with KimCote® safety coating to reduce glass breakage as well as leakage of chemicals by containing glass shards if dropped. Choose from a range of seven sizes ranging from 100 ml to 10,000 ml or choose the starter pack consisting of two 100 ml bottles, three 500 ml bottles, and two 1,000 ml bottles. All sizes of these glass media bottles feature 30 mm ID openings to aid in filling and dispensing.
SKS Science has many glass media bottles featuring wide openings, no-drip pour lips and sloped shoulders to facilitate in controlled pouring, filling and easy cleaning. Opt for teflon faced rubber lined , LDPE lined or rubber lined black phenolic caps in sizes ranging from 125 ml to 1,000 ml. These glass bottles feature easy-to-read white graduations and large white writing areas for easy identification. Safety coated options are also available in 125 ml, 250 ml, 500 ml and 1,000 ml sizes with white caps. They feature a sturdy, slip-resistant plastisol coating to reduce breakage and promote lab safety.
When dealing with light sensitive materials, amber glass media bottles could provide crucial UV protection for your samples. These 125 ml glass media bottles are manufactured from borosilicate glass and offered without caps, or with PE lined, rubber lined or teflon lined black phenolic caps. White writing areas allow for easy identification of contents, and bottles include white graduations in 25 ml intervals.
---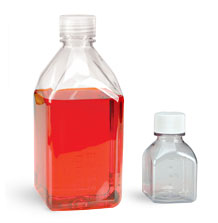 Plastic Media Bottles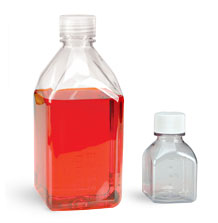 Choose sterile square PET plastic media bottles in 125 ml or 1,000 ml sizes to provide both the clarity of glass and the strength of plastic. These plastic media bottles feature no-drip pour lips, permanently molded graduations and a space-saving square design. Each plastic bottle has been tested by the manufacturer to ensure pH stability, temperature durability, cloning efficiency and cytotoxicity.
Polycarbonate plastic media bottles have permanently molded graduations and octagonal shapes that allow for an "easy-grip" to aid in pouring. These graduated media bottles are available with blue caps made from virgin high-temperature polypropylene plastic and include a leak-proof guarantee. The ring necks have smooth interiors to avoid fluid entrapment and backflow contamination, with an inner seal molded to fit tightly against the bottle's neck, creating a leak-proof seal.
---
SKS Science offers many variations of media bottles and media bottle accessories. Be sure to browse our extensive collection!