INSIDE THE LAB

SKS Science Newsletter
---
Shakers and Rockers Newsletter
September 2016
SKS Science offers various shakers and rockers from Benchmark Scientific, many with precise controls, variable speeds, and built-in digital timers. This equipment is an important tool in any lab for applications like cell cultures, DNA extractions, low foaming agitations, general mixing, as well as staining gels and blots. Shakers feature platforms that move horizontally and rockers generally have tilting capabilities. Either motion can be forceful enough for blot washing, or gentle enough for staining fragile gels. The shakers and rockers sold by SKS include at least a two-year manufacturer warranty.
SKS offers versatile shakers and rockers suitable for many laboratory applications and can be paired with accessories to provide more versatility. For example, the BioMixer™, MiniMixer™, Orbi-Blotter™, Orbi-Shaker™ MP, BenchRocker™ (2D and 3D), BlotBoy™, Mini BlotBoy™, BenchBlotter™, and Everlast™ 247 2D are safe for use in cold rooms and incubators, and can be used with optional stacking platforms to double usable workspace. These attachments sit on the main platform to create more space for the BioMixer™, MiniMixer™, Orbi-Blotter™, BenchBlotter™, BenchRocker™ (2D and 3D), BlotBoy™, Mini BlotBoy™, Everlast™ 247 2D, and BenchWaver™. Other models such as the Orbi-Shaker™, Orbi-Shaker™ XL, Orbi-Shaker™ Jr., and Incu-Shaker™ can accommodate an optional MAGic Clamp™ Universal Platform System, a patented magnetic clamp system that makes changing test tube racks or Erlenmeyer flasks quick and easy.
---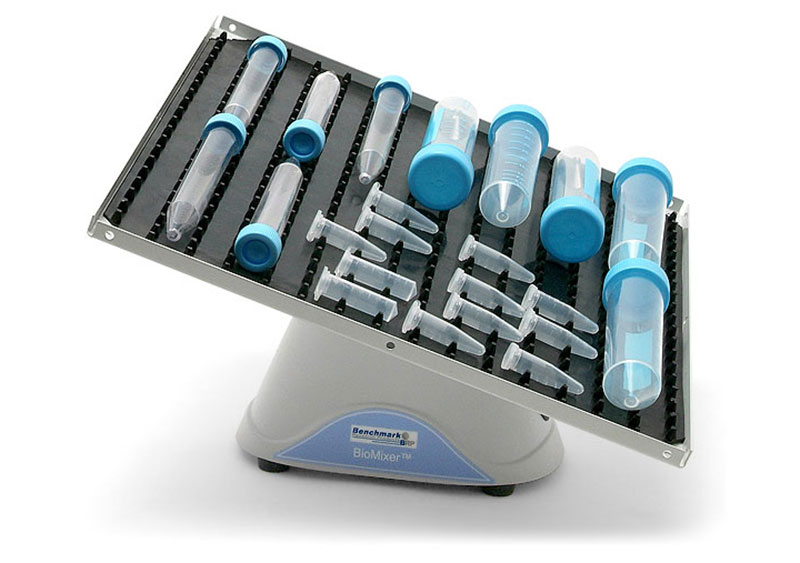 Shakers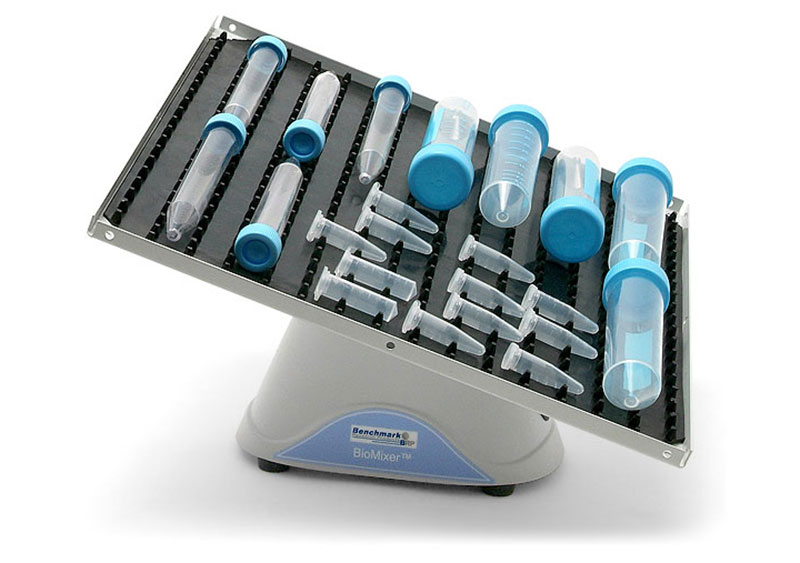 The BioMixer™ and MiniMixer™ are 3D shakers that offer a nutating motion, designed for moderately aggressive mixing. These models also feature a dimpled mat, an ideal surface for mixing contents in blood and centrifuge tubes. The BioMixer™ and MiniMixer™ have load capacities up to 4 pounds, and are available in 115V and 230V electrical configurations. The 115V models have speeds up to 24 rpm while the 230V models have speeds up to 20 rpm.
---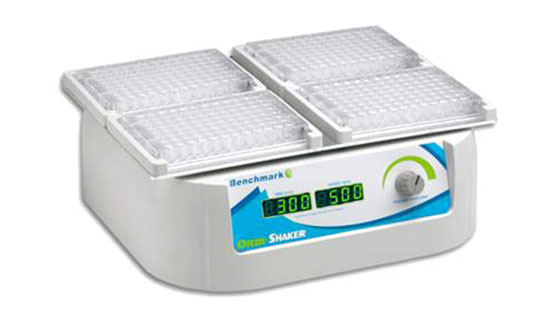 Orbital Shakers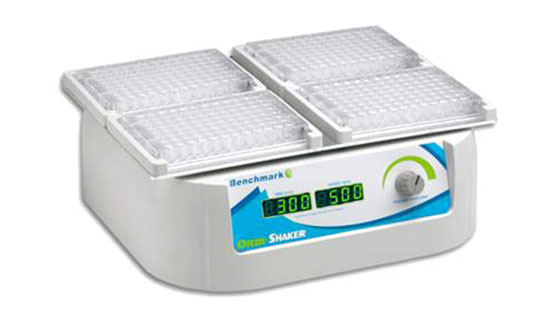 SKS offers a wide variety of orbital shakers suitable for applications like staining, general mixing, tissue cultures, and cell cultures. All SKS orbital shakers feature display screens to monitor speeds and times in order to improving accuracy. The Orbi-Blotter™, Orbi-Shaker™, Orbi-Shaker™ XL, and Orbi-Shaker™ Jr. all come standard with non-slip rubber mats designed to hold culture flasks, petri dishes, and staining trays in place during low-speed applications. These shakers have platform sizes ranging from a compact 9.5" x 8" to an extra large 18" x 18". The Orbi-Shaker™ MP is designed to mix contents of microplates and PCR plates. This piece of equipment can accommodate up to four standard or deepwell microplates, additional adapters can be purchased separately to accept PCR plates or 1.5 ml/2 ml tubes. Orbital shakers are available in different electrical configurations, have speed capabilities ranging from 3 rpm to 1500 rpm, and can handle loads up to 65 pounds.
---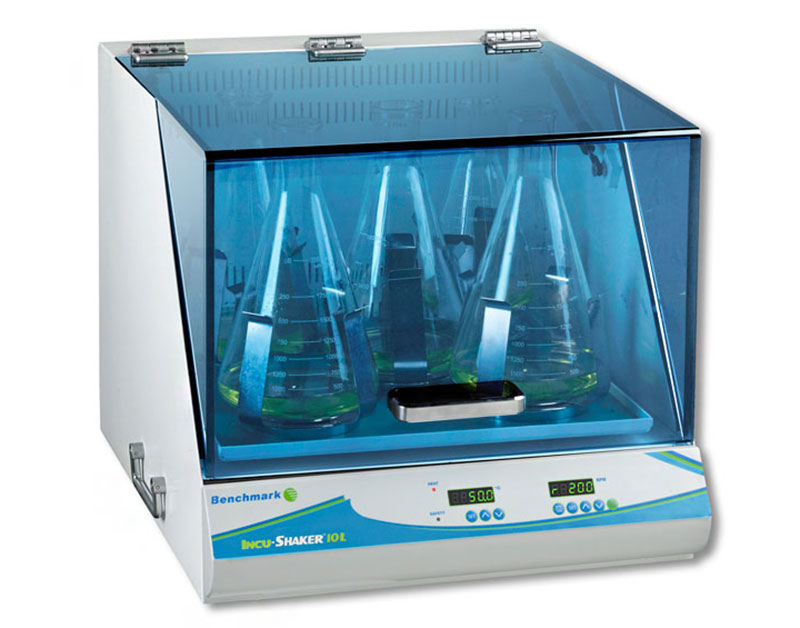 Incu-Shaker™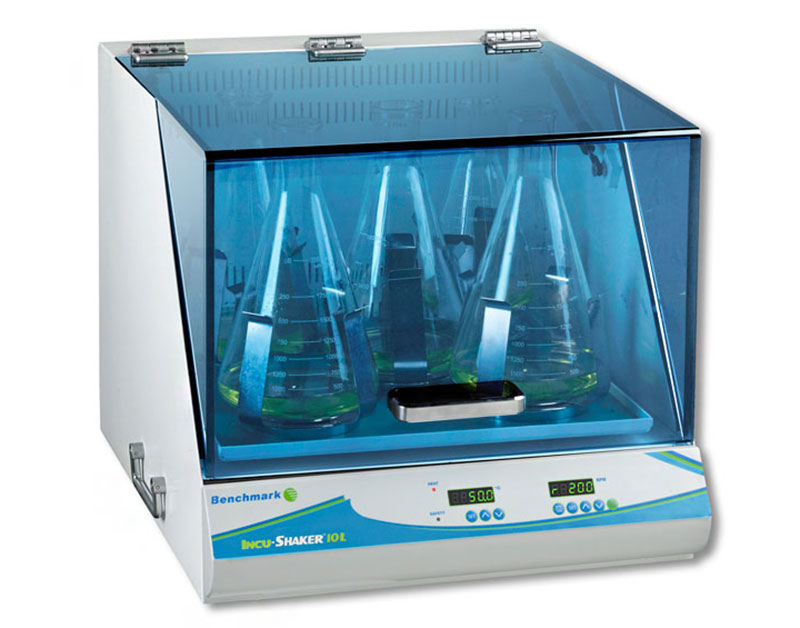 The Incu-Shaker™ is a heavy-duty shaker designed to be used continuously, and for heavy workloads. This shaker comes in a refrigerated model and a heated model, both maintain precise temperature within 0.25% and were designed with an advanced motor isolation system to cut back on noise and vibrations. Like many of the orbital shakers, this shaker features a platform with a rubber mat ideal for use with culture flasks, petri dishes, and staining trays. The MAGic Clamp™ platform is also compatible with the Incu-Shaker™ to make using and changing test tube racks and Erlenmeyer flasks, quick and easy.
---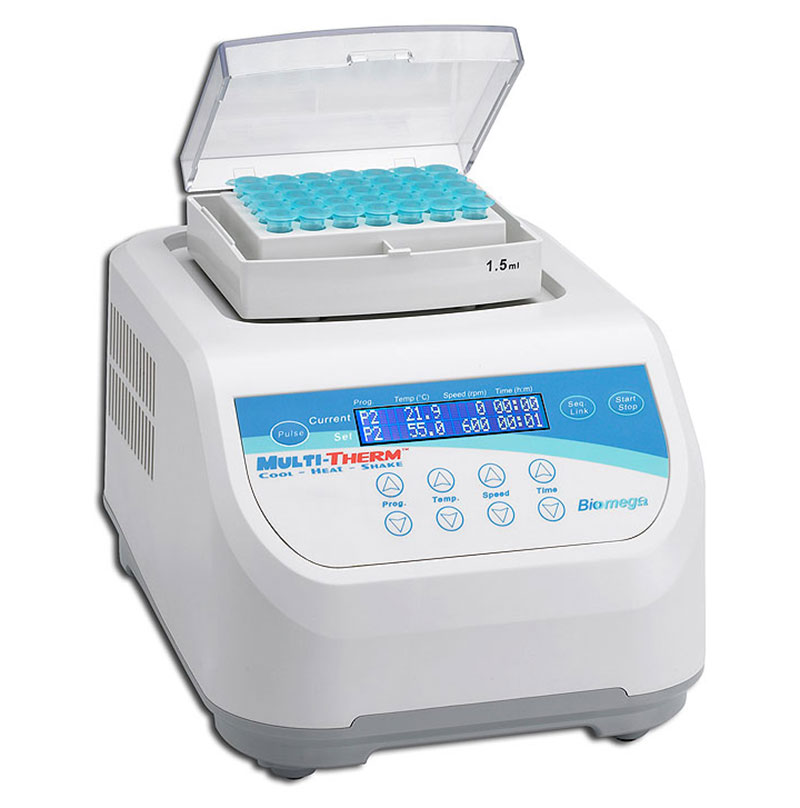 MultiTherm™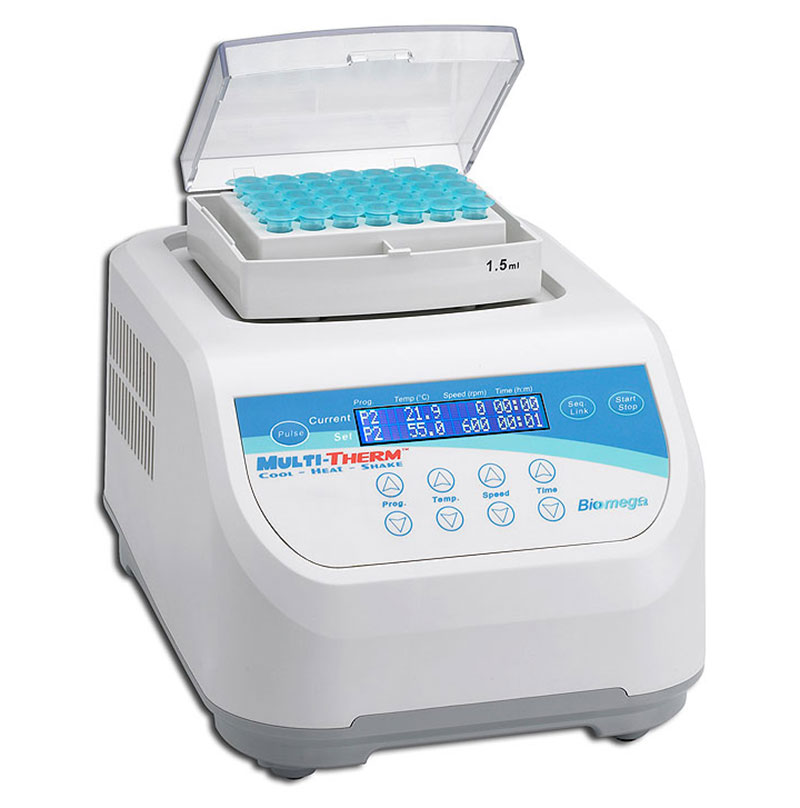 The MultiTherm™ is a great temperature controlled mixer intended for denaturation of DNA, RNA, and proteins, lipid extractions, yeast and bacteria cultivation, or reverse transcriptions. This shaker is available in a heat only, or a heating and cooling version with temperature control from 0°C to 100°C. Both models feature an LCD control screen to display actual and set values for speed, time, and temperature to improve accuracy. A variety of interchangeable heat blocks are available to house tubes and plates to better suit individual needs.
---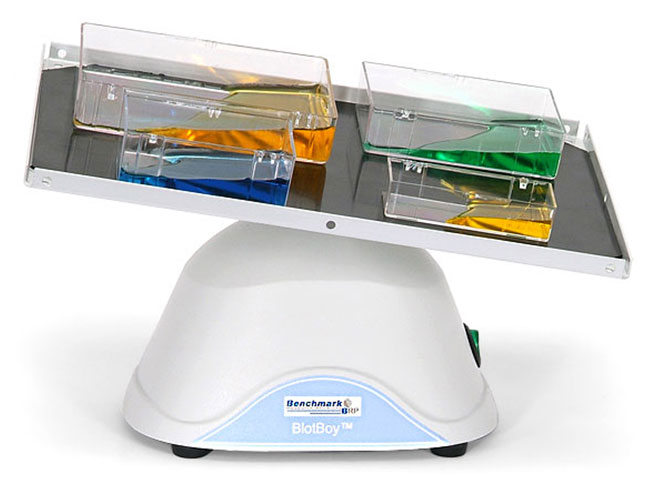 Rockers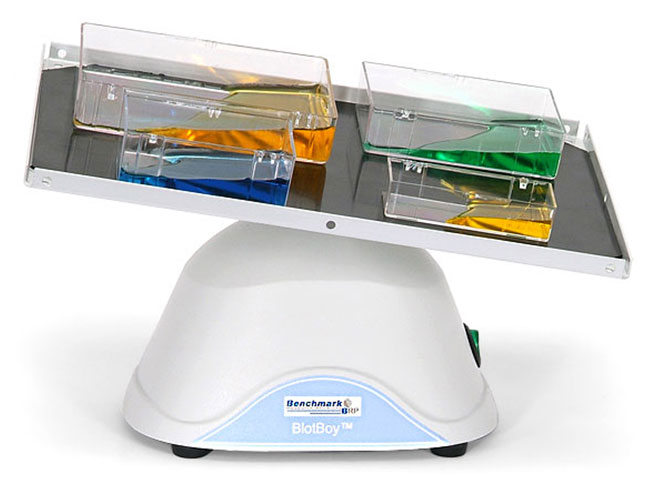 The BenchBlotter™, BlotBoy™, and Mini BlotBoy™ are great rockers used for blot washing and gel staining. All three of these models are cold room and incubator safe, and have optional stacking platforms to double useable workspace. They are all user-friendly pieces of equipment, that have no complicated controls. Simply turn on the power switch to start the rocking motion, and the speed and gentle tilt angles are preset for many molecular biology applications. The BlotBoy™ and Mini BlotBoy™ can handle a load up to 4.5 pounds and the BenchBlotter™ can handle a load up to 7 pounds, though it is very lightweight, and easy to transport.
---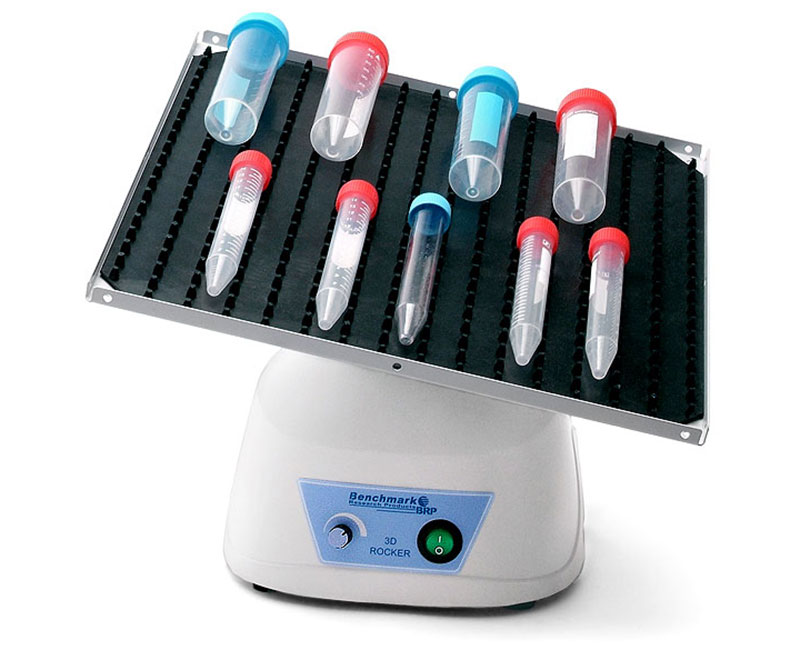 BenchRocker™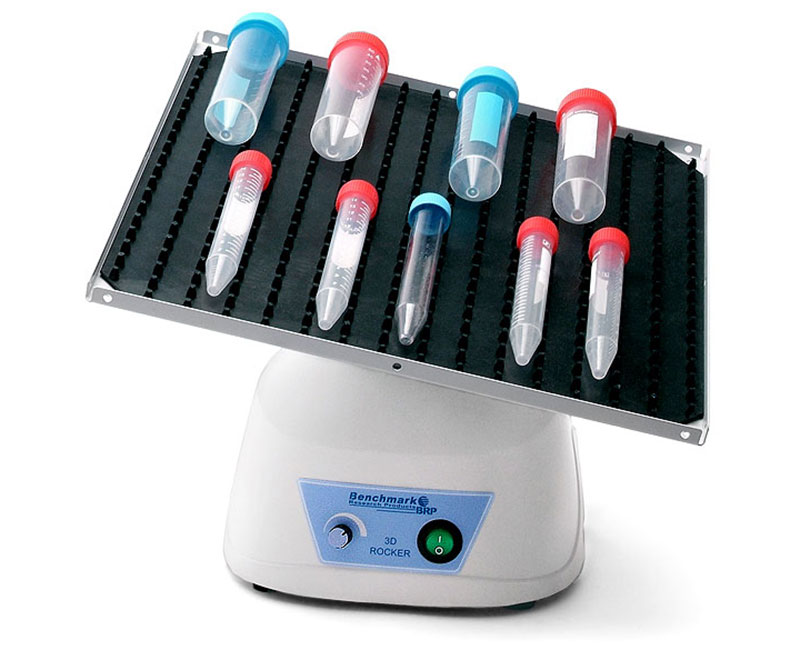 SKS offers Benchmark's BenchRocker™ 2D and 3D models. The 2D model creates a see-saw while the 3D model creates a gyratory motion. Both of these rockers have variable speeds and tilt angles that can be adjusted according to liquid volume and the individual applications. Low speeds with minimal tilts will create a gentle wave ideal for non-foaming mixing such as blot washing and gel work. Higher speeds and more extreme tilts are used for applications where more vigorous sample mixing is required. The BenchWaver™ can provide gentle or vigorous motions for staining, washing, or general mixing. This rocker combines a rocking motion with a circular motion similar to an orbital shaker, controlled by a user-friendly LCD display panel. The BenchWaver™ has the capability to create refrigerated or incubated environments.
---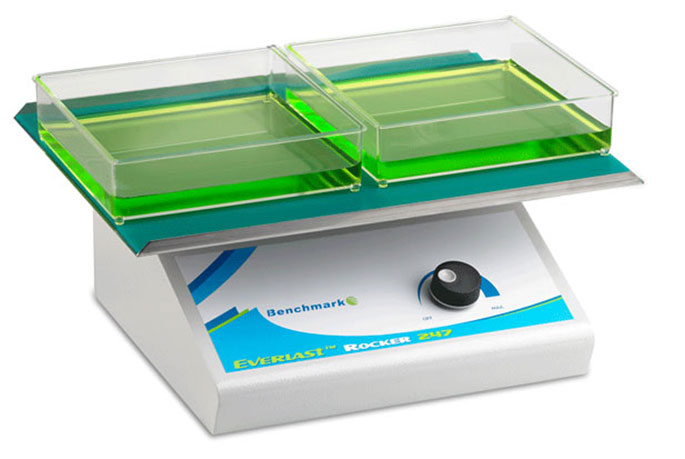 Everlast™ 247 2D rocker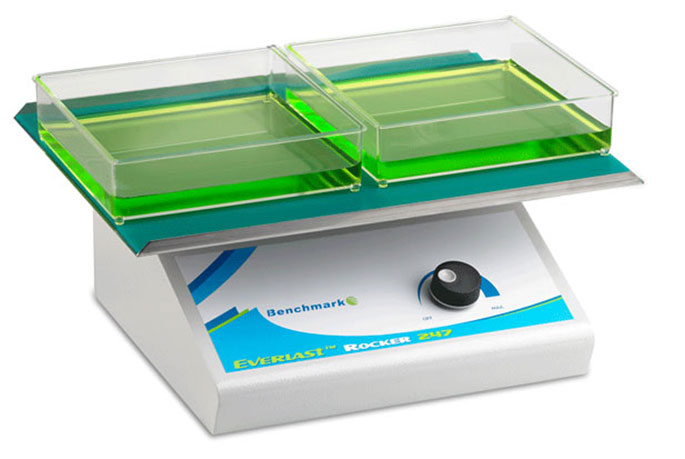 The Everlast™ 247 2D rocker is an extremely reliable and consistent piece of equipment. It has a load capacity up to 16 pounds, a powerful motor, heavy-duty drive system, and a stainless steel platform to prevent rust or corrosion. This rocker features a large work surface of 16" x 12", and stackable platforms are sold separately to double the workspace when needed. The Everlast™ 247 2D rocker comes with a five year manufacturer warranty.
---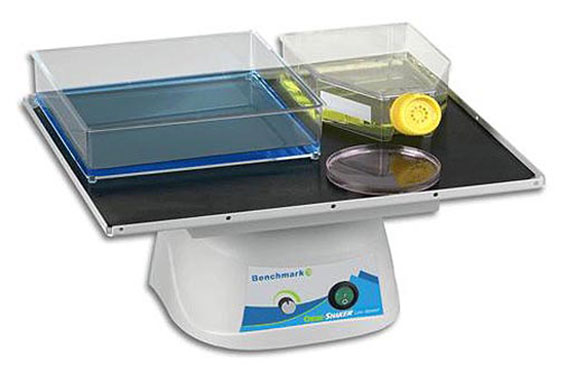 Benchmark Shakers and Rockers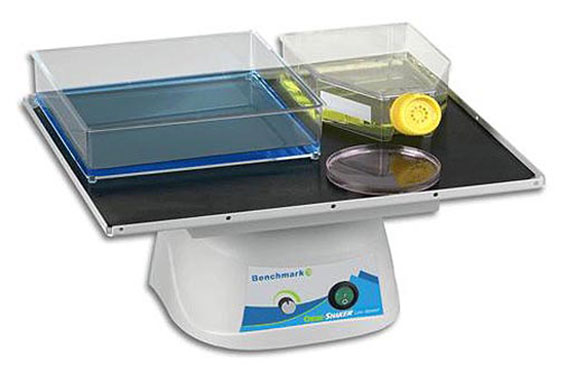 Choose one of the Benchmark shakers or rockers today for applications such as, staining, blot washing, general mixing, or bacterial suspension. There are many different options available sure to suit all needs. Click the link below to learn more about these pieces of equipment.