INSIDE THE LAB

SKS Science Newsletter
---
Histology Processing & Embedding Cassettes
September 2017
SKS Science carries a range of cassettes for biopsy and tissue processing, as well as embedding procedures. There are many colors, slot styles, and quantity options to meet your lab's specific needs.
---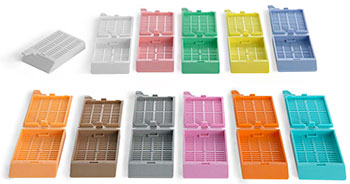 UNISETTE™ Histology Cassettes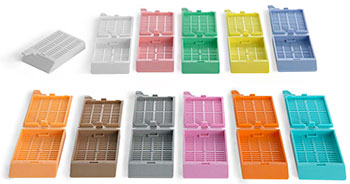 SKS carries Simport's M505 and M506 Unisette™ processing and embedding cassettes. The M505 line is used specifically for tissue processing and embedding, while the M506 line is used specifically for biopsy processing and embedding. The M505 and the M506 cassettes have many similarities. For example, both models are molded from a high-density acetal polymer that is resistant to most histological solvents. They are also both single component cassettes, allowing for one-handed operation. The lids snap firmly into place, reducing the concern for specimen loss or additional steel lids. Each of these disposable cassettes features several flow-through slots to provide the proper transfer of liquid exchange and easy drainage. With an anterior writing area of 35°, these cassettes can be used with Leica and Sakura printers for labeling. Purchase these cassettes in case packs of 1,500 or 500 per case. Case packs of 1,500 come packaged in 3 dispenser boxes, with 500 cassettes in each, while the cases of 500 come packed neatly in one dispenser box.
---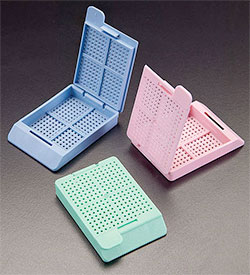 SWINGSETTE™ Histology Cassettes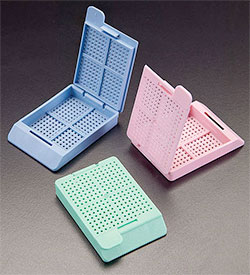 Similar to the Unisette™ cassettes, the M515 Swingsette™ cassettes are used specifically for tissue processing and embedding, while the M516 Swingsette™ cassettes are designed for biopsy processing and embedding. The Swingsette™ cassettes feature large tabs that make opening the lids both easy and convenient. The high-density polymer these cassettes are composed of keeps specimens safely submerged in liquid. They also feature flow-through slots for optimal liquid exchange and drainage. Open and close these cassettes as often as necessary with the unique hinge design. The hinge allows the covers to be easily removed and reinserted without concern for specimen loss. When closed, the covers lock securely into place for processing. The disposable Swingsette™ cassettes are offered in 11 non-cytotoxic, non-metallic colors and come in cases of 1,500, made up of 3 dispenser boxes with 500 cassettes in each.
---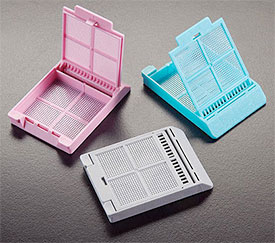 MICROMESH™ Histology Cassettes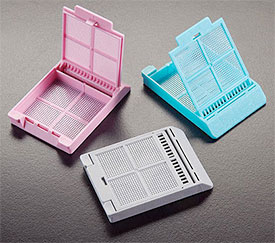 SKS offers Simport's M507 line of Micromesh™ biopsy processing and embedding cassettes. Each cassette has 1,676 0.38 mm wide square openings. This design provides effective fluid exchange and drainage without the use of biopsy pads. These cassettes also feature large anterior openings that allow them to sink quickly, fully submerging the specimens. Large 27 mm compartments make them ideal for use with needle biopsies. The pre-installed covers are recessed, saving space and allowing more cassettes to fit in automatic labeling machines, and storage drawers. These histology cassettes feature large labeling areas on 3 sides. The anterior writing area of 45° makes them a great option for use with automated cassette printers. The Micromesh™ line is also offered in 11 colors in case packs of 1,000 cassettes, packaged in 4 dispenser boxes of 250 cassettes per box.
---
In addition to the range of processing and embedding cassettes SKS offers, be sure to fulfill all of your lab\'s needs with products like our disposable PVC base molds and cardboard cassette storage drawers.