INSIDE THE LAB

SKS Science Newsletter
---
Filling Equipment
September 2018
SKS Science carries omnispense filling machines and liquid filling machine accessories for efficiently filling a variety of lab supplies, including glass bottles, jugs, and plastic drums.
---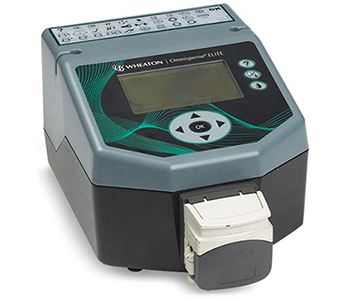 Omnispense Filling Machine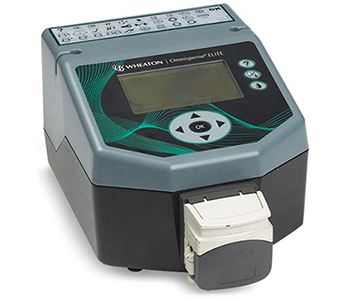 The Omnispense® filling machine is a variable speed peristaltic pump dispenser used for pumping a variety of fluids and can be used in both laboratory and industrial settings. The laboratory pump features reverse flow options for various dispensing or aspirating operations and can accurately dispense a variety of abrasive or corrosive liquids ranging in viscosity from aqueous solutions to medium syrups. The liquids being dispensed remain contained within the silicone tubing and do not come into contact with the peristaltic pump dispenser, allowing for quick non-contaminating changes. To change products, simply switch out the silicone tubing.
Low maintenance and compact, this bottle filling machine saves both time and space. The peristaltic pump liquid filling machine is available with a North American plug (120V) or a European plug (230V) and features a LCD backlit display and icon driven user interface that enables fast, easy setup and operation. Programming and help screens are available in six languages to enable user-friendly operation in international laboratories. The Omnispense® filling machine also offers additional functionality that allows for real time measuring of liquid additions in the FLOW mode. This filling machine has multiple ramp settings, is compatible with a variety of pump heads and microcassette heads, and is engineered to comply with Industry Standards, including UL, CSA, CE, WEEE and RoHS Compliant.
---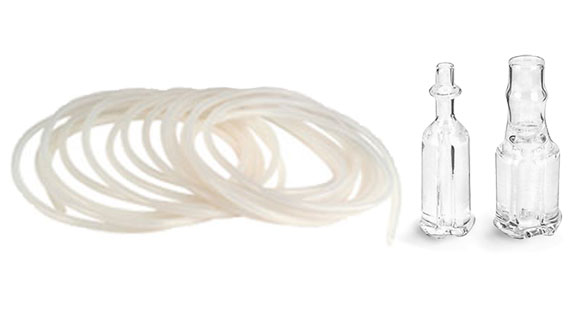 Filling Machine Accessories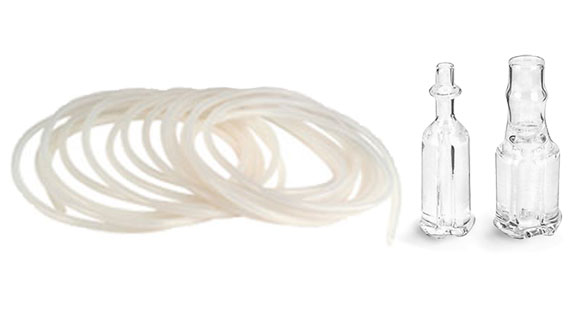 SKS carries replacement silicone tubing for the Omnispense® filling machine in various sizes. Silicone tubing exhibits a high chemical resistance, making it suitable for most general dispensing applications. Choose between 3 mm, 6 mm, or 8 mm diameter tubing. Each size is available in bulk in 7.6 m lengths, or as replacement tubing assemblies in 1.5 m lengths with borosilicate glass sinkers and polypropylene nozzles on each end. The wall thickness for each size of silicone tubing is 2.3 mm.
Replacement sinkers for the Omnispense® filling machine are also available in two sizes: 2 mm x 3 mm (small) or 6 mm x 8 mm (large). The sinkers are made of borosilicate glass and are used to secure the silicone tubing to the peristaltic pump when drawing product from a container. Each case comes with six replacement sinkers.
Replacement filling machine nozzles are made of polypropylene plastic and are connected to the silicone tubing when dispensing liquids from the laboratory peristaltic pump into a container. The dispensing nozzles are available in multiple sizes to fit compatible tubing: 2 mm/3 mm, 6 mm, and 8 mm.
To ensure accurate dispensing volumes required for multi well plates and microcentrifuge tubes, consider the optional peristaltic pump footswitch. This footswitch plugs into the interface connector in the back of the Omnispense® filling machine and enables better, hands-free control with its start and stop feature.
---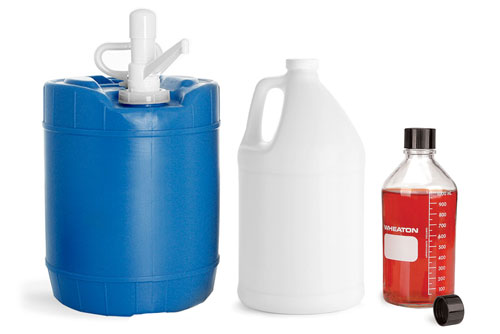 Other Lab Filling Equipment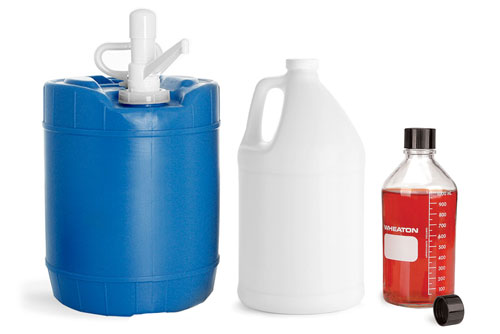 In addition to the variety of filling machine and laboratory peristaltic pump accessories SKS offers, be sure to fulfill all of your filling equipment needs with products including our HDPE round jugs with handles and white ribbed caps, clear glass media bottles, and HDPE plastic round drums with dispensing pumps.
---