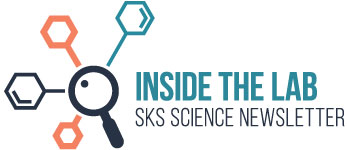 ---
Digital Scales, Analytical Scales & Balances
December 2017
SKS Science carries a range of Ohaus analytical digital scales suitable for pharmaceutical, industrial, or educational laboratory purposes. These lightweight, digital scales are equipped with a variety of features and applications to promote accuracy and efficiency in the laboratory.
---
Adventurer® Digital Scales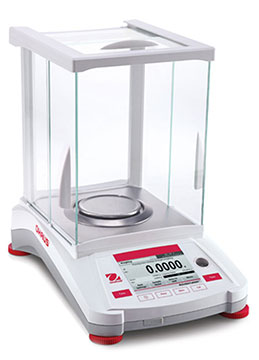 SKS carries Ohaus' AX124, AX224, and AX324 Adventurer® digital scales for analytical applications. The Adventurer® line is capable of both routine weighing, as well as more in-depth applications, such as parts counting, percent weighing, check weighing, dynamic weighing, formulation, density determination, totalization, and display hold. For weighing objects in suspension, a weigh below hook is included to measure particularly heavy, messy, hot, cold, or magnetic objects that would typically be difficult to use with digital scales. Select models feature fast stabilization enhanced by AutoCal™ (automatic internal calibration), an internal maintenance system that ensures performance and accuracy by calibrating daily. External, or traditional, calibration is also available for manual adjustments. Utilize the color touchscreen to access all settings and applications and cut down the need for manual calculations. The dual USB ports, with Good Laboratory Practices (GLP) and Good Manufacturing Practices (GMP) tracking, help monitor and report data as needed while meeting compliance requirements. The front port is easily accessible and perfect for a thumb drive, while the back port connects to a computer. This series of digital scales also includes easy to clean, top-mounted glass draftshield doors, which open wide on both sides to provide adequate space for samples. The draftshield doors improve accuracy by preventing environmental disturbances or sample contamination, such as dust or air currents.
---
Explorer® Digital Scales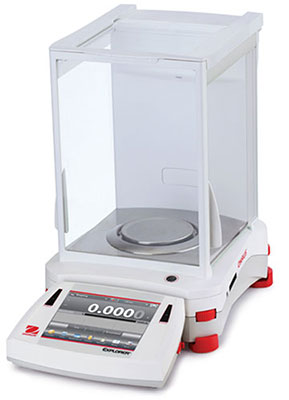 Similar to the Adventurer® line, the EX124 and EX324 Explorer® analytical digital scales are designed to handle all of the same applications, plus filling, differential weighing, peak hold, ingredient costing, pipette adjustment, and SQC. Explorer® digital scales feature four programmable touch-free sensors, found on each side of the base and display, to minimize cross-contamination, as well as wear and tear. A wide, removable color touch screen with customizable icon-driven application software, virtual QWERTY, and numeric keypad make this series intuitive and user friendly. The real-time clock allows use even without power, while the library feature stores customized applications for easy access. A fast stabilization time of less than three seconds and consistent results through enhanced repeatability make this series great for medical, engineering, or chemical laboratory applications. Revamped vibration filtering helps to suppress any interfering frequencies, while AutoCal™ ensures accuracy through routine self-calibration. The base and display are separable, which allows for more workplace flexibility and makes storing even easier. The draftshield doors offer access to the weighing chamber through a flip or sliding top panel, while automated side doors lessen sample residue and other contaminants that can come from touching the digital scales. The glass and stainless steel construction resist the effects of static and corrosion, increasing stability and precision, and extending product life. Shock, spill, and splash resistance safeguards against disruptions, while the base enclosure shields against debris, humidity, and spillage that could otherwise damage the lab balances.
---
Pioneer® Digital Scales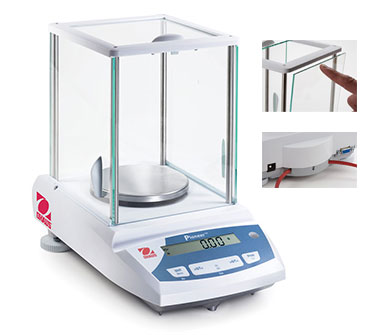 SKS offers many Ohaus Pioneer® balances, including the PA84, PA163, PA323, PA523, PA1602, PA3202, and PA4202. The Pioneer® is a simpler digital scale model capable of weighing, parts counting, percent weighing, animal/dynamic weighing, and density determination. Equipped with a bright backlit LCD screen, the Pioneer® analytical and precision digital scales are ideal for use even in dim lighting. The up-front level indicator, or level bubble, makes it easy to confirm the balance is level prior to each use. Compact size and selectable environmental settings make the Pioneer® series adaptable to real-life working conditions for straightforward measurements in a laboratory, industrial, or classroom setting. Ensure the accuracy of measurements by adjusting the scale sensitivity to environmental disturbances, vibrations, and slow filling applications where sensitivity is vital, via multiple filter modes and zero tracking. The in-use cover offers additional protection against spillage and rugged use, while the three removable sliding draftshield panels make for easy cleanup, which helps avoid sample contamination and extends product life. Utilize the security bracket to secure the digital scales to workstations and prevent unwanted movement or even theft. Also, take advantage of the security menu lock to prevent tampering with any saved application settings on this top of the line laboratory scale.
---
In addition to our wide range of analytical scales, be sure to fulfill all of your lab\'s weighing needs with products like the mechanical scales, bench scales and, high capacity scales.