INSIDE THE LAB

SKS Science Newsletter
---
Expanded Line of Plastic Labware
June 2009
Running a laboratory can be stressful, and picking out reliable and affordable supplies can add to that stress. At SKS Science Products we are committed to providing you with affordable and reliable plastic and glass labware so that you can focus on your work without worrying about your supplies! From plastic funnels and flasks to wash bottles and beakers, SKS Science has a wide variety of great products for your lab. Choose from great brands such as Azlon and Kartell for the lab supplies you rely on each day. Our wide selection of plastic labware has recently been expanded, allowing you to choose what best fits your laboratory and your budget, making your lab supply purchases simple and convenient!
---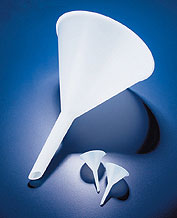 plastic funnels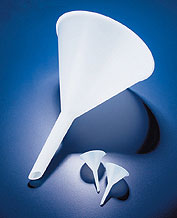 Our latest plastic funnels include HDPE general purpose funnels, polypropylene powder and buchner funnels and LDPE anti-splash funnels. Polypropylene powder funnels feature a wide stem to allow for the passage of larger particles, and are autoclavable. Both HDPE and polypropylene general purpose funnels are available in several styles and sizes, and are also available in lightweight models. Our polypropylene buchner funnels are a great addition to our line of funnels, and are unbreakable and resistant to corrosion, and can be used without risk with erlenmeyer flasks. Buchner funnel discs and adapters are sold separately. LDPE anti-splash funnels with bronze mesh filters could also be an excellent choice for the laboratory because they eliminate spilling of liquids caused by the swirling action created when a liquid is poured into a funnel.
---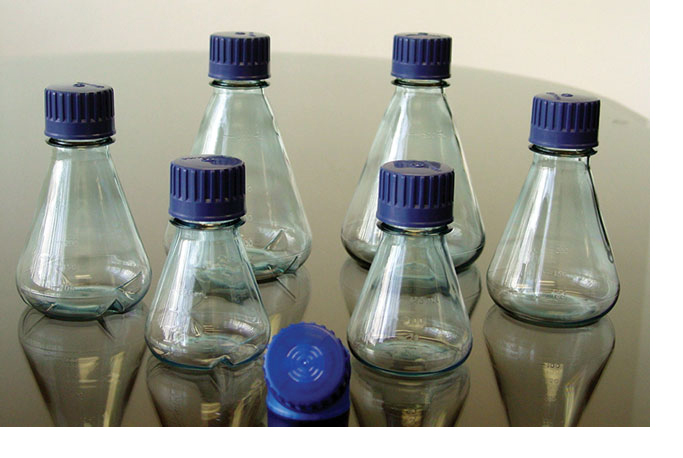 plastic flasks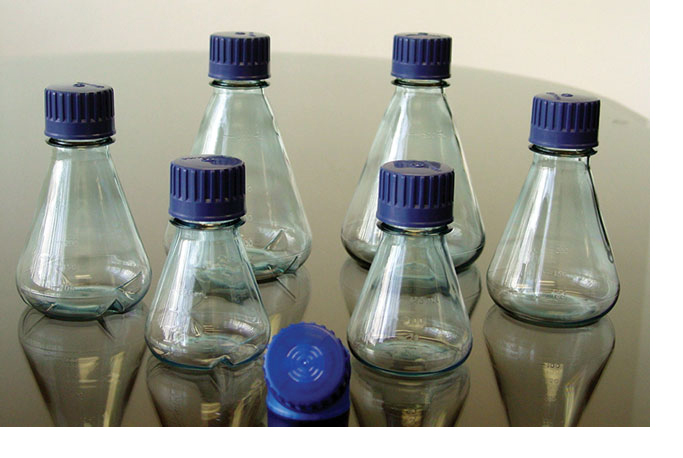 New plastic erlenmeyer and volumetric flasks could be excellent additions to your laboratory. Volumetric flasks are now available in PMP plastic with screw closures. Two new styles of polypropylene volumetric flasks are available with either screw caps or with stoppers. Polypropylene erlenmeyer flasks are also available with either screw caps or stoppers. Sterile polycarbonate (PC) erlenmeyer flasks are virtually unbreakable, autoclavable, and are offered with polypropylene closures.
---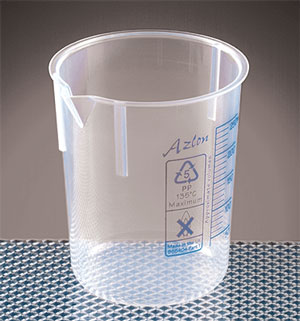 plastic beakers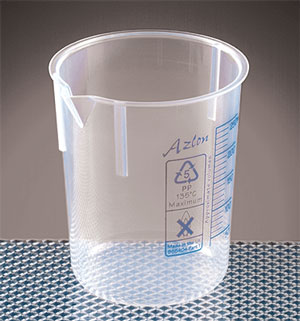 New tapered and heatable tapered PTFE plastic beakers have been added to our line of beakers, and new styles of PMP, HDPE and polypropylene beakers are also now available. PTFE watch glass covers for our PTFE beakers are also new. Starter packs of PMP and polypropylene griffin style beakers are now offered, which could be a good choice for a small laboratory or a classroom where a variety of sizes are needed but space is limited.
---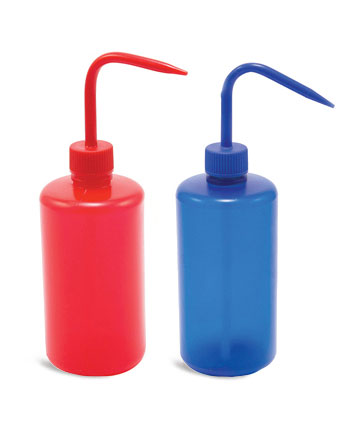 plastic wash bottles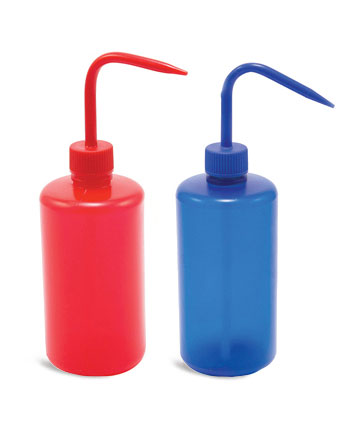 We have expanded our line of plastic wash bottles, and are pleased to offer many new sizes and styes of wash bottles. Our latest additions included wash bottles with large bore and fine bore tubes, printed labels and more. LDPE integral wash bottles are now available in two styles in both 250 and 500 ml sizes, while 500 ml colored coded bottles are also available in four colors. Whether you are looking for wash bottles with sloped shoulders, colored caps, or with a labeling area, be sure to check out our newly expanded line of wash bottles.
---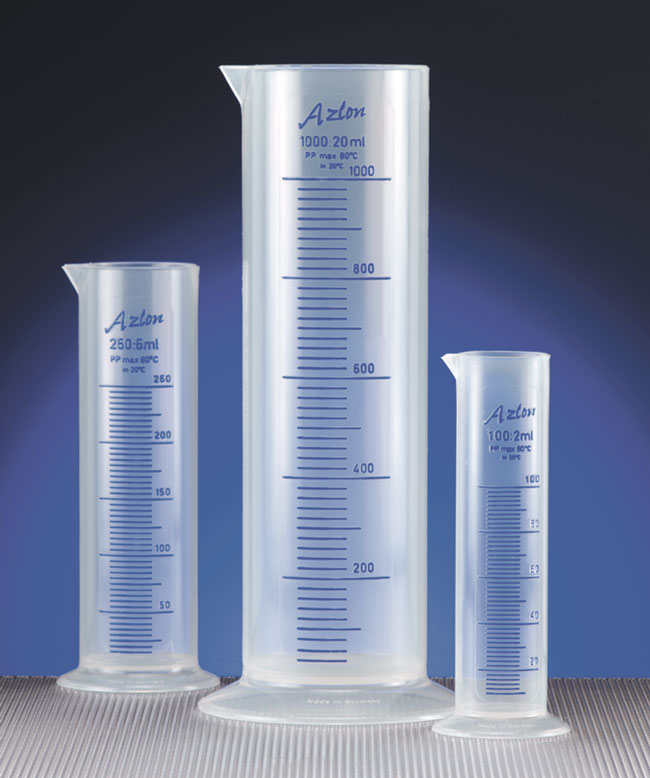 Plastic Graduated Cylinders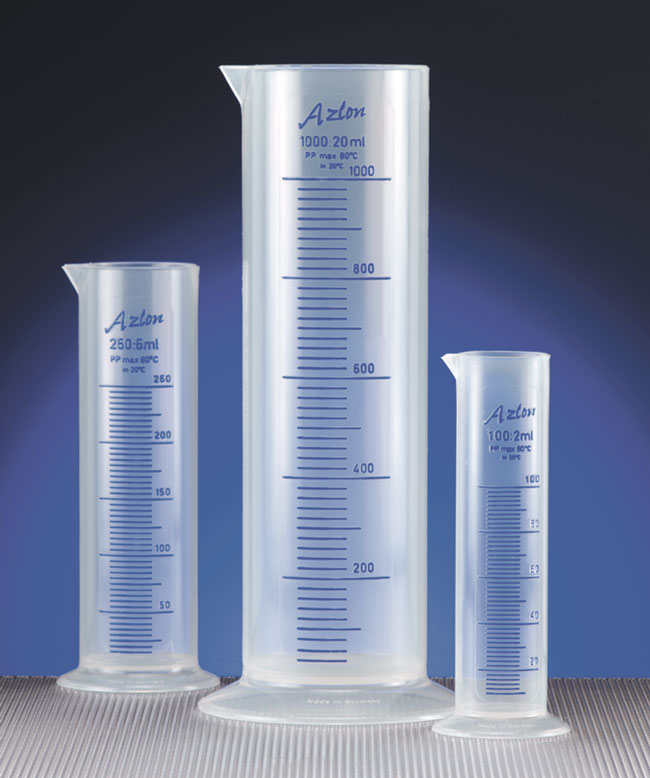 New PMP and polypropylene graduated cylinders are available in several styles, such as conical and short form, and are available with printed or molded graduations. Individually certified PMP graduated cylinders are available in sizes 10 ml through 2000 ml, and are autoclavable. A 500 ml polypropylene hydrometer jar has been added to our inventory of graduated cylinders, and features molded graduations.
---
At SKS Science Products, we pride ourselves on offering a large selection of laboratory supplies for a wide range of scientific industries. The variety of supplies we offer allows us to provide you with the best selection for your laboratory or pratice at affordable prices, and we carry the great reliable brands you trust. Stay tuned for new products, newsletters and more!