INSIDE THE LAB

SKS Science Newsletter
---
Adenna 3-ply Face Masks with Earloop
May 2009
Offer your patients, employees and yourself excellent protection with our Adenna 3-ply face masks with earloop. These face masks offer a great deal of protection, and could be an excellent choice for any laboratory, medical, dental or veterinary practice. Selecting a great face mask is easy with our reliable and affordable 4-Fold Fluid Resistant Earloop Face Masks. Our face masks are available either in boxes of 50 face masks, or in cases of 12 boxes (600 face masks total), so you can be well prepared whether you are a small lab or a high-volume medical center.
---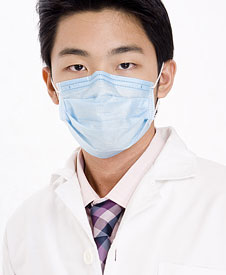 safety features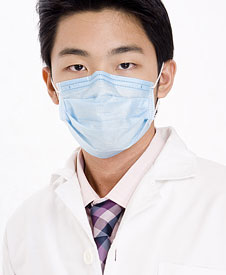 Our face masks feature excellent fluid resistance, which means highly effective, longer lasting face masks. The Particle Filtration Efficiency(PFE) is 99% at 0.1 micron, which provides additional protection. The Bacterial Filtration Efficiency (BFE) is 99% at 3 micron and the Differential Pressure, Delta P (Breathability) is 2.0 mm H20. To ensure maximum protection, always be sure to wear your face mask correctly.
---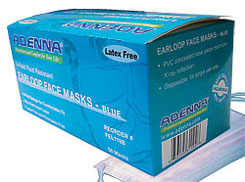 comfort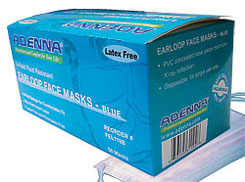 Adenna face masks offer a comfortable fit, featuring a silky inner facing layer that effectively bonds together with the fluffed surface fibers of the inner layer, which help reduce itchiness and discomfort during extended wear. These face masks feature a four-fold design which helps to form a cone-like shape, providing an exact fit and better protection. They are latex, fiberglass, irritant and odor free, making them a great option for your entire laboratory, medical, veterinary or dental practice. Additionally, these face masks offer a unique concealed PVC nose piece which conforms to the face better for a more comfortable wear, and also minimizes x-ray reflection.
---
At SKS Science we are pleased to offer a wide range of safety products for both a laboratory setting and an office setting. In addition to face masks, choose from our large selection of Adenna disposable exam gloves, benchguard liners, biohazard burn up bins and much more!