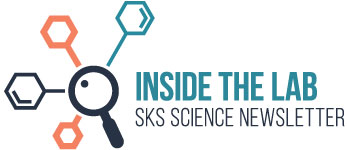 ---
Wheaton Vials & Media Bottles
November 2008
Our newest Wheaton products could be perfect for any number of scientific laboratories, and are offered in a wide range of styles, ensuring that you will find the supplies that suit your lab best!
At SKS Science we are excited to now offer a large selection of Wheaton products, such as glass and plastic vials and glass media bottles. Wheaton is an industry leader in laboratory products, and we are proud to offer many of their exceptional products for your laboratory.
We are now offering glass and plastic high recovery vials, glass ampules, glass and plastic liquid scintillation vials and plastic cryogenic vials. Many of our vials are autoclavable and offered with a variety of closure options. Our glass media bottles are autoclavable and are the perfect choice for laboratory storage.
---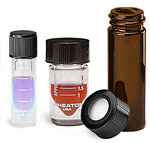 high recovery vials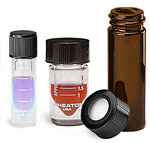 Our new selection of Wheaton vials includes a wide selection for every laboratory professional. High Recovery Vials are part of our great new line of vials, and include both amber and clear glass V Vials offered with Teflon faced closures. We also offer E-Z Ex-Traction high recovery vials, .3 ml LVI vials, and 1.5 ml conical bottom vials without caps, so that you can choose compatible closures from our wide inventory to best suit your laboratory needs. If plastic is what you are looking for, then look no further then .3 ml polypro High Recovery Vials with screw thread finish, or our .1 ml Plastic High Recovery Vials w/ Glass Inserts with either a screw top or snap/crimp finish. Compatible caps for these vials are sold separately.
---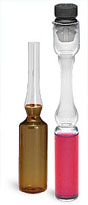 glass laboratory ampules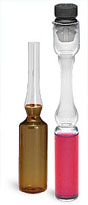 Our glass ampules could be great for storing samples in the lab, come pre-scored and can be hermetically sealed to preserve sample purity and shelf life. The amber and clear ampules are ideal for standards packaging, environmental standards, diagnostic standards and cryogenic storage, and help reduce sample contamination due to their ultimate tamper-evident seal. The Clear Glass Pre-Scored Lyophilization Ampules are designed for freeze-drying, protein hydrolysis, and micro-determination of ketones and amino acids, and the long stems provide a convenient means for heat sealing under vacuum.
---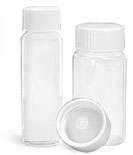 liquid scintillation vials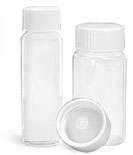 Clear glass liquid scintillation vials are now available in 6 ml and 20 ml with Metal Foil Lined Urea Caps, which are packaged separately. 20 ml glass scintillation vials are also available without caps, and are compatible with several closure options for added convenience. If you are looking for something a little different, take a look at our other glass laboratory vials for additional options. Plastic scintillation vials are available in 4 ml, 6 ml and 20 ml sizes, all of which are offered with caps. 20 ml PET scintillation vials and 20 ml HDPE scintillation vials are available with various closure options. Our 4 ml scintillation vials are offered with press-fit caps, and our HDPE 6 ml scintillation vials are available with either unlined screw caps or press-fit caps. With a selection this wide, you can find everything you need in one convenient stop!
---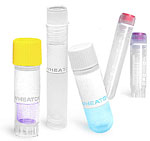 plastic cryogenic vials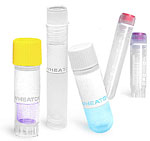 Our outstanding selection of polypro plastic cryogenic vials could be just what you have been looking for to outfit your laboratory. Offered in free standing or round bottom, these vials are all autoclavable, making them a valuable reusable asset in the lab. Sterile round bottom cryule vials are designed for simple identification of cell cultures and effortless handling, and have white areas for labeling. Free standing, sterile cryule vials with colored caps are also available and round bottom sterile vials with caps are offered in either 1 or 2 ml sizes.
---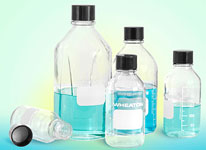 glass media bottles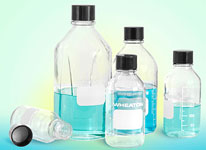 For exceptionally easy storage and use of your laboratory products and samples, our Wheaton Media bottles are a great option. These bottles have a large opening, no-drip pour lip and sloping shoulders to facilitate pouring and cleaning. They show approximate volume graduations and have a large writing area for easy identification of the bottle's contents, making storage simple and safe. Best of all, these bottles are autoclavable, which means a longer life when reused! Media bottles are available with Teflon faced closures, as well as with LDPE lined caps and rubber lined caps, allowing you to select the bottles that best fit your needs. Additionally, we also offer Wheaton safety-coated glass media bottles with white polypropylene screw caps. These bottles are autoclavable, and have a strong, slip-resistant plastisol coating which reduces potential breakage and helps protect lab personnel who are handling hazardous materials.
---
At SKS Science, we strive to offer you the best products so that you have top-notch choices at affordable prices for your laboratory. Stay tuned for more informative newsletters from SKS Science!