INSIDE THE LAB

SKS Science Newsletter
---
Laboratory Equipment
November 2017
SKS Science offers a wide range of laboratory equipment from pipette controllers to mixing and stirring devices. Choose from the many models of affordable, high quality lab equipment items available to increase the efficiency and accuracy of your laboratory.
---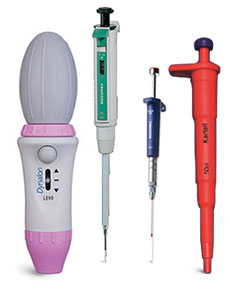 Pipette Controllers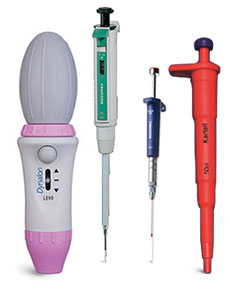 SKS Science carries a wide selection of pipette controllers that precisely dispense small volumes of liquid. With both manual and digital pipettes controllers available, select from either single or multi-channel pipettes to suit your needs. The MiniFix reusable fixed volume micropipettes from Kartell are manual pipettes available in ten color-coded sizes, with capacities from 5 µl to 1,000 µl. These compact manual pipettes weigh just under 10 grams and provide fast, repetitive and precise operation in both routine, and biological hazard applications. These MiniFix pipettes are fully autoclavable, and individually calibrated to ISO8655 standards. Browse our manual pipette controllers index for the full collection of manual pipetting devices.
The Calibra® 822 digital micropipettes are available in six color-coded options, with capacities from .2 µl to 1,000 µl. These digital pipette controllers feature a twin cam setting system that provides digital volume entry and a numerical display. This system also guarantees long term calibration stability, and the setting wheel locks into place to avoid unwanted volume adjustments. These easy-to-use digital pipettes feature volume settings and tip ejection that are functional even while wearing gloves. Without recalibration or disassembly, the Calibra® 822 micropipettes can be autoclaved at 121° C. View our entire selection of digital pipette controllers for additonal options!
---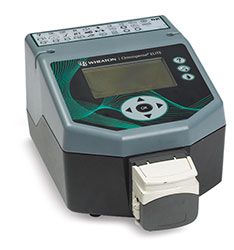 Filling & Sealing Machines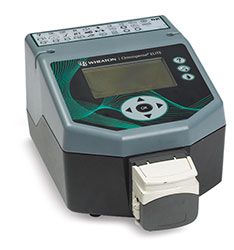 The OmniSpense® ELITE dispensing pump could be used to make sterile liquid transfers to and from containers for quality control, pharmaceutical, biotechnology and sample collection applications. This compact filling machine also makes filling bottles, vials, jugs and drums quicker and more efficient. With six language options, a user-friendly icon driven LCD and settings that can be programmed and saved for repeat fillings at a later time, the OmniSpense® ELITE is built with the user in mind. There is also an optional footswitch available for hands-free operation.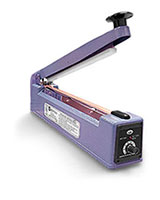 SKS offers the Impulse Sealer to create airtight and watertight seals on most plastics up to 6 mm in thickness. This energy efficient plastic bag sealer has a heating element that is activated when the handle is being pushed down, using heat and electricity only when in use. There are eight adjustable timer settings used according to the thickness of the material. The Impulse Sealer creates a seal 2 mm wide, and up to 12" long. Each sealer is manufacturer tested and under warranty to ensure dependability and durability.
---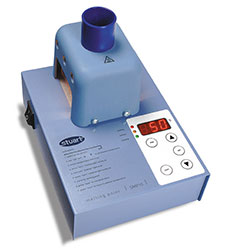 Melting Point Apparatuses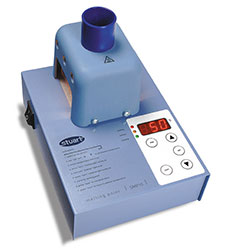 The Stuart SMP10 Melting Point Apparatus could be a great option to measure melting points of various materials in either an educational lab setting, or for scientific research. This melting point apparatus reaches 300° C and functions using digital temperature sensing instead of a traditional mercury thermometer. This method is safer, more accurate and easier to use. Select temperatures and settings from the user-friendly interface, and three digit LED display. The Stuart SMP10 is capable of accepting two samples simultaneously, which can be viewed using a lens aided by white LED bulb illumination.
---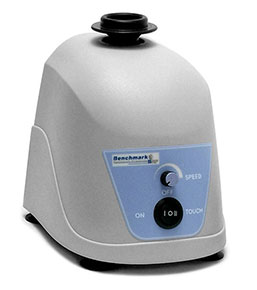 Laboratory Mixers & Stirrers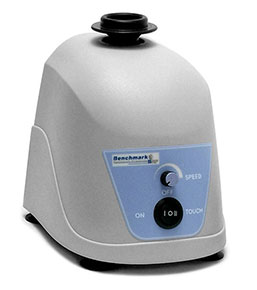 SKS Science carries a range of vortex mixers and roller mixers. Vortex mixers are used to suspend cells or dilute samples by rapidly oscillating liquids, while roller mixers are used to combine liquids or gently defrost frozen samples. Capable of handling large sample sizes, Benchmark's BenchMixer™ fits tubes up to 50 ml for instant vortexing and has "no-walk" suction feet to keep it in place during use. This mixer also features a counterbalance system that allows for optimal vortexing while minimizing noise, creating quieter, more efficient and longer lasting operation. The BenchMixer™ is cold room and incubator safe, and features spill-proof electronic controls.
Magnetic stirrers use magnetic fields to stir liquids. Benchmark's MiniMag™ magnetic stirrer, with a 3.4" square surface, is compatible with a wide range of beakers, flasks, bottles, and other lab supplies. Although compact in size, this magnetic stirrer has the capability to effectively mix volumes up to 1.5 liters at speeds ranging from 100 to 1500 rpm. The MiniMag™ is lightweight, and portable, as well as cold room and incubator safe.
---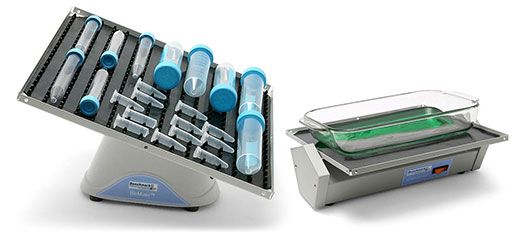 Laboratory Shakers & Rockers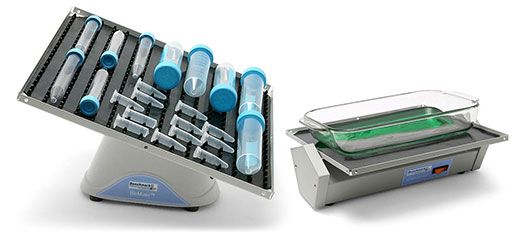 Laboratory shakers are used to mix liquids with forceful gyroscopic nutation, or with horizontal or orbital oscillation, while rockers utilize less aggressive mixing through wave motion or gentle swirling. Benchmark's BioMixer™ is a shaker that offers a nutating motion design for moderately aggressive mixing of loads up to four pounds. The dimpled mat is ideal for mixing the contents of centrifuge tubes. The 115V model of the BioMixer™ reaches speeds up to 24 rpm, while the 230V can reach speeds up to 20 rpm.
Benchmark's BenchBlotter™ is a cold room and incubator safe platform rocker, that can be used for blot washing and gel staining loads up to seven pounds. This laboratory rocker offers simple operation; simply turn on the power switch to initiate the rocking motion. The preset speed and gentle tilt angles are set for routine molecular biology applications.
---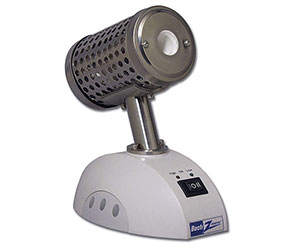 Sterilization Equipment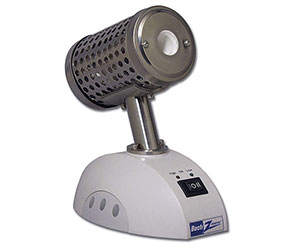 To safely and efficiently sterilize lab supplies, opt for the Biomega BactiZapper infrared microsterilizer. This sterilizer uses infrared light to sterilize lab equipment in just five to seven seconds. The perforated stainless steel guard chamber is designed to protect operators from the heat. This compact and convenient laboratory sterilization device can be used in anaerobic and aerobic chambers.
---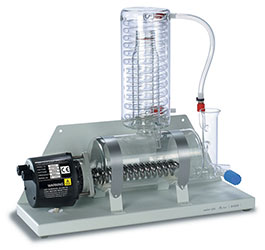 Water Distillers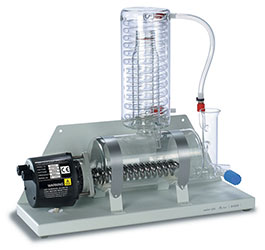 SKS Science offers the Merit Water Still distiller as a means to purify laboratory water affordably, without compromising quality. This water distiller features glass construction, a long life metal heating element, wall mounting capabilities and two independent safety thermostats to prevent overheating. This lab equipment item is easy to use, safe to clean and has replacement components readily available if needed.
---
SKS Science additionally offers specialized lab equipment such as dry baths, incubators, thermal cyclers, PCR plate coolers, and colony counters, To browse the large selection of lab equipment available, click here to find what you are looking for!