INSIDE THE LAB

SKS Science Newsletter
---
Middle School Science Supplies
October 2008
Written by Jodi Hill, Middle Division Department Chair, Horace Mann School, Riverdale, New York
the Middle Division department chair of a large private school in the Bronx, I am in charge of ordering lab supplies. Our curriculum covers all the bases, so a teacher may find themselves doing some chemistry, life science, earth science, and physics all in one week. We do a lot of labs, on average about one per week. Our philosophy is that we want the students not just to learn about science but to learn to do science.
When one is setting out to conduct a lab activity with a class of 20 eager middle school students, every teacher knows that you want to be sure you have the best equipment for the job. We also want materials that will last.
---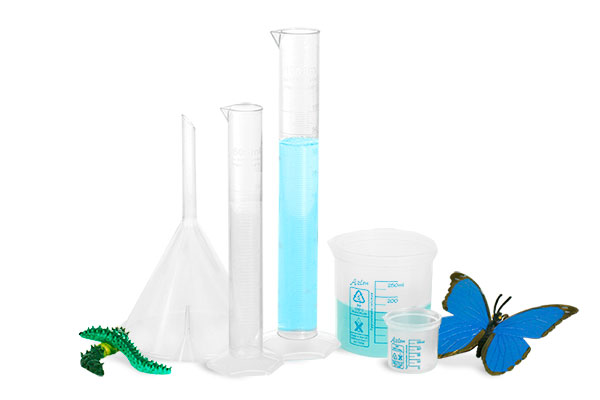 Water Labs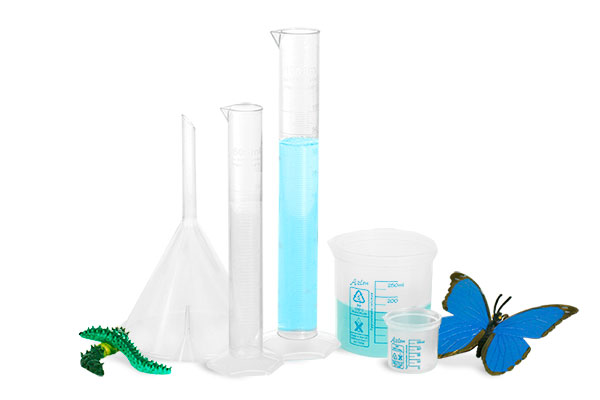 One lab that we do when we study water with the sixth graders is the "Dirty Water Lab." We "pollute" tap water by adding things like coffee grounds, garlic oil, and salt. We then teach the students a few separation techniques to process the water so it will be potable by the end (and yes, it really works). First, we mix the dirty water in large, pourable containers like these 1000 ml water bottles with screw caps. After removing the oil using a separatory funnel, we filter out the solids using funnels (like these polypro analytical funnels) and filter paper. Lastly, we remove the color and odor with charcoal adsorption. We collect the water along the way in sturdy beakers. The Polypro plastic beakers are terrific. The blue writing is easy to see and read, and they can fall without breaking, which is very important when working with middle schoolers.
---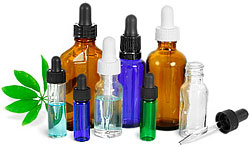 Parts Per Million Labs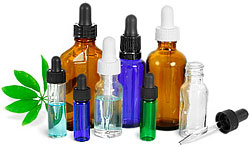 Another sixth grade water lab is done to introduce students to the idea of parts per million. We gradually dilute food coloring with water to show students that something can be in the water but not be visible. We use glass bottles with droppers (amber glass with droppers) to hold and dispense both the water and food coloring.
---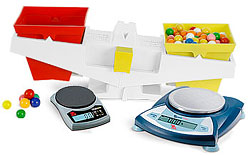 Density Labs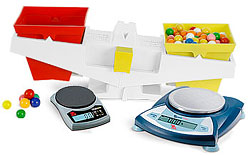 A concept we teach in seventh grade is density. We have students find the density of regular and irregular shaped objects. For both, they need to use balances. For irregular shaped objects, they also need graduated cylinders (100 ml) to measure the volume. We really love the Ohaus Scout Portable Balances. They are easy to carry from room to room, and can easily be used for field work. They actually fit in a coat pocket!
---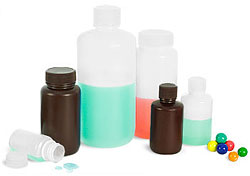 Physical Geology Labs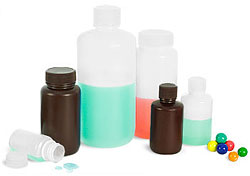 We teach physical geology in the seventh grade. We show students how rocks can be mechanically weathered by placing limestone in containers with a little water and a lot of shaking. This shows how moving water can weather rocks and cause them to lose mass. We originally used coffee cans to do this, but it was so noisy! Now we use wide mouth leak proof bottles with screw caps. They are sturdy, truly leak proof, and much quieter.
---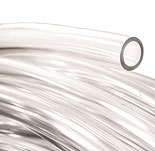 Stream Formation Labs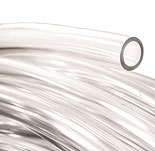 We also do a lab to replicate stream formation using elevated stream tables filled with sand. Basically, we let water flow from above the stream table and see what path it takes in the sand as it carves a streambed. A utility jug with a faucet combined with plastic tubing helps us to control the amount of water flowing into the stream table...and a large plastic bucket is great for collecting the water on the other end (this is the lab where the students also get to learn how to use a mop!).
---
Lab Safety Supplies
Our eighth grade curriculum covers chemistry, so it is very important to have an eye wash station in the room, although I am happy to report I have never needed to use it. Many of the items I mentioned above we use in just about every lab in our eighth grade course (balances, beakers, graduated cylinders, etc.) We also use disposable lab gloves, plastic wash bottles, petri dishes, test tubes, and test tube racks in countless labs.
---
In my twenty years of teaching, I have done a lot of labs with a lot of students. Even if it is a lab I have done ten times before, it is always fun and fresh and even I learn something new from it with enthusiastic students like we have at our school. With great labs, good planning, and dependable equipment and materials, we prove again and again that science really is fun. The views and opinions expressed by the author of this article do not necessarily represent those of SKS Science Products.