INSIDE THE LAB

SKS Science Newsletter
---
Petri Dishes
August 2020

SKS Science carries a variety of petri dishes that are appropriate for a number of scientific applications, including growing bacteria cultures, cell cultures, and more. Choose from our selection of styles and sizes needed for diverse laboratory environments. SKS Science's plastic petri dishes and contact plates are constructed from biomedical grade polystyrene plastic. Because polystyrene is a transparent, rigid, and glass-like polymer it provides excellent and consistent viewing where microscopic examination is required and can also withstand radiation sterilization processes. Polystyrene containers, like these sterile petri dishes, offer good stress crack and impact resistance, as well as good chemical resistance to many aqueous solutions.
---

Clear Polystyrene Sterile Petri Dishes

Clear polystyrene sterile petri dishes come in a variety of styles for use in routine procedures and with automated equipment. Case packs of 100, 340, 400, and 500 are available, packaged in heavy-wall polyethylene sleeves in packs of 20 dishes. Both stackable or slippable petri dish styles can be purchased in 35 mm, 50 mm, 55 mm, 60 mm, 90 mm, 100 mm, and 150 mm diameter sizes. The 90 mm version includes venting ribs on the underside of the lids that allow for free air circulation and reduce condensation during incubation.
The selection of clear petri dishes includes several styles that serve various purposes. The media saver petri dishes have a smaller diameter and are ideal for water treatment and pharmaceutical membrane filter tests. Petri dishes that include a stabilization ring in the base ensure even media depth for susceptibility tests and can be used with automated filling equipment. Bi-plate petri dishes have two marked compartments for easy identification and are designed for simultaneous studies of organisms in a common environment. This style features a raised partition for automation equipment. Deep petri dishes are useful for increased media volume, which allows longer culture periods for applications like seed germination testing.
---
Polystyrene Petri Dishes w/ Absorbent Pads
SKS also offers 50 mm x 9 mm sterile clear polystyrene petri dishes with absorbent pads. Petri dishes that contain absorbent pads are ideal for culturing microorganisms in either agar or broth based media. The snug fitting top ensures that neither the absorbent pad nor the agar media dries out during incubation. These petri dishes are designed to accommodate 47 mm diameter membrane filters. There is a frosted area on top of the lid that allows for easy labeling, along with squared off edges on both the top and bottom that provide convenient grips for one handed opening. These clear polystyrene plastic petri dishes with absorbent pads are available in case packs of 500.
---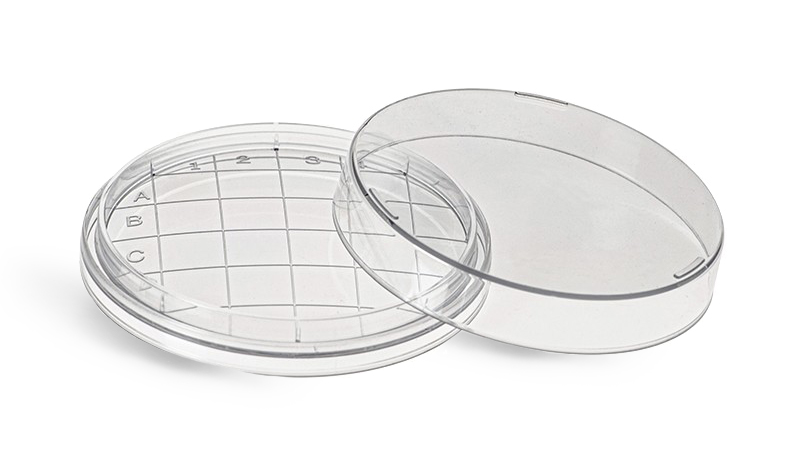 Clear Polystyrene Sterile Contact Plates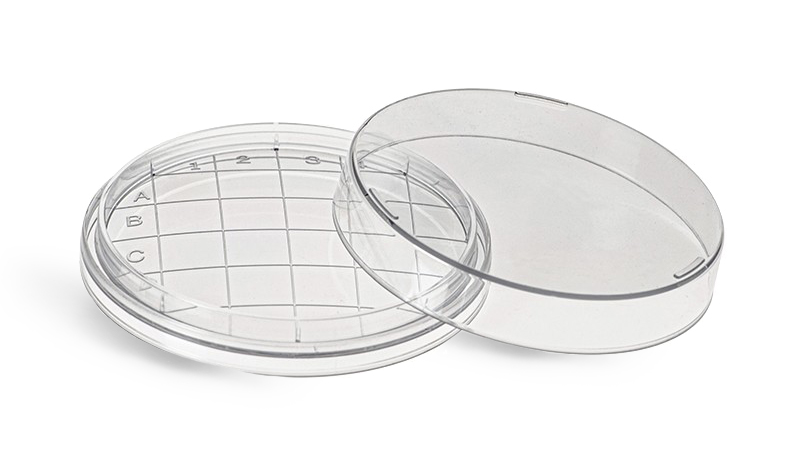 Clear polystyrene contact plates are 65 mm in diameter and 15 mm in height. Each case of 500 lab plates contains 25 polyethylene sleeves with the contact plates layered inside. These contact plates are designed to allow a raised convex surface of culture bacterial growth medium, like agar. This feature is also cost-efficient as the convex bottom lessens the amount of tissue culture necessary for growth and colonization. The culture plates are constructed with a molded 10 mm x 10 mm grid, which contains numbered and lettered squares to help facilitate counting, orientation, and location tracking of specimen colonies.
---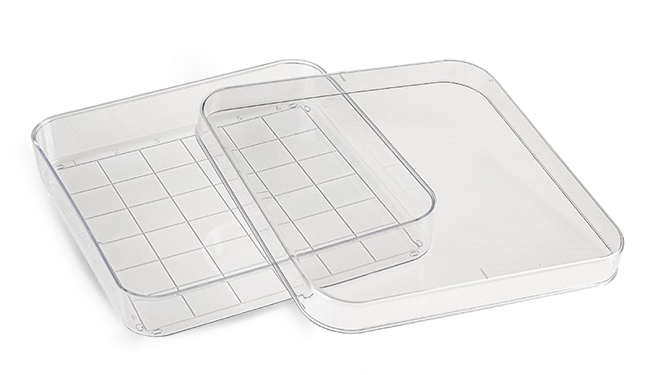 Square Sterile Petri Dishes w/ Grids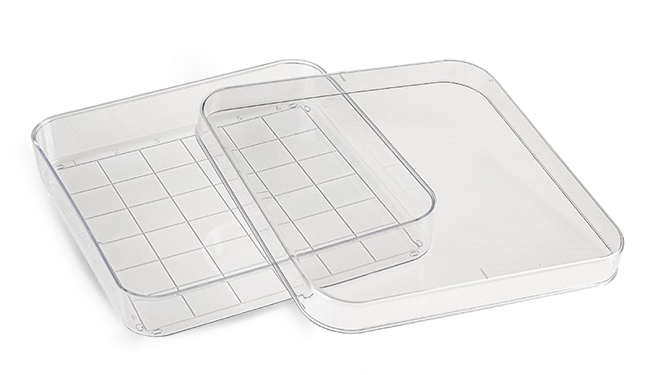 Square petri dishes with grids are also composed of clear polystyrene plastic and available through SKS Science. These 90 mm x 90 mm petri dishes are sterile and free from optical distortion. They are packed in sleeves of 10 with 50 sleeves per case. Square petri dishes are ideal for phage typing, susceptibility testing, plate counts, and probe assays. The petri dishes include a molded 13 mm grid marked numerically in one direction and alphabetically in the other. The underside of the lid is equipped with four venting ribs to prevent condensation build-up.
---

Other Petri Dish Accessories

In addition to the various petri dishes, SKS offers, be sure to procure all your lab supply needs with products like our petri dish stand, cell culture plates, and histology cassettes.