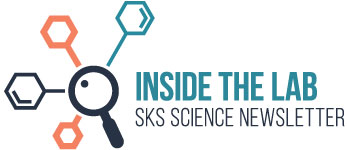 ---
Plastic Laboratory Jars
July 2021

Plastic jars are used for various laboratory purposes, including specimen collection, storing chemicals, and holding or organizing lab supplies. SKS Science offers plastic laboratory jars in a wide selection of sizes and styles, with a range of closure options.
---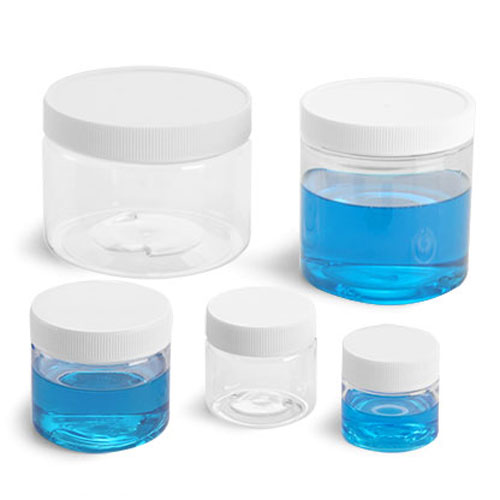 PET Plastic Laboratory Jars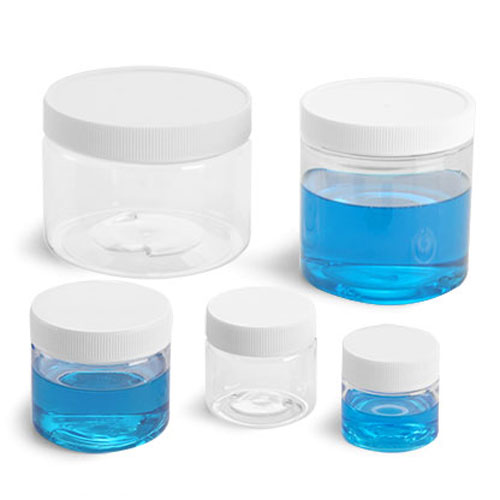 PET, also known as polyethylene terephthalate, is a good choice for labware because of its many desirable characteristics. PET plastic is generally transparent, tough, offers a good barrier against gas and moisture, and has good resistance to heat. PET is also highly resistant to diluted acids, oil, and alcohol. SKS carries clear PET jars with white ribbed unlined caps for use in laboratory settings. These PET jars are available in sizes ranging from 1/2 oz to 16 oz. The clear PET plastic laboratory jars with white ribbed unlined caps let the natural color of the product show through for easy identification. Clear PET laboratory jars with white ribbed PE lined caps are also available. These lab jars are offered in 1/2 oz, 1 oz, and 2 oz sizes. The plastic caps paired with these PET jars include a compressible PE foam liner that creates a stable seal. Each bag comes heat sealed to keep the PET plastic laboratory jars clean and protected.
---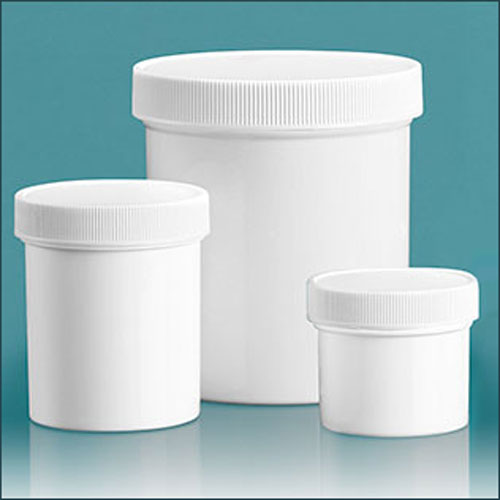 Polypropylene Plastic Laboratory Jars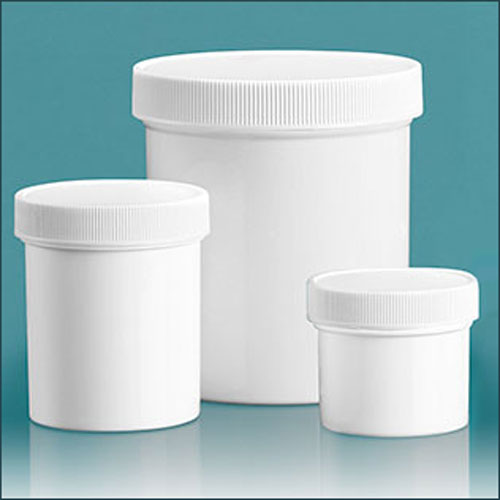 Polypropylene is an impact-resistant material, which makes it an excellent alternative to glass in any laboratory setting. Polypropylene plastic also provides a good barrier against moisture, oil, and alcohol, and is resistant to many chemicals. PP plastic can be sterilized by autoclaving, gas, and chemical disinfectant. Polypropylene plastic laboratory jars with unlined screw caps are available in white and natural options. These plastic lab jars range in size from 1/4 oz to 16 oz. The white polypropylene caps are ribbed, offering a better grip when opening and closing the lab containers. The natural jars allow for easy sample viewing, while the opaque white containers provide sample protection against UV rays. SKS also offers small, white, thick wall polypropylene jars with F217 lined caps. These lab jars are available in 1/8 oz, 1/4 oz, and 1/2 oz sizes. The PE F217 liner is a good general-purpose liner material with a broad application base and chemical resistance, making it a good choice for acids, alkalis, solvents, alcohol, oil, and aqueous products.
---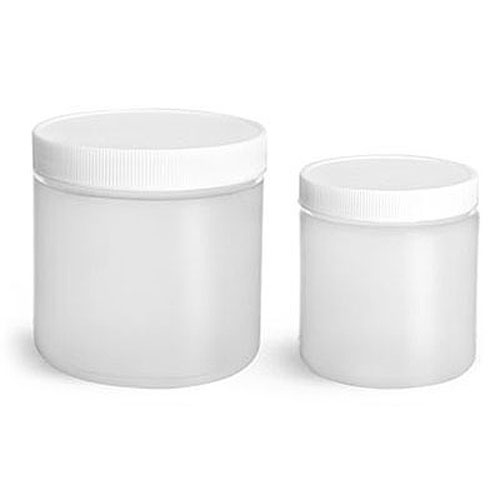 HDPE Plastic Laboratory Jars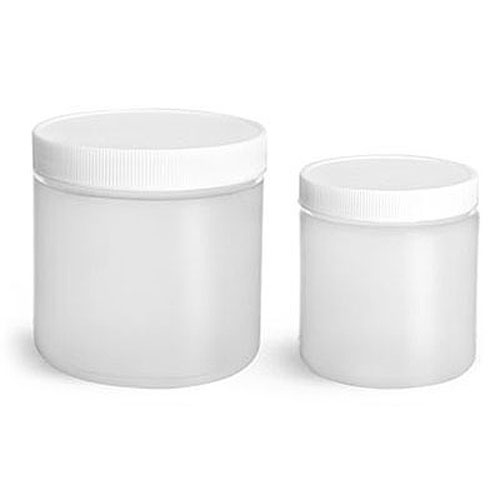 HDPE plastic, or high density polyethylene, is a higher density version of PE plastic, or polyethylene. HDPE has excellent moisture barrier properties and is lightweight and flexible. HDPE plastic also has good resistance to chemicals, so it is commonly used to package many laboratory substances. HDPE can be sterilized by gas, gamma irradiation, and chemical disinfectant. A selection of natural HDPE straight sided jars with lined screw caps are offered for laboratory use through SKS Science. The natural HDPE straight sided jars come in four convenient sizes: 4 oz, 8 oz, 16 oz, and 32 oz. These natural jars come topped with ribbed white polypropylene PE lined closures. Polypropylene plastic offers a stable and chemically resistant cap option. White HDPE low profile jars with white PE lined child resistant caps are also available. Choose white HDPE low profile jars paired with PE lined child resistant caps for packaging and storing various lab products and pharmaceuticals. The ribbed plastic caps feature a universal picture that displays how to open by pushing down and turning. The low profile design of these lab jars gives them a unique look and offers a compact storing option.
---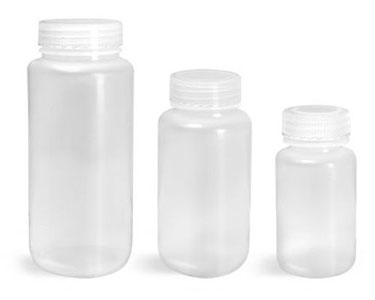 Other Laboratory Containers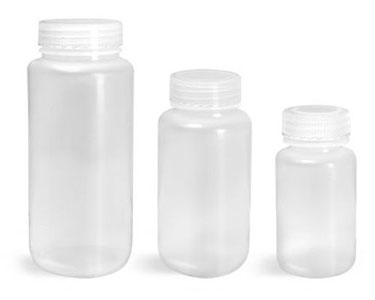 In addition to the various laboratory jars SKS offers, be sure to procure all your laboratory container needs with products like our natural polypropylene wide mouth water bottles with plastic caps, amber glass straight sided jars with black phenolic caps, and natural HDPE square wide mouth bottles with screw caps.