Whirl-pak, Sample Bags
Information about Whirl-pak Sample Bags
Whirl-Pak, Sample Bag: History
Whirl-Pak, sample bags were originally created to collect bulk milk samples for testing. This collection method precipitated what is now known as the "universal sample system" which permits a single sample of a large volume of product to be used for requisite quality control, content, and regulatory compliance testing.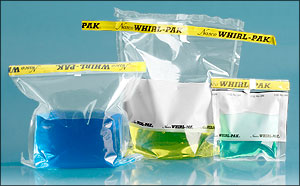 Whirl-Pak, Sample Bag: Material
Patented Whirl-Pak bags, are made of low-density polyethylene plastic (LDPE), which gives the bags superior transparency and extraordinary strength containing liquid, semi-solid, and solid samples.

These tough but pliable bags are manufactured in different sizes and styles ranging in thickness from 2.25 to 4.0 mil. The excellent strength of Whirl-pak polyethylene bags is present even at the thinnest thickness.
Whirl-Pak, Sample Bag: Uses
Whirl-Pak bags, are used in a wide variety of industries, including food science, medical study, and environmental engineering. They are also a preferred sample container in legal proceedings.

Use plastic Whirl-pak sample bags, write-on sample bags, and stand-up sample bags every time you need to collect samples. You can be confident that these sterile, made-in-the-USA collection bags will maintain the original chemical composition of your sample so that it retains all the qualities representative of its source.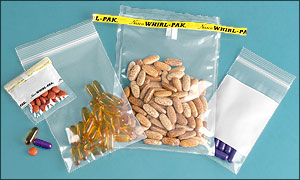 Whirl-Pak, Sample Bag: Features
Patented Puncture-Proof Wire Tab Closure
Whirl-pak bags offer the only sample bags on the market with tape-extended tabs to protect your bag from being punctured by the sharp ends of the metal wire closure. This protects your sample integrity, as well as your safety in the lab.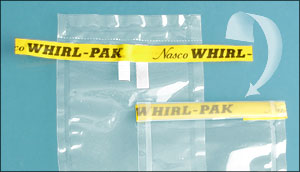 Ethylene Oxide Gas Sterilization
An independent ISO certified sterilization company sterilizes every Whirl-pak bag after manufacturing. No other sample bag on the market undergoes this same rigorous sterilization process. Documentation is available on request from Nasco to verify the sterility of you order, should you require it.
Quality Brand-Name Recognition Whirl-pak bags are distinctly branded so you can be sure that you are using the highest quality sample bags for your collection procedure.
Minimal Storage Requirements
Low on storage space? Whirl-pak bags take up only 10% or less space than other sample containers, which makes them great for smaller labs, or overfilled cabinets, automobiles, and storehouses.
Visible Sample Labeling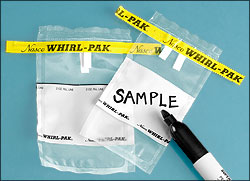 Whirl-Pak bags, plain, are easily marked with felt-tip pens.
Whirl-Pak bags, with write-on area offer a pen, pencil, and marker-friendly writing surface.
Prominent sample labeling prevents errors in sample handling and analysis.
Secure Wire-Tab Closures
Simply fold or "whirl" the flat wire over three times to obtain a leak-proof seal, which decrease sample loss and inhibits contamination of contents.