INSIDE THE LAB

SKS Science Newsletter
---
Laboratory Exam Gloves and Face Masks
May 2008
Exam Gloves and face masks are crucial safety products for countless laboratories and medical and dental offices throughout the world. There are many types of gloves that cater to a multitude of needs, and it can be difficult to choose what is right for you and your staff.
Many people prefer latex exam gloves, which are one of the most prominent varieties, but some discover that due to allergies they need to keep a variety of gloves in stock so that their staff and patients can be safe and comfortable. Some gloves are offered with powder and some without. SKS Science offers a wide selection so that you can fill all of your specific needs.
Disposable Gloves Gloves and face masks are important for many reasons, one of the biggest being that they create a barrier between a doctor and a patient, or a lab technician and a specimen. This barrier helps to prevent the spread of harmful bacteria and viruses, and can prevent contamination in laboratory specimens.
To prevent the spread of unwanted bacertia and infiltration of contaminants caused by any number of factors, keeping one's face and hands covered can help keep both patients and doctors safe, as well as sensitive specimens and samples. Our gloves and face masks could suit the needs of every industry that requires a safe and clean environment, and are a great solution to help prevent contamination.
---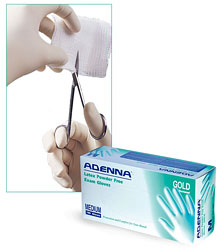 latex exam gloves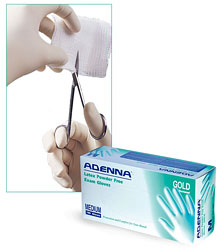 Latex Powder Free Examination Gloves are a great choice for those in many scientific, medical and dental industries. The powder free gloves minimize the risk of chemical or protein allergies, and eliminate the risk of powder related contamination in a critical exam or clean room environment. These gloves are manufactured with a light chlorine rinse both to provide a white appearance and to help maintain a no-slip, 'tacky' surface. The Gold powder free gloves are specially designed with a textured surface which provides better handling in both wet and dry environments. Silver Latex Powder Free Examination Gloves are similar to the Adenna Gold gloves, offering the same protection and comfort, but they have a smooth finish which makes them superior for working in environments where a smooth surface is preferred. Both the Gold and Silver latex powder free gloves feature a smooth interior finish for easy donning and comfortable wear.
---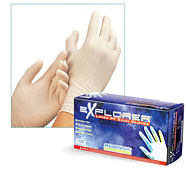 explorer latex exam gloves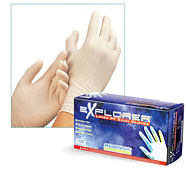 For environments where a thicker glove and a higher level of protection is required, choose the Explorer gloves, which are made of latex and are powder free. The finger thickness of these gloves is almost double that of a regular glove, making them great for environments that require a tougher glove. These could be used in a wide range of industries, and might be a great choice for labs and veterinary offices, or any environment where hazardous biological agents are encountered. The Explorer latex gloves are also recommended for automotive, naval and aviation fields for protection from dirt, dust and grease when working with light mechanical parts. The powder free Explorer minimizes risk of allergy to chemicals and proteins, and has the lowest allowable protein claims of less than 50 µg/dm2 to meet FDA and ADA standards. For added comfort and protection, the Explorer has combined on-line chlorination and polymer-coated technology which results in easy donning and product consistency.
---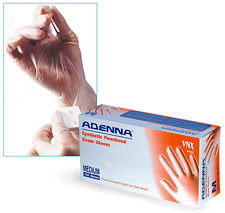 synthetic vinyl exam gloves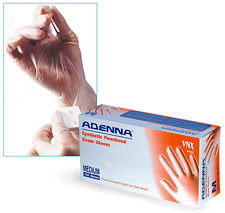 If latex allergies present a problem when choosing your glove supplies, select one of our superior synthetic vinyl gloves. Offered in powered and power free, these gloves provide a soft and snug fit. The VNX Vinyl Powdered Examination Glove was developed from a synthetic PVC material, and these clear gloves offer superior softness and dexterity for a comfortable fit, and are powdered with USP grade edible cornstarch for easy donning. For a powder free alternative, try the VPF Vinyl Powder Free Examination gloves. Made of soft PVC vinyl material, these power free gloves are great for environments such as critical examination rooms or clean rooms where podwer contamination is a concern. If you're looking for a soft yet tough glove, look no further than the VPF glove. For a latex-style glove, try the Vitrex gloves (VTX), made from a special PVC blend. They offer a snug and more flexible fit than most vinyl gloves, and look like a latex glove, but without the risk of developing a latex allergy!
---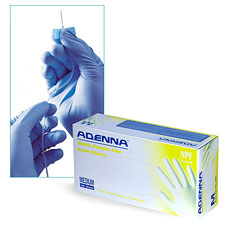 nitrile synthetic exam gloves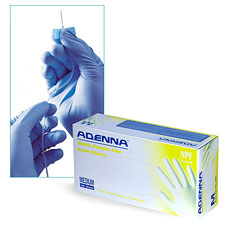 For a tough yet soft glove without any latex additives, try Nitrile synthetic gloves. These gloves have a textured surface for a strong grip in both wet and dry applications, and have superior puncture, tear and chemical resistance with excellent tactile-sensitivity and dexterity. An additional feature of these gloves is the unique thermal sensitive polymer compound which absorbs body heat and easily conforms to the user's hands; therefore exerting no pressure on the hands and reducing fatigue after extended wear.The Adenna NPF Nitrile Powder Free Examination Gloves are a great solution to latex allergies, and is offered in the color blue. For another powder free nitrile solution, choose Powder Free White Nitrile Examination Gloves (WNF). These white gloves offer the same benefits as the NPF gloves and could be used in many laboratory, medical, dental and veterinary situations. They could even be used in food service industry where gloves are used frequently and the non-latex option is preferred.
---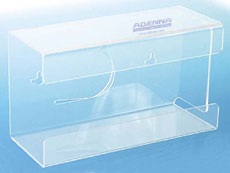 glove box holders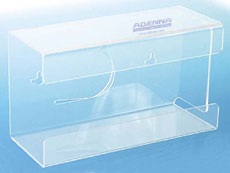 SKS Science Products offers two great models of glove box holders. One is made of a durable, highly impact resistant plastic with a fitted design to hold various sizes of dispensing boxes. The clear plastic material allows the glove box to show through so that you can easily see which type and size of glove is inside the dispensing box. The wire glove box holder is made of sturdy white enamel covered wire designed to accomomdate most types of gloves. It can hold one box of gloves horizontally, or two boxes vertically. The wire glove box holder features an open design at the front and top to easily allow identification of glove type and size, and is also easy to refill. Both models can be mounted on the wall with the included mounting hardware in a simple one-step installation.
---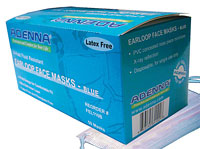 earloop face masks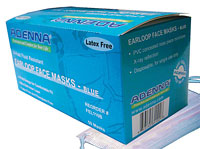 There are many situations in which face masks are either required or desired. Whether you work in a laboratory, the medical, dental or veterinary field, you understand the need to have effective face masks to keep your workspace safe and clean. The 4-Fold Fluid Resistant Earloop Face Masks are a great solution to your safety needs. These masks are 100% latex and fiberglass free, making them safe for frequent use. The face mask conforms to your face better because of the unique concealed PVC nose piece. Not only do these face masks offer you, your patients and your lab specimens a high level of protection, but they feature a soft inner layer for comfortable wear. They are non-irritating and odorless, and also minimize x-ray reflection, further protecting you by creating a fluid resistant barrier between you and your surroundings.
---
Many of these products are offered in multiple sizes so that you can easily and affordably outfit your entire staff with the Adenna line of safety products. No matter what field you work in, safety is always your first priority, and you want to know that you're are providing yourself, your staff, your patients and your work with the highest degree of care and protection. Thanks to the wide variety of products, from latex to non-latex, you can breathe easy knowing that you have provided your workplace with state of the art protection!